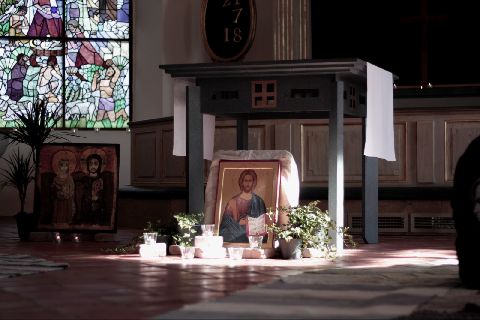 Two days ago we came back to Taizé after spending almost two weeks in Sweden. It was a new, important and beautiful experience for both of us. The reason for our journey to the far north of Europe was a small meeting organized in a village called Jönåker, about two hours from Stockholm. After visiting Taizé this summer, the young people of the Kiladalen parish asked the parish priest, "Why can't we have a meeting here at our place, and meet new people, and sing and pray right here?" Yes, why not? So they invited other young people, organized musicians, food, decoration, a rock concert in the evening. Together with people from the parish, the local Pentecostal church and people from the village, they united their efforts and their energy to make this meeting possible. The meeting lasted three days, Friday Saturday and Sunday. On the Sunday, we asked one of the young people from the local church if the meeting matched her expectations; she answered, "It really is amazing that it actually happened, that is was really possible to have this meeting."
Young people everywhere have so much energy, so much initiative and so much spirit! For them and for us it was a real gift to see how, when they dared to follow their initiatives, dared to listen to the desire to meet with others, to share about life, about faith, about beauty, about difficulties, to pray together, to be silent together, to search together, that when they dared to follow this desire, something unexpected, something beautiful appeared and grew in their lives. The theme of the meeting was the words of Jesus: "Where two or three are gathered in my name, I am there among them". We know that for all the participants of the meeting and all the people involved there were moments when these words became almost visible, almost tangible.
In addition to the meeting in Jönåker, we also were able to travel around the central part of Sweden, to visit different churches, parishes and youth groups, to discover the beautiful countryside of Sweden, the nature, the food, the people, and many different facets of the Church of Sweden. Meeting the people, young and old, to listen to their stories, their struggles and to pray together was for both of us an enriching experience. In a society which is more and more secularized, a modern society, a rich society where success, wealth, appearance and status are important, it is a big struggle for everyone, and especially for young people, to search to meet Christ, to share their faith, their doubts, their insecurities...
To meet together, to have the courage to be yourself, to express your faith is a great struggle for young people in Sweden, even in the churches! How can the church be a place where people can search for and find Christ, where they can gather around him in trust and love? This is a question that concerns all Christian churches throughout the world, but it is a question that was in our hearts in many different ways during our stay in Sweden.
We were deeply touched by the meetings with different groups of people who gather in cities and countryside to pray together, to sing and to share about their faith and all that follows from there. They have open hearts and inner peace, which makes it possible to recognize the presence of Christ who is always there. Many of them are working with sick people, handicapped or mental disabled, Christians and non believers, and every day they are giving theirs lives for others. Those people are for us visible signs of reconciliation, love and hope for the future. For the both of us this trip was an encouragement to continue our own ways with Christ.