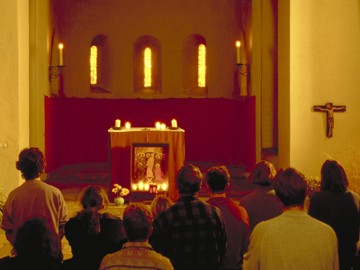 Begin with half an hour of sharing in small groups, using the commentary and questions from the Commented Bible Passages page.
Finish the meeting with a time of prayer, for example using the following outline:
---
Song
In the Lord I'll be ever thankful
Psalm
Bonum est confidere can be sung between each verse.
Teach me, Lord, and show me your ways,
O God, let me learn your paths,
instruct me in the truth of your Law,
for you are my Saviour and my God.
In you, all day long, I hope
because of your compassion, O Lord;
remember your kindness, O God,
and your goodness, as ever of old;
forgive all the errors of my past
and remember me, Lord, in your love.
The Lord is upright and good;
God leads sinners back to his ways,
guiding the humble in justice,
to the simple revealing his will.
All God's paths are faithfulness and love,
to those who keep his commands.
According to your promises, O God,
forgive all my many sins.
from Psalm 25
Reading
Is not this the sort of fast that pleases me: to loose the bonds of injustice, to undo the thongs of the yoke, to let the oppressed go free, and to break every yoke? Is it not to share your bread with the hungry, and bring the homeless poor into your house; when you see the naked, to cover them, and not to hide yourself from your own kin? Then your light shall break forth like the dawn, and your healing shall spring up quickly. Saving justice will go ahead of you and the glory of the Lord shall be your rear guard.
Isaiah 58,6-8
Song
In manus Tuas, Pater
Silence
Prayers of Intercession
Kyrie eleison can be sung between each intention
1. O Christ, you offer us healing; may we live by your life.
2. O Christ, you renew our hope; may we live by your life.
3. O Christ, you sat at table with sinners; may we live by your life.
4. O Christ, you raise up those who are bowed down; may we live by your life.
5. O Christ, you forgave Peter when he repudiated you and you called him to follow you; may we live by your life.
6. O Christ, in you our resurrection has already begun; may we live by your life.
Our Father
Prayer
On the road to Easter we want to follow your light, Christ Jesus. And so we need no longer fear the darkness within us, for you, Christ, transfigure it.
Songs
Christe lux mundi
Stay with me
Ad te Jesu Christe
Jesus, remember me