Brother Ghislain began to make collages during the night-shift at Macon Hospital where he was an intern in the late 1960s.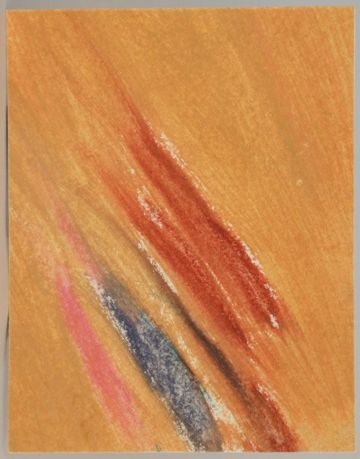 Summer flames
His work is a kind of diary, a book of hours where he gathers moments and glimpses of his life in Taizé and during his visits and meetings across Asia and the Pacific. He uses many different elements, sometimes insignificant ones—pieces of paper and cardboard often intended to be thrown away—and also paper he paints himself. He is particularly fond of using material left over from the work of other brothers who are artists. It is his way of affirming that for God nothing is lost, that even our tears are precious.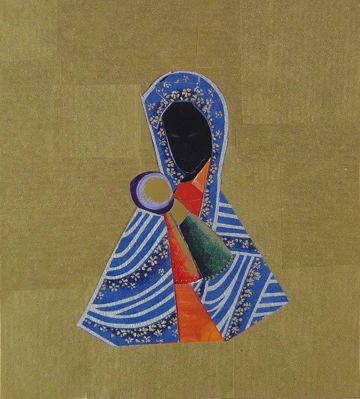 Mary of Shimonoseki
These collages also express a solidarity with the people he meets each day: the expressions on ravaged or radiant faces, feelings of powerlessness in the face of injustice and disasters, distress of parents at the death of a child, reunions or broken relationships, mutual forgiveness, intense happiness or endless sorrow. He would like each person to recognize themselves in these pieces of paper brought together as an expression of faithfulness over time. Perhaps one person he meets will say: "This color is me! This paper is me!"... A moment of shared recognition.
A poem by Brother Pierre Étienne, who died in January 2011, expresses well the approach pursued by means of these collages:
Materials
Bits of straw - imitation wood - feelings
Useless - scraps - crates
Debris - old ropes - plans
Fleeing - objects - in tatters
Wrappings - with no future - reeds after the storm
We will bring you together on a night of extreme distress
and weave a basket where we can lay our hope
like a child rescued from floods until pain abates
Previous temporary exhibitions in Taizé have included crafts developed by the brothers living on the outskirts of Nairobi; Chinese calligraphy by Brother Ho (Brother Lucas); enamels on copper by Brother Pierre Etienne; paintings and collages by Brother Sylvain and Brother Ghislain; paintings and stained glass by Brother Marc; etchings by Brother Eric.