By its history and location, Hamina has always been a place where peace building was important. In 1809, the Peace Treaty of Hamina ended conflict between Russia and Sweden, fought out on Finnish soil, enabling the revival of Finnish culture, language, and ultimately leading in 1917 to Finland's Independence. Building bridges, letting walls break down is part of life in Hamina.
---
The young people from Hamina wrote :

"We hope that the international Taizé meeting will fill the streets of our Circular town with hundreds of young adults from Finland, Russia, Scandinavia, the Baltic countries, and from all over Europe. In these times when tensions and conflicts are growing, for many people on our Earth, peace is something they can only dream about. We want to build a meeting around the theme of "Peace to All" with prayers, silence, discussion groups, and workshops. Events will be held in the historic Bastion and the local churches.
The Taizé weekend is part of the official celebration of 100 years of Finland's independence 'Suomi100'. The invitation to hold the meeting was an initiative of the City of Hamina together with Lutheran, Orthodox, Catholic and free Churches.
The meeting will be an occasion to reflect on brother Alois's fourth proposal for 2017: "Allow friendship to grow in order to prepare peace".

Peace on earth begins in the heart of each person. It is first of all our hearts that have to be changed, and this change involves a simple conversion—allowing God's Spirit to dwell within us, welcoming a peace that will spread out and be communicated from one person to another. "Achieve inner peace and thousands around you will be saved." (Seraphim of Sarov)
With our own lives let us write the new pages of a simple solidarity that goes beyond partitions and walls: physical walls constructed in different parts of the world as well as walls of ignorance, prejudice and ideology. Let us be open to other cultures and mentalities.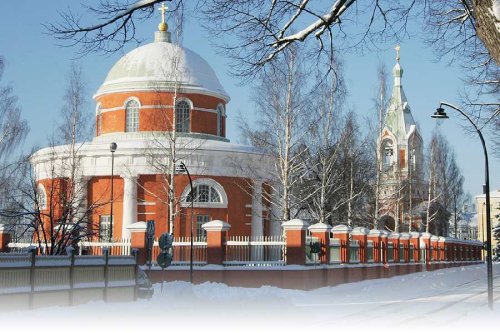 Programme of the meeting
Friday 25 August 2017
2:00 – 6:00 pm: Arrival and reception in Hamina town-centre
Hot supper
7:30 pm: Evening prayer
8.45 pm: Social event
Saturday 26 August
Breakfast at accommodation
9:15 am: Morning prayer in a church in the host neighbourhood
9:45 am: Small group meetings and visits in the neighbourhood, then travel to town-centre
12:00 to 12:30 pm: lunch
1:00 pm: Midday prayer with short biblical reflection
2:30 – 4:00 & 4:30 – 6:00 pm: choice of workshops, forums and visits.
6 to 7 pm: supper
7:00 pm: Evening prayer in the town-centre churches
9:00-11:00 pm: Social event
Sunday 27 August
Breakfast at accommodation
10 am: Sunday morning service in a church in the host neighbourhood, followed by lunch with local people.
2:00-3:00 pm: Prayer of Sending out
Distribution of meal packets for journey
Registration & Contribution
Registration
Registration form online (in Finnish, English and Russian)
Contribution to the costs
Full weekend including transport from Helsinki airport and harbours to Hamina and back to Helsinki €40
Full weekend without transport €30
Payments can be made in euros only, by bank transfer. Details will be sent to you when your registration has been received.
---