Moments de la vie de frère Roger / Moments in the life of Brother Roger
New DVD in French and English. Now also in German, Dutch, Italian, and Spanish
Les Presses de Taizé, 2016, 90 min
Français/English [https://shop.taize.fr/dvd-films/moments-in-the-life-of-frere-roger.html] ref.: D1411 ; Castellano/Italiano [https://shop.taize.fr/dvd-films/momentos-dvd-es-it-br-moments-in-the-life-of-brother-roger.html] ref.: D1511 ; Deutsch/Nederlands [https://shop.taize.fr/dvd-films/momenten-de-nl-br-moments-in-the-life-of-brother-roger.html] ref.: D1611
La vie de frère Roger depuis son enfance dans un village de montagne en Suisse, son installation à Taizé au début de la Deuxième Guerre mondiale, jusqu'à sa mort dramatique au cours d'une prière du soir. Des frères de la communauté qui ont partagé sa vie pendant des décennies, des amis de longue date, tel le philosophe Paul Ricœur, des hommes d'Églises, catholiques et protestants, le secrétaire du pape Jean XXIII, la sœur de frère Roger, une historienne, une biographe, d'autres encore, font apprécier sa riche personnalité.
The life of Brother Roger from his childhood in a Swiss mountain village, via his settling at Taizé near the beginning of the Second World War, to his tragic death during an evening prayer. There are contributions from brothers of the Community who shared his life for years, from old friends, including the philosopher Paul Ricœur, Catholic and Protestant church leaders, the secretary of Pope John XXIII, Brother Roger's sister, a historian, a biographer, and others, who give a sense of this rich and compelling personality.
---
Att vara i Guds närhet – bibelmeditationer från Taizé
New book of Bible meditations in Swedish
Verbum Förlag, Stockholm [https://www.verbum.se/52636589-product], 2016, 168 s, ISBN: 9789152636589
Den ekumeniska kommuniteten i Taizé i Frankrike har blivit en plats där människor från olika länder, världsdelar och kyrkor hittar gemenskap – i bön, i arbete, i gemensamma måltider, i bibelsamtal, i varandra.
Kommunitetens bröder turas om att introducera bibeltexter varje dag, som en inledning till samtal i smågrupper. De publicerar också varje månad en bibelmeditation med samtalsfrågor som översätts till en rad olika språk.
Boken "Att vara i Guds närhet" består av ett urval av de senaste årens bibelmeditationer. De kan användas som inspiration och fördjupning på olika sätt – i bibelstudiegrupper, i vuxenkatekumenatsgrupper eller som personlig andaktsbok.
---
fr. Alois
Atreverse a creer
Oser croire in Spanish
Editorial Perpetuo Socorro [http://pseditorial.com/producto/atreverse-a-creer/], 2016, 112 p, ISBN: 9788428407847
La fe en Dios está cada vez más cuestionada. Si Dios existe ¿por qué el mal es tan poderoso? ¿Cómo imaginar una omnipresencia de Dios que se ocupase a la vez del universo y de cada ser humano en particular?
En este libro, el prior de Taizé aborda estas cuestiones. Y ya que es, principalmente, celebrando los misterios de la fe como accedemos a ellos, él comparte el espíritu con el que la comunidad de Taizé celebra las grandes fiestas cristianas. Una vidriera o una imagen ilustran cada una de estas fiestas.
El hermano Alois aporta una luz a través de lo que ha compartido con sus hermanos, que viven en los distintos continentes, o en encuentros con jóvenes de todo el mundo.
---
fr. Alois et Marco Roncalli
Tezē šodien – sarunā ar Marko Ronkalli
Vers de nouvelles solidarités in Latvian
Kala Raksti [http://mieramtuvu.lv/?view=projekti_detail&Id=407], 2016, 203 lpp, ISBN: 9789984871523
Šī nav vēstures grāmata, pat ja nereti tajā minētas atsauces uz dažiem paseniem notikumiem, – Tezē kopienas precīzai vēsturiskajai rekonstrukcijai vēl jātiek uzrakstītai nākotnē. Šī grāmata nav arī hronika vai reportāža: tajā gan atrodama informācija, tomēr runa ir par kādu īpašu aktualitāti, tādu, kas attiecas uz divus tūkstošus gadu seniem notikumiem. Šī grāmata drīzāk apkopo nelielā kladē atstātus pierakstus par tikšanās reizēm, sarunām, arī klusuma brīžiem un epizodēm no kopienas dzīves. Tas ir mēģinājums kaut ko pasacīt par Tezē pirmo un otro prioru jeb vadītāju un jo īpaši – mēģinājums atklāt kopienas pieredzes nozīmi un iespējamo nākotnes attīstību.
Šīs grāmatas lappusēs lielos vilcienos šķērsosim brāļa Rožē ieceres posmus un atcerēsimies orientierus, ko viņš piedāvāja vairākām paaudzēm, lai pēc tam runātu par to, kas ir noticis un ik dienas turpina notikt Tezē. Mēģināsim arī noskaidrot, kas ir tā motivācija, kura liek kādam simtam brāļu un daudziem jauniešiem vienoties kopīgā ceļā, kura dažas pamatlīnijas norādītas nodaļu virsrakstos: pasteidzināt izlīgumu; sekmēt dalīšanos saņemtajās dāvanās; dalīties ticībā ar jauniešiem; likt dzimt jaunām solidaritātes formām; atklāt lūgšanas un kopienas dzīves skaistumu.
---
fr. Roger
Dievs var vienīgi mīlēt
God is Love Alone in Latvian (new edition)
Kala Raksti [http://mieramtuvu.lv/?view=projekti_detail&Id=402], 2016, 132 lpp, ISBN: 9789984871547
Brālis Rožē (1915–2005), kopienas Tezē dibinātājs, ir viens no autentiskākajiem kristiešu vienotības veicinātājiem. Šajā grāmatā apkopotas viņa domas un atziņas, kas balstītas dzīves pieredzē – ceļā uz kopienu, ikdienas vienotībā ar brāļiem un kopīgo lūgšanu skaistumā, kā arī saskarsmē ar daudzajiem tūkstošiem jauniešu, kas joprojām dodas uz Tezē, lai piedzīvotu kopīgas lūgšanas spēku un rastu atbildes uz dzīves būtiskākajiem jautājumiem.
Gan šiem jauniešiem, gan savu grāmatu lasītājiem brālis Rožē ir vēlējies atklāt, kur meklēt sirdsmiera, cerības un brālīgas saprašanās avotu – paļāvībā uz Dievu un Viņa dāvāto mīlestību.Brāļa dzīve traģiski aprāvās 2005. gada 16. augustā, kad viņu Tezē lūgšanas laikā daudzu tūkstošu šokētu jauniešu acu priekšā nogalināja kāda garīgi nelīdzsvarota persona. Tomēr brāļa Aloīza vadībā Tezē kopiena turpina kalpot jauniešiem un veicināt kristiešu izlīgumu, savu spēku joprojām smeļot pārliecībā, ka "Dievs var vienīgi mīlēt".
---
fr. Alois & Marco Roncalli
На шляху до нової солідарності – Тезе сьогодні
Vers de nouvelles solidarités in Ukrainian
Дух і літера [http://duh-i-litera.com/na-shlyahu-do-novoji-solidarnosti-teze-sohodni/], 2016, , ISBN: 9789663784403
Наскільки смиренна і скромна, настільки ж і світла особистість, брат Алоїс присвятив себе життю за духом та обітницями спільноти Тезе, дбати про які йому заповів її засновник брат Роже. Уперше він береться за книгу, щоб засвідчити про власний життєвий шлях, яким чином він втілює сьогодні заповіданий йому спадок у світі, де зростають різноманітні бар'єри і де воєнні дії та злидні виганяють мешканців з рідних країв.
---
Jean-Claude Escaffit et Moïz Rasiwala
Histoire de Taizé – nouvelle édition
New edition of History of Taizé in French
Éditions du Seuil [http://www.seuil.com/ouvrage/histoire-de-taize-jean-claude-escaffit/9782021334494], 2008, 240 pages, ISBN: 9782021334494, e-book ISBN : 9782021334500
Une présentation de l'histoire de Taizé par un journaliste de La Vie et un familier de Taizé, qui a participé à l'essor des rencontres de jeunes dans les années 1970 : les sources intellectuelles, les débuts dans les années 1940 et la croissance au fil des décennies, le charisme de frère Roger… Chaque chapitre met l'accent sur une intuition, une décision, un faisceau d'événements qui expliquent la recherche, les avancées, les étapes de la vie de la communauté. Avec un cahier de photos et une chronologie.
Nouvelle édition 2016.
---
fr. Roger
Avec des jeunes de toute la terre – « Vivre l'inespéré » & « Étonnement d'un amour » 1972-1976
Collected writings of Brother Roger in French, sixth volume
Les Presses de Taizé [https://shop.taize.fr/books/books-by-brother-roger/avec-des-jeunes-de-toute-la-terre.html], 2016, 304 pages, ISBN: 9782850404078
Les écrits de frère Roger, fondateur de Taizé, tome VI
En 1970, frère Roger a annoncé la tenue d'un concile des jeunes. Cette perspective a déclenché une recherche avec des jeunes de toute la terre, qu'ils soient visités là où ils vivent, ou qu'ils affluent en nombre croissant sur la colline de Bourgogne où est établie la communauté.
Dans son journal il raconte ces années, qui sont pour lui colorées par l'approche puis par l'ouverture et les débuts du concile des jeunes. Il fait aussi le récit de sa vie au milieu des plus pauvres au Chili et à Calcutta. De temps à autre, le journal s'interrompt et laisse place à une réflexion sur des questions que les jeunes se posent : Comment prier ? Un croyant peut-il douter ? Peut-on s'engager pour toute la vie ? Qui est le Christ ? Pourquoi l'Église ? Quel est le sens de la souffrance ?
---
fr. Alois & Siegfried Eckert
Mehr Ökumene wagen – über Taizé, die Reformation und gelebte Gemeinschaft
New book of interviews in German
Evangelische Verlagsanstalt [http://www.eva-leipzig.de/product_info.php?info=p3989_Mehr-Oekumene-wagen.html], 2016, 176 S, ISBN: 9783960380115
95 Fragen standen am Beginn des Gespräches zwischen Frère Alois, dem Prior der ökumenischen Bruderschaft in Taizé, und Siegfried Eckert, protestantischer Pfarrer und Landessynodaler.
95 Thesen sollten es nicht sein, denn die sind längst geschrieben. Dennoch stehen die Reformation, ihre Folgen und gegenwärtigen Herausforderungen im Zentrum dieses sehr persönlichen Gespräches.
Ein spannender Dialog, der den einzigartigen ökumenischen Geist der über 75 Jahre alten Gemeinschaft von Taizé als wegweisenden Impuls für die Reformationsfeierlichkeiten 2017 fruchtbar macht.
---
fr. Roger
Alla jista' biss iħobb
God is Love Alone in Maltese
Patricia Micallef, 2016, ISBN: 9789995710408
Il-ħsieb ta' Brother Roger, fundatur tal-komunità ta' Taize (1915-2005), kien sostnut mit-talb komuni u mill-ħajja ta' kuljum mal-aħwa. Dan il-ħsieb kiber permezz tal-kuntatt ma' għexieren ta' eluf ta' żgħażagħ mill-kontinenti kollha li, ġimgħa wara l-oħra, jinġabru f'Taizé. Ħafna drabi dan il-ħsieb inkiteb f'forma poetika.
F'dan il-ktieb ippubblikat fis-sena 2001, huwa ġabar l-ikbar temi ta' riflessjoni kif ukoll l-istejjer – xi drabi personali ħafna – ta' ġrajjiet jew ta' laqgħat li ħallew marka fuqu. Huwa jgħid għaliex, f'għajnejh, il-ħajja interjuri u s-solidarjetà umana għandhom l-istess għajn: lil Alla li jista' jagħti biss imħabbtu.
Brother Roger miet b'mod traġiku meta nqatel waqt it-talb ta' filgħaxija nhar is-16 t'Awwissu 2005, meta kellu 90 sena. Dan il-ktieb huwa xhieda ta' ħsieb li jibqa' dejjem ħaj.
Ftit jiem qabel mewtu, huwa ppubblika ktieb ieħor jixbah lil dan: « Pressens-tu un bonheur? (Qed tħoss ċertu ferħ?) »
---
fr. Roger
Regula de la Taizé
The Rule of Taizé in Roumanian (bilingual edition)
Editura Serafica [http://www.edituraserafica.ro/carti-editura-serafica/noutati-editoriale/regula-de-la-taize.html], 2016, , ISBN: 9786067700152
Regula de la Taize. Text bilingv francez-român. Din cuprins: Actele comunitare. Rugăciunea. Masa. Consiliul. Armonia. Disciplinele spirituale. Ca în timpul zilei rugăciunea și odihna să fie însufleţite de Cuvântul lui Dumnezeu. Păstrează în toate liniștea interioară pentru a locui în Hristos.Lasă-te pătruns de spiritul fericirilor.Bucurie. Simplitate. Milostivire. Angajamentele. Celibatul. Comuniunea bunurilor. Priorul, slujitorul comuniunii. Fraţii în misiune. Noii fraţi. Primirea oaspeților. Concluzie. Îndemn citit la profesiune. Angajamente luate la profesiune. Trimiteri biblice din text. Traducere: Pr. diac. Dan Vatamanelu.
---
L'actualité de la vocation monastique ou religieuse – Actes du colloque international, Taizé, 5 – 12 juillet 2015
Acts of the colloquium on monastic life in French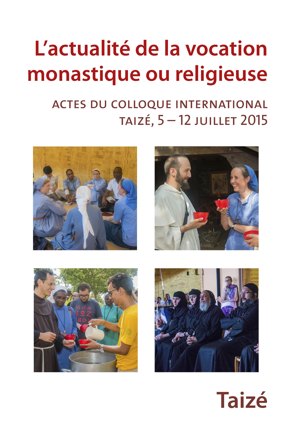 Les Presses de Taizé [https://shop.taize.fr/books/l-actualite-de-la-vocation-monastique-ou-religieuse.html], 2016, 208 pages, ISBN: 9782850403996, eBook ISBN: 9782850404047
Les interventions des responsables de congrégations, communautés et monastères au colloque qui a réuni à Taizé 350 jeunes, femmes et hommes, catholiques, protestants et orthodoxes de 52 pays, engagés dans la vie religieuse.
---
The Relevance of a Monastic or Religious Vocation – Acts of the International Colloquium, Taizé, July 5 – 12, 2015
English Edition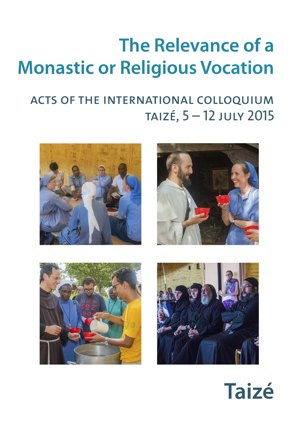 Les Presses de Taizé [https://shop.taize.fr/books/the-relevance-of-a-religious-or-monastic-vocation.html], 2016, 208 pages, ISBN: 9782850404023, eBook ISBN: 9782850404061
The talks given by leaders of religious congregations, communities and monasteries at the colloquium which brought together at Taizé 350 young women and men, Catholic, Protestant, and Orthodox, committed in the monastic or religious life, from 52 countries.
---
L'apport de frère Roger à la pensée théologique – Actes du colloque international, Taizé, 31 août – 5 septembre 2015
Acts of the Theology colloquium in French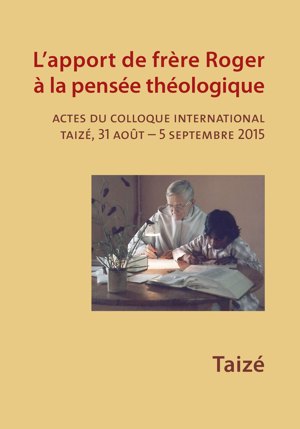 Les Presses de Taizé [https://shop.taize.fr/books/l-apport-de-frere-roger-a-la-pensee-theologique.html], 2016, 320 pages, ISBN: 9782850403989
Des chercheurs protestants, orthodoxes et catholiques de divers continents, par leurs interventions au colloque réunies dans ce livre, font entrevoir l'ampleur de l'héritage théologique de frère Roger : une pensée originale, perceptible aussi bien dans ses écrits que dans la vie de la communauté qu'il a fondée et dans les rencontres de jeunes que celle-ci anime.
---
Brother Roger's Contribution to Theological Thought – Acts of the International Colloquium, Taizé, August 31 – September 5, 2015
English edition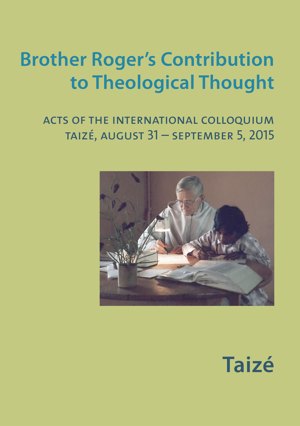 Les Presses de Taizé [https://shop.taize.fr/books/brother-roger-s-contribution-to-theological-thought.html], 2016, 304 pages, ISBN: 9782850404016
Protestant, Orthodox, and Catholic thinkers from different continents, through their talks given at the colloquium which are collected here, offer a glimpse of the extent of Brother Roger's theological legacy: an original way of thinking, perceptible in his writing as well as in the life of the Community he founded and the youth meetings that it animates.
---
fr. Roger
Isten csak szeretni tud
God is Love Alone in Hungarian
Vigília kiadó [http://vigilia.hu/konyv/isten-csak-szeretni-tud-%C3%BAjdons%C3%A1gml], 2016, 132, ISBN: 9789639920521
Roger testvérnek (1915–2005), a Taizéi Közösség alapítójának gondolkodása a közös imádságból és a testvéreivel töltött mindennapi életből táplálkozott. Meglátásaira nagy hatást gyakorolt folyamatos kapcsolata azzal a több tízezer fiatallal, akik a világ számos földrészéről egy hétre Taizébe zarándokolnak, mert életük nagy kérdéseire keresik a választ. Gondolatait gyakran költői módon fogalmazta meg.
A 2001-ben megjelent kötet gondolkodásának legfontosabb témáit, valamint az életét meghatározó események és találkozások – néhol nagyon személyes – leírását gyűjti egybe. A kötetből megtudjuk, hogy miért egy és ugyanaz a forrása a lelki életnek és az emberi szolidaritásnak: Isten, aki csak szeretni tud.
Roger testvér 2005. augusztus 16-án, 90 éves korában halt meg tragikus körülmények között: az esti imádság közben megölte egy zavarodott elmeállapotú asszony. Ez a kis kötet arról tanúskodik, hogy gondolatai ma is tovább élnek.
---
泰澤歌詠(粵語歌本) – Songs from Taizé
New songbook in Cantonese
Lichen Publishing Company 論盡神學出版社 [http://www.theology.org.hk/publication/], 2016, ISBN: 9789881779090
這是法國泰澤團體授權出版,以粵語詠唱的泰澤祈禱歌書. 共輯錄150首泰澤短頌.
---
fr. Roger
Die Grundlagen der Communauté von Taizé – Gesammelte Schriften von Frère Roger, Band 1
Writings of Brother Roger, vol. 1 in German
Herder Verlag GmbH [https://www.herder.de/religion-theologie-shop/die-grundlagen-der-communaut%C3%A9-von-taiz%C3%A9-gebundene-ausgabe/c-25/p-5897/], 2016, 176 S, ISBN: 9783451335235
Unter all seinen Büchern und Briefen nehmen diese Texte einen besonderen Platz ein. Gedanken Frère Rogers, die Taizé eine weltweite spirituelle Ausstrahlung gegeben haben - hier zusammengefasst und für das Alltagsleben fruchtbar gemacht. Die Grundlage für das Selbstverständnis der Gemeinschaft von Taizé. Worte, die direkt in das Herz des Lesers dringen und die nichts von ihrer Kraft und ihrer Aktualität verloren haben.
Inhalt:
Die Quellen von Taizé 2001
Erläuternde Anmerkungen 1941
Das Lebensengagement in der Communauté von Taizé 1949
Die Regel von Taizé 1952–1953
Geistliche Anweisungen zur "Regel von Taizé" 1962
Einmütig im Pluralismus 1966
Wegskizze eines Pilgers
Anhang: Worte von Papst Johannes Paul II. in Taizé 1986
---
Sabine Laplane
與羅哲弟兄一起祈禱15天
15 Days of prayer with Brother Roger in Chinese
Kuangchi Cultural Group 光啟文化事業 [http://www.kcg.org.tw/book.php?id=754], 2015, 144 頁, ISBN: 9789575468279
羅哲弟兄(1915-2005)在法國創立了由基督宗教不同派別聯合組成的泰澤團體,他們持續不斷接待著每年數以萬計來自世界各地的年輕朝聖者。這個團體為許多不同教派的基督徒所熟知,並在敬拜儀式中使用泰澤富於默想性的歌詠。
羅 哲弟兄最看重的是要做個傾聽者,他極力避免成為靈修大師,或傳授祈禱、默想方法的老師。因此書中所呈現的,並非一套祈禱的課程,而是一趟旅程,透過羅哲弟 兄祈禱與行動的一生,一路上訴說著泰澤團體的故事。本書讓讀者認識並與羅哲弟兄一同祈禱,他觸動了數以萬計的生命,如同聖公會坎特伯里主教羅雲‧威廉斯所言,羅哲弟兄「改變整個宗教文化,帶來了新氣象」。
---
fr. Roger
Ο Θεός είναι μόνον αγάπη
God is Love Alone in Greek
Μπαρμπουνάκης [http://www.politeianet.gr/books/9789602672044-taize-roger-de-mparmpounaki-o-theos-einai-monon-agapi-253051], 2015, 108 Σελίδες, ISBN: 9789602672044
Η σκέψη του αδελφού Ροζέ, ιδρυτή της κοινότητας του Ταιζέ (1915-2005), τρεφόταν απο την κοινή προσευχή και τη καθημερινή συναναστροφή με τους αδελφούς του μοναχούς.Εξελίχθηκε σε τρόπο επαφής με δεκάδες χιλιάδες νέων από όλες τις ηπείρους, οι οποιοι κάθε εβδομάδα συναθροίζονταν στο Ταιζέ. Συχνά η προσευχή του είχε ποιητική μορφή. Στο βιβλίο του αυτό, που δημοσιεύτηκε στη γαλλική γλώσσα το έτος 2001, συμπεριέλαβε τα μεγάλα θέματα που απασχόλησαν την αναζητησή του, καθώς επίσης και τις διηγήσεις – συχνά προσωπικές – από γεγονότα ή συναντήσεις που τον σημάδεψαν. Λέγει για ποιον λόγο, όπως ο ίδιος βλέπει, η εσωτερική ζωή και η ανθρώπινη αλληλεγγύη έχουν μία και την αυτή πηγή, τον Θεό που είναι μόνον αγάπη. Ο αδελφός Ροζέ βρήκε τραγικό θάνατο στις 16 Αυγούστου 2005, σε ηλικία 90 ετών, όταν δολοφονήθηκε από μια ψυχοπαθή γυναίκα στη διάρκεια εσπερινής προσευχής.
Αυτό το μικρό βιβλίο είναι η μαρτυρία μιας σκέψης που παραμένει ζωντανή.
---
fr. Roger
盼望之路:泰澤羅哲弟兄的最後良言
Glimmers of Happiness in Chinese
CCLC (基督教文藝出版社) [http://www.cclc.org.hk/details.php?id=959], 2015, 139頁, ISBN: 9789622942387
本書結集了泰澤團體創辦人羅哲修士不幸離世前完成的兩本小書,即本書的「幸福的微光」和「心靈靜禱—泰澤羅哲弟兄的一百篇禱文」兩部分。另外,亦收錄了他為青年人撰寫的一封未完成的公開信。靜心閱讀本書,有助我們進入謙卑內省的靈性氛圍,使我們帶喜樂、純樸、慈悲,致力尋找與上主及他人共融的道路。此外,本書亦有助我們了解羅哲弟兄的生平、使命及思想。
---
Oraciones para cada día
Prayers for Each Day in Spanish
GIA Publications [http://www.giamusic.com/search_details.cfm?title_id=27458], 2015, 224 p, ISBN: 9781622771653
Este libro ofrece una serie de oraciones adaptadas a los tiempos del año litúrgico para sostener una búsqueda de Dios, en soledad o con otros. Reflejan la oración de la Iglesia universal tal como se expresa cada día en Taizé por la Comunidad de los hermanos y por los jóvenes que participan en ella en los encuentros internacionales.
---
Olivier Clément
Ταιζέ – ενα νοημα στη ζωη
Taizé : a meaning for life in Greek
Εκδόσεις Μαϊστρος [http://www.protoporia.gr/product_info.php?products_id=429345], 2015, 96 σελίδες, ISBN: 9789606846212
Ζοῦσα σ' ἕνα περιβάλλον ριζικὰ ἄθεο, κατάπληκτος ποὺ ὑπῆρχα, ποὺ ἀνάσαινα, ποὺ βάδιζα: ὅταν εἶσαι νέος, τὸ βάδισμα εἶναι σχεδὸν χορός, ἐκφράζει, δίχως νὰ τὸ σκέφτεσαι, τὸ ξεχείλισμα της ζωῆς. Ἀλλὰ παράλληλα ἀγωνιοῦσα γιὰ τὸ τίποτα ποὺ ἔμοιαζε ὅτι θὰ καταβρόχθιζε τὰ πάντα. Ὁ πόλεμος, τὰ ὁλοκληρωτικὰ καθεστῶτα ἔρχονταν νὰ προστεθοῦν στὸ παράλογο. Ἡ ἔνταση νὰ ζεῖς ἦταν κάποτε τέτοια ὥστε ὅλες αὐτὲς οἱ ἐρωτήσεις ἔμοιαζαν μάταιες. Κι ὅμως. Περπατοῦσα στὴν ἄκρη μιᾶς θάλασσας ἀστραφτερῆς, ὁ ἥλιος ποὺ βασίλευε ζωγράφιζε ἕναν μακρὺ ἀσημένιο δρόμο πάνω στὰ κύματα. Μιὰ λύπη μὲ πλημμύριζε. Αὐτὴ ἡ λαμπρότητα δὲν ἦταν ἄλλο ἀπὸ τὴ μάσκα ποὺ σκέπαζε τὸ κενό. Ἡ ὀμορφιὰ τοῦ κόσμου δὲν παρηγορεῖ, αὐτὴ ἔχει ἀνάγκη νὰ παρηγορηθεῖ. Στὸ Ταιζέ, ἄνθρωποι ποικίλων ὁμολογιακῶν, ἐθνικῶν, πολιτισμικῶν, γλωσσολογικῶν προελεύσεων, προσεύχονται καὶ ἐργάζονται μαζί. Ὁ Χριστὸς καταρρίπτει κάθε διαχωριστικὸ τεῖχος. Αὐτὴ ἡ ἱστορικὴ καὶ γεωγραφικὴ ποικιλομορφία σβήνεται μπροστὰ στὴν ποικιλομορφία τῶν χαρισμάτων. Τὸ Ταιζὲ ἔγινε μία ἀπὸ τὶς πνευματικές μου πατρίδες.
---
fr. Alois & Marco Roncalli
Taizé ma – Új szolidaritás felé
Vers de nouvelles solidarités in Hungarian
Vigília kiadó [http://vigilia.hu/konyv/taiz%C3%A9-ma-%C3%BAj-szolidarit%C3%A1s-fel%C3%A9-besz%C3%A9lget%C3%A9sek-marco-roncallival-%C3%BAjdons%C3%A1g], 2015, ISBN: 9789639920484
Jelen kötet nem történeti munka, még ha számos utalást tartalmaz is néha egészen régi eseményekre; Taizé történetének pontos es teljes rekonstruálása még elvégzésre vár. Nem is krónika vagy riport; persze találunk benne információkat, am egy sajátos aktualitásról van szó, amely kétezer éves gondolatvilághoz kötődik. Ez a könyv inkább csak az, ami megmaradt egy kis füzetben találkozások, beszélgetések es hallgatások hangfelvételei, a közös élet felvillanásai után.
Kísérlet elmondani valamit Taizé első es második priorjáról, és főleg kísérlet feltárni egy tapasztalatnak és jövőbeli fejlődésének az értelmet.
---
Marcello Fidanzio (ed.)
Het hart van Taizé – Bloemlezing van teksten van Frère Roger
Anthology of texts by Brother Roger in Dutch
Kok [http://www.kok.nl/boek/het-hart-van-taize/], 2015, ISBN: 9789043525480
e-book [https://ebooks.boekenwereld.com/book/9789043525497-het-hart-van-taize.html] ISBN: 9789043525497
In Het hart van Taizé zijn de mooiste teksten van Frère Roger verzameld. De uitgave verschijnt in het kader van het 75-jarig bestaan van de communiteit Taizé. Ook is het in 2015 honderd jaar geleden dat de stichter, Frère Roger, werd geboren. Met een korte biografie van Roger, een bloemlezing uit zijn gebeden en vele prachtige quotes.
---
fr. Roger
Lutte et contemplation – Vers le concile des jeunes 1966-1972
Collected writings of Brother Roger in French, fifth volume
Les Presses de Taizé [https://shop.taize.fr/index.php/lutte-et-contemplation.html], 2015, 288 p, ISBN: 9782850403941
e-book ISBN 9782850403965
Les écrits de frère Roger, fondateur de Taizé, tome V
Ce volume réunit « Ta fête soit sans fin » (1971) et « Lutte et contemplation » (1973). Les pages de journal que contenaient ces deux livres sont enrichies d'autres textes, interviews, lettres aux jeunes, extraits inédits du conseil annuel de la communauté. À la fin des années 1960, le cheminement vers la réconciliation des chrétiens, qui a tant occupé frère Roger, lui semble être en panne. Il se demande : si l'œcuménisme a atteint un plafond, qui fera une trouée ? Seraient-ce les jeunes générations ? Mais beaucoup de jeunes sont découragés et désorientés, la grande crise de 1968 n'a pas abouti à ce qu'ils avaient imaginé : comment partager avec eux une nouvelle espérance ?
---
hno. Alois
Peregrinos de Confianza – El camino de comunión de Taizé
Pèlerins de confiance in Spanish
PPC Editorial y Distribuidora, SA [https://es.ppc-editorial.com/libro/peregrinos-de-confianza], 2015, ISBN: 9788428828918
Tras recordar la herencia espiritual del Hermano Roger, el fundador de su comunidad, su sucesor, el Hermano Alois, reúne aquí las cartas que ha dirigido a los jóvenes durante los últimos años. En ellas sienta las bases esenciales para ser testigos del Evangelio en el mundo. También muestra lo que significa comprometerse para toda la vida en el seguimiento de Cristo.
---
fr. Roger
Kärlekens blick
Pressens-tu un bonheur? in Swedish
Verbum Förlag, Stockholm [https://www.verbum.se/52634783-product], 2015, 196 s, ISBN: 9789152634783
Broder Roger var 25 år och andra världskriget pågick för fullt när han kom cyklande till en by i Bourgogne. Han letade efter en plats där han kunde starta en kommunitet, ett liv i gemenskap med andra. 75 år senare är byns namn, Taizé, en symbol för tro och tillit runtom i världen.
Kärlekens blick var den sista bok som Broder Roger skrev före sin död 2005. I den här utgåvan har den fått sällskap av hundra böner som han skrev, hans sista brev till världens unga och ett förord som berättar Taizékommunitetens historia. Taizé har blivit ett pilgrimsmål för hundratusentals unga vuxna från hela världen, inte minst för unga svenskar.
---
Sabine Laplane
Frère Roger, de Taizé – Avec presque rien…
New Biography of Brother Roger in French
Éditions du Cerf [http://www.editionsducerf.fr/librairie/livre/16109/frere-roger-de-taize], 2015, 528 p, ISBN: 9782204099875
Qui était vraiment frère Roger ? Un prophète ? Un fondateur reconnu dans le monde entier ? Un ami des plus pauvres ? Un spirituel charismatique à l'écoute des jeunes ? Sabine Laplane raconte la vie de cet homme de paradoxes, dont les racines plongent dans le protestantisme et se nourrissent de la tradition catholique et orthodoxe. Elle explique comment, « avec presque rien », il a réussi à rejoindre les « périphéries » de nos sociétés modernes, et ce malgré les obstacles institutionnels et les doutes qu'il a dû affronter tout au long de sa vie. Jusque dans sa mort violente…
---
Taizé – Music of Unity and Peace
Taizé – Musique de paix et d'unité
New CD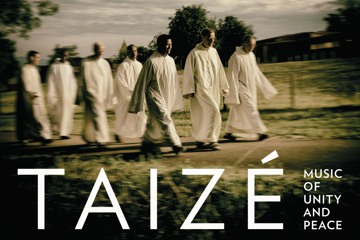 Deutsche Grammophon [http://www.deutschegrammophon.com/en/album/taize-music-of-unity-and-peace/home.html], 2015, ref.: 479 3788
Recorded at the Taizé Community in collaboration with Deutsche Grammophon.
Enregistré à la Communauté de Taizé en collaboration avec Deutsche Grammophon.
Aufgenommen in Taizé in Zusammenarbeit mit Deutsche Grammophon.
1. The Bells of Taizé, 2. Veni Sancte Spiritus, 3. Introduction: Seigneur ouvre mes lèvres, 4. Bless the Lord, 5. Laudate Dominum, 6. Répons: Le Verbe s'est fait chair., 7. Beati voi poveri, 8. Jubilate cœli, 9. Psaume 63, 10. Bleibet hier, 11. In manus tuas Pater, 12. Surrexit Christus, 13. Gospodi pomiluj C, 14. Aber du weißt den Weg für mich, 15. Cantique de Siméon, 16. Jésus le Christ, 17. De noche iremos, 18. Ubi caritas et amor, 19. Let all who are thirsty come.
---