There are many regular prayers in the UK which started by contact with Taizé. The ones on this list are only a selection: those prayers with which the community remains more closely in touch through personal contact.
Regular prayers
Aberdeen

Every Wednesday, 7:30 pm; St John's Church, St John's Place (off Crown Street); Tony Broderick, 07828821869, tonybroderick gmail.com
Bath

Monthly in term time, 6.15 pm; The Chaplaincy, Bath University; catholicchaplain bath.ac.uk.
Prayer at the University of Bath
Birmingham

Every Tuesday, 7:00 pm, Carrs Lane Church Centre, Carrs Lane, B4 7SX. Matthew and Steph Neville, info carrslanelivedcommunity.org.uk Website [http://www.carrslanelivedcommunity.org.uk/]
On the first Tuesday of each month, the prayer is followed by a bring and share meal, and a discussion around a bible text.


3rd Sunday of month 6:00 pm, prayer in a church (moving around the city). Helen and Peter Woodall, phpaw2 btinternet.com.
Brighton

Every Monday (except Bank Holidays), 6:30 pm, 119d Hollingdean Terrace, BN1 7HB. Hannah Bywaters hbywaters yahoo.com
Bristol

1st Friday of month (except August), 8 pm, Elsie Briggs House, 38 Church Road, Westbury-on-Trym, BS9 3EQ; Uschi and Richard Rigby ur.rigby blueyonder.co.uk


Last Friday of month, 7:30 pm, St Nicholas of Tolentino Church, Lawford's Gate, BS5 0RE; parish: 0117 983 3920


3rd Thursday of month (except August), 7:30 pm, St James' Priory, Whitson Street, BS1 3NZ (next to Bristol Bus Station); Caroline Price carolineshalom.price gmail.com
Cambridge

Every Monday in Full Term, 8:00 pm, Fisher House Chaplaincy, Guildhall Street, CB2 3NH; Hania Adamczyk haniaadamczyk3 gmail.com
Prayer in the Bridge Chapel, Derby
Exeter

Monthly, usually 2nd or 3rd Friday of month, 7:00 pm, St Pancras Church, Guildhall Shopping Centre, EX4 3AT. Nigel Walsh nigel ncw.eclipse.co.uk
Glasgow

Every Monday in the Strathclyde University Chaplaincy Centre, Graham Hills Building (Level 2), gathering from 5.30pm to start at 6pm. Vicki Henderson victoria.henderson strath.ac.uk, Jennifer Radtke jennifer.radtke strath.ac.uk. Facebook [https://www.facebook.com/groups/1425894464383687]


2nd Monday of month, 7:00 pm, St Margaret's RC Church, Sinclair Street, Clydebank G81 1AE; Tamara Sanchez-Kapostasy tsanchezkapostasy gmail.com
Gloucester

1st Sunday of month, 6:00 pm, Chapel of Gloucester Royal Hospital, Gt Western Road, GL1 3NN; Diane Carter carterdiane121 gmail.com
Great Missenden (Bucks.)

3rd Sunday of the month at 6pm at St Peter & St Paul, Great Missenden
Revd Dr Elizabeth Lowson curate.elizabeth gmail.com
please check our website [https://www.missendenchurch.org.uk/] to confirm before travelling to our church – changes are especially likely in Advent and Lent.
Hull

1st Sunday of month, 4:00 pm, Hull Minster, Trinity Square, HU1 2JJ; Charlotte Peckett, charlotte hullminster.org, 01482 224460.
Prayer in Edinburgh
Leicester
Monthly prayers on Sunday evenings in Markfield. Karen Silverwood karensilverwood googlemail.com
Leeds

Some Mondays in university termtime; 5:30 pm; Emmanuel Centre, University of Leeds, LS2 9JT. Sarah Derbyshire sarah81196 live.co.uk
London
Fridays during Lent: Prayer around the Cross
7:15pm, St. Paul's, Bow Common, corner of Burdett Rd. and St. Paul's Way, E3 4AR (10 minutes walk south from Mile End Station) Ruth McCurry, 07933 744730

Every Wednesday, 6:00 pm; All Hallows by the Tower, Byward Street, London EC3R 5BJ; tube: Tower Hill; parish ahbtt.org.uk

4th Sunday of the month, 6:00 pm, and


Every Wednesday and Friday, 8:00 am:
St Mary Aldermary Watling Street EC4M 9BW (tube: Bank/Mansion House/St Paul's); Robyn Vesey robyn_vesey yahoo.co.uk www.moot.uk.net [http://www.moot.uk.net]

Last Wednesday of month (except July and August), 7:30 pm; Sisters of St Andrew, 99 Belmont Hill, Lewisham, SE13 5DY; nearest station: Blackheath; 0208 852 1662; www.sisters-of-st-andrew.com [http://www.sisters-of-st-andrew.com]

Every Tuesday except last Tues. of month, 8:30 pm; 15 Southwell Gardens, SW7 4RN (tube: Gloucester Road); Sister Ruby, rmilondon btconnect.com, 02073733869

Every 2nd Sunday of month; 5:15 pm song practice, 6:00 pm refreshments, 6:30 pm prayer; St Leonard's Church, Streatham High Road, SW16 1RB Julie McCann, jpmccann106 gmail.com

3rd Sunday of month, 6:00 pm; St James's Piccadilly, 197 Piccadilly, W1J 9LL; Graham Sharpe, grahamtsharpe hotmail.co.uk

Saturdays, 7:15 pm; Notre Dame de France Church, 5 Leicester Place, WC2H 7BX; see church website [http://www.ndfchurch.org/en/a-propos/groupes/priere-taize/]
Manchester

4th Tuesday of month, 7:30 pm; St Elisabeth's Church, Bedford Street, Reddish. SK5 6DJ; Rev. Angie Stanton, 0161 432 3033, angiestanton27 yahoo.co.uk
Peterborough

3rd Saturday of most months, 5:30 pm; Peterborough Cathedral; http://www.peterborough-cathedral.o... [http://www.peterborough-cathedral.org.uk/home/taize.aspx]
Prayer in Broomhill Methodist Church, Sheffield
Reepham (Norfolk)

A few times a year (In 2019: 24 February, 28 April28 and 22 September). 6:30 pm, St. Michael's Church, NR10 4JW. Song practice 5:45 pm, Silence from 6:15 pm. Sue Page sue.gislingham gmail.com, 01603 870886
All Hallows by the Tower
Sheffield

3rd Sunday of month, 8:00 pm; St Mark's Church, Broomfield Road, S10 2SE; On Facebook [https://www.facebook.com/groups/143413515752589/], Mark Ansell markansell85 hotmail.com
Stevenage

1st, 3rd & 5th Tuesday of month, 9:00 pm; High Street Methodist Church, SishLane/High Street, Stevenage Old Town SG2 8QR; Steven Cooper taize.stevenage gmail.com http://www.facebook.com/taizestevenage
Tetbury (Glos.)

2nd Thursday of month, 8:00 pm (7:40 pm song practice) in one of the 3 churches; Robin and Sue Ingall: 01666 503180, cringall btinternet.com
Wakefield

Last Friday of month, 7:00 pm, St John's Church, Wentworth Street, Wakefield WF1 2QU; Jane & Nick Shields jane laloge.co.uk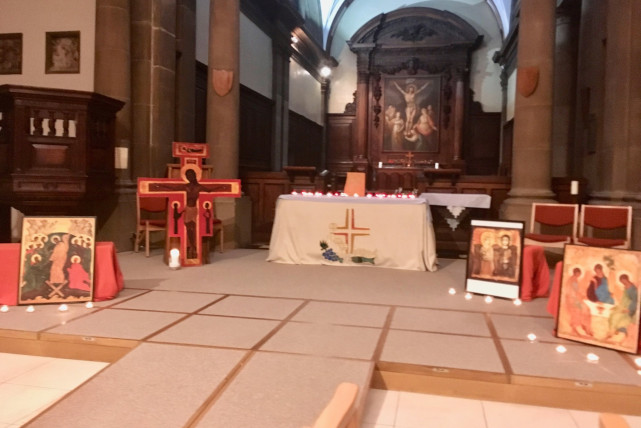 Winchester

Last Sunday of month (usually) 6 pm; Sue Foster suemfoster talktalk.net