God of compassion, we thank you for Brother Roger's life. In a world often torn apart by violence, he wanted to create a community that was a parable of communion. We praise you for the witness he gave to the Risen Christ and for his faithfulness until death.

Send your Holy Spirit upon us so that we too may be witnesses to reconciliation in our daily lives. Make us creators of unity among Christians when they are divided, and bearers of peace among human beings when they are in conflict. Enable us to find ways of living in solidarity with the disadvantaged, whether close at hand or far away.

With Brother Roger we want to say to you: Happy all who surrender themselves to you, O God, with hearts that trust. You keep us in joy, simplicity and mercy.

(prayer by Brother Alois)
---
Over these past three years, our "pilgrimage of trust on earth" has been nourished by listening to young people from every continent who are seeking a "new solidarity". They have shared their experiences and reflections during meetings at Taizé, in the course of visits to many countries, and during gatherings in Europe, Africa, South and North America, Asia and Oceania.
Humanity is going through a difficult time of transition, and the outcome is still unsure. Some people focus on what is wrong, and lose hope. Others are able to see new shoots of life: still fragile, but often borne by extraordinary creativity, they show that human beings are not made for despair. Crises can liberate unexpected energies and focus our wills.
From Taizé, we greet all those who, across the world, have taken the risk of hope. They are longing for a globalization of solidarity, and they are already living it. With them, we want to take a further step on this road together.
Allowing new solidarities to grow
Across the earth, new calamities, new forms of solitude, new and burning issues—displaced populations, ecological catastrophes, inequalities, massive unemployment, different forms of violence—call for new expressions of solidarity. They represent a common challenge for believers of different religions as well as for non-believers.
Are you ready to devote your energies to allow these new solidarities to grow:
that globalization may be carried out in justice and fraternity, and not by the oppression of the poor or of minority cultures;
that the exploitation of others and the tragedy of countless migrants may finally cease, and that the dignity of each person, including the very weakest, may be defended;
that care for the environment may be recognized as a priority to ensure a future for coming generations;
that technological progress may not deepen inequalities, but may benefit everyone and make life more human;
that solidarity may not be a one-way process but a reciprocal relationship, and that those who give may learn to discover the generosity of the weak, the poor, of foreigners.
Even with next to nothing, you can contribute to creating these new forms of solidarity so that together we can attain the joy of living. Do you believe this?
If compassion were to disappear…
Where will you find the strength you need for this? For years now the awareness of Christians has been awakened, and they have realized that Christ came to bring together all human beings: by his resurrection he made them brothers and sisters of the same family. By coming together visibly around him, by letting themselves be led by the breath of the Holy Spirit, Christians will permit the wellsprings of compassion and solidarity to flow. By drawing from them, they will be able to set out ever anew.
If compassion were to disappear from our societies, what would become of humankind?
At the center of the life of the community he founded, Brother Roger set three Gospel values which are accessible to all:
joy – simplicity – mercy.
During the next three years, could these three words accompany you on your journey, helping you to open wide the doors of solidarity—in your heart, around you, and in society?
In 2016, we shall begin with mercy! Let us rediscover God's goodness and human goodness; they are deeper than evil! In this way, we reach the heart of Christ's message. It is in this spirit of the Gospel that Pope Francis has launched a year of mercy: all are called, through their lives, to reflect God's forgiveness and unlimited compassion.
---
The icon of Mercy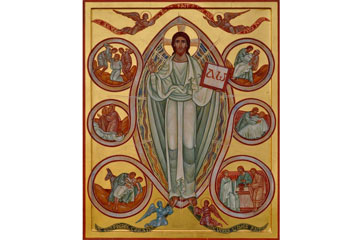 An expert in the law asked Jesus, "And who is my neighbor?"

In reply Jesus said: "A man was going down from Jerusalem to Jericho, when he was attacked by robbers. They stripped him of his clothes, beat him and went away, leaving him half dead. A priest happened to be going down the same road, and when he saw the man, he passed by on the other side. So too, a Levite, when he came to the place and saw him, passed by on the other side.

"But a Samaritan, as he traveled, came where the man was; and when he saw him, he took pity on him. He went to him and bandaged his wounds, pouring on oil and wine. Then he put the man on his own donkey, brought him to an inn and took care of him. The next day he took out two denarii and gave them to the innkeeper. 'Look after him,' he said, 'and when I return, I will reimburse you for any extra expense you may have.'"

Jesus added, "Which of these three do you think was a neighbor to the man who fell into the hands of robbers?" The expert in the law replied, "The one who had mercy on him." Jesus told him, "Go and do likewise."

(Gospel of Luke 10:29-37)
Will you devote your energies to helping your neighbor, to repairing injustices? Christ is present in the wounded man abandoned on the roadside; he is waiting for your compassion.
Are you yourself undergoing a trial? Christ looks at you with kindness. He takes care of you as he does of all humanity. His look of love is sometimes revealed to you by someone who is despised, like this stranger, the Samaritan.