Since 2015, Europe has been in a migratory crisis of unprecedented scope. Faced with this challenge and supported by the generosity of many neighbors, the community continues to open its doors to welcome migrants.
Welcome and Referral Centers
In November 2015, to welcome migrants from Calais, a so-called CAO (reception and orientation center) was opened in Taizé. This place was able to accommodate thirteen young men aged 19 to 40, all Muslim, from Sudan and Afghanistan. Nine of them, who have been granted refugee status, are now working or training in the region around Taizé. One of them, widowed, had a 13-year-old son in Sudan. On the occasion of his visit last year to that country, Brother Alois brought the child back to his father. He is now attending school and his father works in a foundry of the region.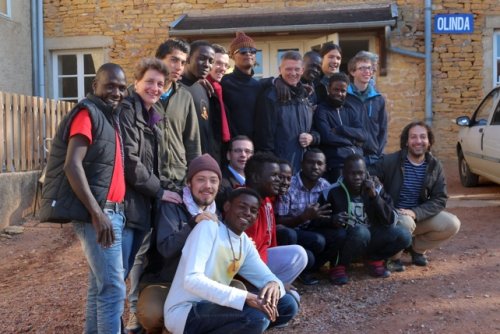 In November 2016, the community opened a CAOMI (reception center and guidance for minors) to host for a time eighteen young minors from Calais, who wanted to go to England. Seven young people decided to stay in Taizé for their asylum application procedure. One of them is now in an educational center near Taizé and four refugees are still living in the village, seeking to settle in the area.
Families
In recent years, the community has also welcomed four refugee families from Iraq and Syria. After several months in Taizé, which allowed them to regain their autonomy and begin to be integrated well in France, two of these families settled elsewhere, keeping an almost family-like relationship with the community.
Awaiting Protection
Last September, the community welcomed three young migrants from South Sudan and Sudan, aged 20 to 28 years. These young people do not yet know if they will be able to make their asylum application in France because of the Dublin regulations. In the meantime, since they do not have permission to work, they are learning French, do volunteer work and participate in exchanges on the causes and difficulties of their migratory journey.
Sponsoring Families
Every young migrant welcomed in Taizé is accompanied by a family from the region. By simple regular visits to their sponsoring family, these young people are helped to head towards a good integration into French culture and receive invaluable support. One of the young refugees recently said, "Françoise takes care of me more than a mother cares for her own son!"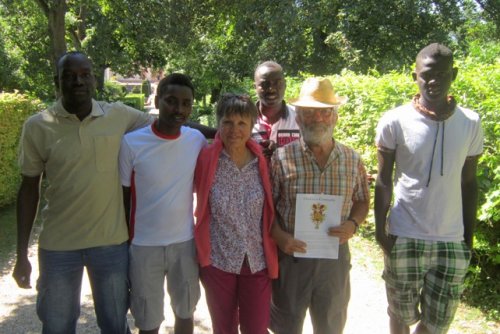 French Classes
When the community opened its doors to young people from Calais, immediately a great generosity on the part of the inhabitants of the region was manifested. Today, French classes are offered four days a week at the Taizé town hall and a dozen volunteers take turns to give classes. Christine, a teacher of French as a Foreign Language (FLE), writes: "My great astonishment and my great pleasure is also to see the motivation of the asylum seekers and their commitment to learning French, despite all their other concerns." In addition to the three migrants who participate today in the courses, a dozen foreigners from different countries living in the region also benefit from the quality of these courses.
Exchanges
Migrants welcomed in Taizé were invited to lead a day of reflection on migration at Saint Joseph High School in Châteaubriant, Brittany. In November 2017, three of them went there and the high-school students were impressed by the story of these young people who crossed the Sahara, and the experience of hell in Libya and the Mediterranean. The migrants were likewise impressed by the quality of the listening and the seriousness of the students.
In Taizé, migrants sometimes participate in the workshops offered to the young pilgrims, where they can share their background and motivation.
At the European Parliament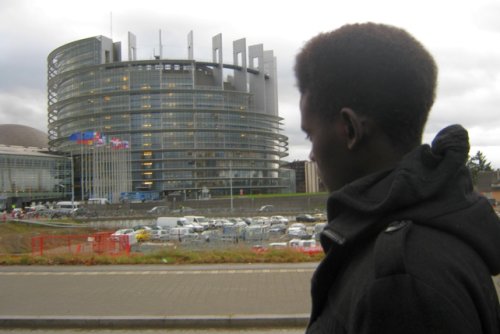 In January 2018, a group of young migrants visited the European Parliament. During a meeting with the European Commissioner for Migration, with members from different parties and from different countries and with the Director General of the OFPRA (French Office for the Protection of Refugees and Stateless Persons), migrants were able to talk about their reception experience in Europe and their respective situations: statutory refugees, asylum seekers, "dublined" migrants, and unaccompanied minors whose age has not been recognized.
A Member of the European Parliament sent us images of this visit, filmed by Claudio CUTARELLI, concerning the Dublin Agreement:
To watch a longer clip of this meeting, click here.
Volunteering
Migrants welcomed in Taizé have always been happy to lend a helping hand around them and to feel useful in fulfilling a service for others. They regain dignity when they can give something of themselves.
Edith, treasurer of the Cluny team of the Catholic relief agency, writes that "three young migrants are volunteers and they come to lend a hand for the our activities. They have participated in several things, such as helping to staff a stand and organizing the annual big meal, where they were congratulated by everyone for the quality of their commitment."
Migrants also enjoy volunteering alongside the young pilgrims who visit the community. Gonçalo, a young Portuguese, recently wrote: "Working with three young migrants was a unique experience; they were well integrated into our team and we shared together about some aspects of our culture and theirs. They told us about their experience and their search for peace."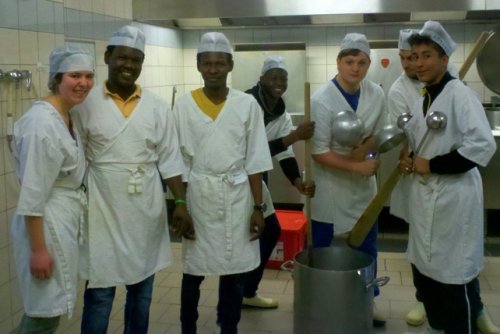 Last summer, many young people responded to the call for solidarity with migrants and donated to Taizé. With Orsi, a volunteer, three young migrants went to Calais in November to give the local Catholic relief agency sleeping bags, shower gels, shampoo, toothpaste and toothbrushes. They were guests for two nights at the Maria Skobtsova House, where the doors are open to the most vulnerable exiles. Orsi writes: "Our three friends from Taizé had seen the same misery during their own journey through many countries, the desert, the Mediterranean, and they understood what the young people of Calais are going through."