Three times a day, we come together in this Church of Reconciliation. Together we go to the sources of faith.
You already know that for us brothers, this week is marked by the death of our Brother Jacques, on the night of Monday to Tuesday. We will hold with all of you the farewell celebration on Saturday at noon.
Brother Jacques lived a very great part of his life as a brother in Asia, in Bangladesh, where he arrived in 1975. There, some of our brothers live in the midst of an almost entirely Muslim people.
How can our brothers there be witnesses to the risen Christ? It is not by speaking a lot, but first of all by welcoming people, being close to them, and admiring their gifts as well, for example their sense of beauty and poetry. It is also by being close to those who suffer and helping them understand how much they are loved.
Yes, our brothers share the daily existence of the poorest and most abandoned. They also lead pilgrimages with young people with disabilities that bring together believers of different religions. In the great diversity of religions and cultures, this presence in Bangladesh wants to be a sign that the service of the most vulnerable opens a path of peace and unity.
---
The other day a young man asked me: how can I find inner peace? I felt a little caught off guard to answer him. In fact, inner peace is a very important reality, but at the same time it is perceptible, at least for me, only at times.
Yes, there are times when, as if by surprise, I am filled with gratefulness for life, for a person, for an event, for music, for nature. But the worries of life, big or small, often take over again quickly enough.
Jesus invites us not to let ourselves be overwhelmed by worries. And I know people—I am thinking of someone in particular—who should be overcome by worry, but who maintain a surprising serenity. That person told me: "The Holy Spirit is here; he supports me."
But how can we approach this trust that God is there, greater than our worries? For this, a saying of Jesus can help us. Before dying on the cross, he said to his disciples, "I give you my peace."
It is not up to us to create this peace: all we can do is receive it. The apostle Paul goes so far as to say, "Christ is our peace." This peace of Christ is not primarily a feeling in us that calms us. More deeply, it manifests itself in our relationship with others. Even with those who are different from me, who have other opinions, another religion.... Christ keeps us in peace.
Of course, this peace of Christ does not magically abolish differences or tensions. But it shines a new light on them. It leads us to listen to each other more deeply, to go as far as possible in understanding the other's point of view. Then he or she is no longer a threat to me; we can even take a few steps forward together.
So relationships with others are less fraught with fear, and something calms us in ourselves; inner peace can arise.
Christ is our peace: he impels us to open ourselves to others and even to bear tensions without fear. It is this approach that allows peace of heart. The reconciliation desired by God begins in our hearts, in the inner peace that refuses to imprison the other in a category or in prejudices.
Yes, it is Christ who gives us his peace. Without this, the temptation to discouragement and bitterness could become too strong. Yes, through the inner peace we receive from Christ, we can become bearers of peace and reconciliation in the human family.
---
I would now like to give the floor to a young volunteer from Iraq who is spending the summer with us. He and his family have suffered greatly from violence and war. Now let us listen to his words.

Good evening, everyone. My name is Fadi and I come from Baghdeda/Qaraqosh, Mosul in Iraq. I stay at Taizé this summer as a volunteer.

In the last years, we have been suffering a great persecution from extremist groups and ISIS which included killings, destroying and burning our houses and churches and looting our possessions and properties, in addition to the psychological abuse before and after our forced displacement.

Despite all of this, our Christian faith recommends us to forgive them. It's very hard because we have suffered so much. But without forgiveness, there will be no peace, there will be another war. Recently, we have started to rebuild bridges of communication with our neighbours.

We need your prayers here in Taizé for our enemies and for us, so that we can all live in peace and security.
Thank you, Fadi, for these very powerful words. We will pray for you, for your family and for peace in Iraq and the Middle East.
Since May, four families of Yazidi refugees have settled in Taizé, particularly mothers with children, from Iraq and Syria. For this peaceful people, next Saturday, August 3rd, is a very serious date, when many of them were cruelly slaughtered five years ago. Saturday night, these families will be with us in the church. At the end of the prayer, we will spend a few moments in silence to show our solidarity with the suffering of the Yazidi people.
---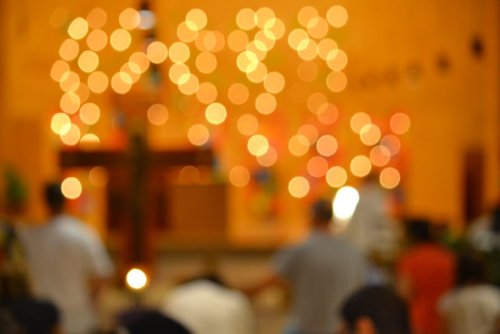 [1]