In accordance with the French authorities' plans for the gradual easing of the lockdown, the showroom where the brothers' work is exhibited ("L'Exposition") opened again on 11 May.
At the moment, it is open from
from Monday to Saturday between 11am and 12 noon and from 2.30pm to 7pm.
on Sundays between 11.15 am to 12 noon and from 2pm to 6pm.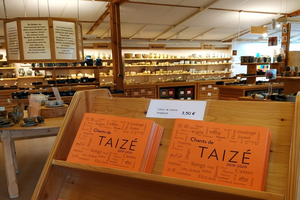 We ask everyone to carefully adhere to the "barrier measures" and physical distancing. Please come with a mask.
Some items (soft drinks, crisps, snacks…), which were bought for young people who had registered for Easter and who could not come, have been put on sale in the showroom at cost price.
The Taizé brothers live only from their own work: books, videos and CDs, pottery, enamels on copper, icons, and other objects. Their work is presented and on sale at Taizé, as well as
via an online shop
.