Dear Archbishop Tutu,
with great happiness, your 90th birthday offers me an opportunity to express my gratitude to God for your life and ministry.
The Spirit of the Risen Christ has made you a source of wisdom and courage for South Africa and the world during the darkest hours of apartheid and throughout the journey towards justice and reconciliation in your country. You have entrusted to the Lord your ears to listen, your voice to cry for justice and to whisper consolation, your hands to reach out and build bridges, your heart to unveil inner resources in everyone…
Since Brother Roger's visit to Johannesburg and Cape Town in 1978 and your coming to Taizé in 1979 we have remained together through a communion of prayer and we have shared a passion to awaken new generations of young people to faith in Christ.
Throughout these years, you have faithfully supported hundreds of young South Africans sent by their Churches to represent their country in different stages of the Pilgrimage of Trust organised by Taizé. I remember how you joined the participants of the 2019 International Youth Meeting in Cape Town for midday prayer under the large tent we had put up at the foot of Table Mountain!
As our wounded world needs healing, boldness and determination to invent new ways to live together, may the Lord keep blessing us all through the peace of your heart and your prayerful intercession.
In your message of welcome to the participants in the Johannesburg 1995 Taizé Pilgrimage you wrote: "Prayer creates the climate in which we can meet and grow to love one another." With my community we love you and we keep you and all the people of South Africa in our prayer.
Brother Alois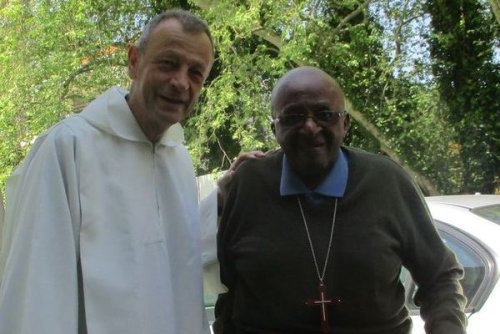 During the Cape Town Taizé meeting in 2019