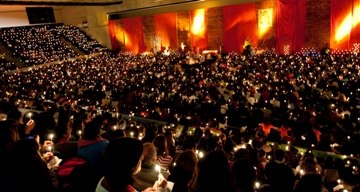 During four days, I walked. In a "pilgrimage of trust on earth" held in Porto. During four days, I walked, not towards to a material sanctuary, but towards a spiritual sanctuary, "to the wellsprings of joy". The narrow paths were replaced by subway lines, the wayside inns by the home of the Dias family at Lavadores, the packed lunch by the meal distributed at the Dragon stadium. But the essential of "pilgrimage" remained unspoiled and just as alive as when I use my walking shoes that have tasted the tar on the way to Fatima or Santiago; the desire to make our way to the "awareness, the sanctuary where human beings are alone with God".
A pilgrimage is an event for those who undertake it, for those who dare to set out and run the risk of failure, but also for those who receive the others, and, in this case, received even more. Thousands of young pilgrims joined thousands of people who agreed to open their homes to complete strangers. They shared more, far more, than their goods; they shared their lives, their beliefs, their hopes. This was a pilgrimage that each young adult made to the sanctuary of each family. To the sanctuary of human kindness, to the sanctuary of trust in God and in other people, with no guarantee that certain things might not turn out well, but with the certainty that certain things are really going to happen.
But what is this joy? What is this folly that motivates us?
What motivates us is the gentle certainty that the love of God gives meaning to our work and our efforts; what motivates us is the possibility to make someone smile; what motivates us is our faces bathed in tears because a smile is not strong enough to express the joy and because laughter is too banal for something so sublime. This is what gives us the certainty that, whatever happens, the way towards God is simplicity and that the only feeling that belongs to human beings is love in all its manifestations.
As in every pilgrimage, there remains within us the mark of those who have touched us along the way, and with whom we have made links; there remains within us the desire to set off again, certain that each arrival, even if it is still far from the goal, is a kind of passing over point that assures us that we are going in the right direction, God's direction.
Nuno Folgado, O Distrito de Portalegre, 18 February 2010