One of the brothers was in Japan in November-December 2010 for a series of meetings and prayers in different parts of the country: Sapporo, Tokyo, Nagasaki, Yokohama, Fukuoka, Ube…
The programme also included a retreat for students of Kwansei Gakuin University.

The last weekend of November, a retreat for students was held at the Sengari Camp, of Kwansei Gakuin University. A similar retreat was held for the first time in June 2009. Afterwards, there were many reactions from the participants: "Next year, again please!" Responding to their requests, we again invited one of the Taizé brothers and the "2010 Retreat at Sengari Camp" took place as one of the official events of our university. 70 participants registered for the retreat, more than half of them had taken part the previous year. The preparation for the weekend was carried out by the students with great enthusiasm. One of them writes: "I took part in the retreat last year, and since then I have been waiting for this time. Last year, through listening to the words and the singing together, I really experienced a consolation which sets me free from illusions."
"The well of encounter"
It was the end of autumn, and everything in nature was really beautiful at the camp: yellow and red leaves, and the serene sky. In such an environment, the program went very smoothly and fruitfully, based on the theme "A thirst for a life in fullness: A call to transform the world". Through the general sessions and the group discussions, focusing on the main Bible text, the story of Jesus and the Samaritan woman at the well (Jn 4), the participants certainly realized that at that moment the Sengari camp had became the well of encounter for them: the encounter with what is most essential, and the encounter with each other in a deeper level. One student writes: "In the time of sharing, all the members of my group were people I met for the first time. But we could open our hearts to each other very naturally and frankly. It was really amazing for me! I think it was possible perhaps because we had a sense that we all were companions walking together in the same journey."

One of the most impressive moments was the presentation of the posters prepared by each group; these were a kind of art work using pieces cut from the old newspapers or magazines. The posters expressed vividly what had been shared about the "thirst" of the members of the groups. Some expressed their thirst in human relationships, some expressed their thirst concerning daily and concrete matters, and still others expressed their longing for meaning in their lives. Seeing and hearing these presentations, I was really impressed by their creativity, and their great sense of humour!
Reflection in silence
At the same time, the students really enjoyed the time of personal reflection in silence. Especially for those taking part for the first time, silence was a really new experience and had a great impact on them. One student writes about her experience: "The time of reflection in silence was very striking. At the beginning, I really didn't know what to do. I just started to walk through the woods, and after a while, I sat on a bench in a quiet place. First I thought about the themes presented at the general session, then gradually my mind opened up and I moved into my own reflection. Suddenly I realized that it was time to go back for the next meeting!"
The place where we prayed was beautifully prepared with symbols that were very simple: icons, candles, some greenery and some coloured cloth; lots of fallen leaves - yellow, brown, and red - on the floor. During the evening prayer on the first day, those who wished took one of the leaves and placed it at the foot of the icon of the Cross. This was done as a sign of entrusting our burdens to Christ, encouraged by the words of Brother Roger, "Blow away remorse as a little child blows away dead leaves." We prayed facing a large window through which could be seen a vast panorama of nature. The prayer early the next morning began while it was still dark. Gradually, during the time of singing and silence, the sun came up. One of the students wrote afterwards, "This morning, when I saw a red glow in the morning sky, I remembered that morning prayer. It was really wonderful to sing together in the time of sunrise!"
"If you only knew the gift of God"

In the general session and the sharing, we heard and shared Christ's words to the Samaritan woman, "If you only knew the gift of God." At the time of departure from the camp on the last day, I could perceive a kind of brightness in the faces of the students. Surely, this brightness came from a confidence: a confidence in the gift of God given to each one of them? Through looking at themselves and the others with different eyes, the participants had probably found gifts within them. One student shared: "I had never had much confidence in myself; I always felt I was worse than the others, in ability, appearance, and character. But during the retreat I gradually came to realize that we do not have to worry; God created us as we are, and all of us are created as 'good.' I was really, really released by that experience."
The time passed so quickly. After going back to their daily lives the students may experience moments of disappointment or darkness again. But I strongly believe that such an experience of reflection and sharing, even if it is only once a year, certainly gives them courage: courage to live their lives using their gifts, not only for themselves but also for others.
Keiji Utebi is a chaplain at Kwansei Gakuin University
A meeting with one of the brothers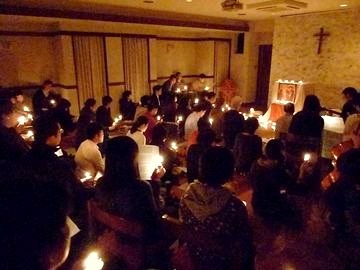 Kimiko writes: "In November, we invited one of the brothers to a meeting at the Student Christian Fellowship (SCF) which is a youth centre in Tokyo, where young people are welcomed regardless of their faith. Nearly sixty people joined in the prayer, from different denominations and various universities. The meeting was held to welcome especially those who do not usually go to church. I got the idea of having such a meeting because I myself did not have any Christian background and one of the Taizé meetings was the starting point for me to come to have trust in God. In Japan, less than one percent of the population is Christian and the presence of youth in traditional churches is almost invisible. For the average Japanese young people, going to church is not something what they usually do. And yet, in the midst of sufferings from our materialistic lifestyle, young people are searching for what gives a true meaning to their lives. I thought this meeting could bring hope to them, so that they also could enter into a way of living that is based on trust. For many of them, it was the first time to sit silently in front of God just as they are. It was a very beautiful moment to witness to the fact that many young people are invited to a spiritual journey."
Among the reactions from the young people after the meeting:
"This was my first time to spend time in silence. I was surprised at myself, being able to pray like this. It was just as if something had stated to burn in the depth of my heart."
"Recently, I have gone through difficulties in my life and have felt so isolated. Yet, looking at the icon of friendship I felt the presence of God beyond question and I was able to recognize that I was not alone".
"I felt an enormous thirst within everyone, including myself. Until that moment, I was quite alright as I was, but as I prayed and went deep inside myself, I came to realize that I have been really thirsty for something."