Every year, Young people from Hong Kong are visiting Taizé and also are attending the meetings in Europe and other continents. Back home, they gather to pray. Here are several places where people can join them.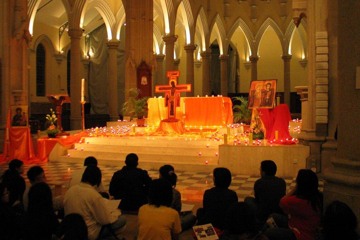 1. St. Thomas the Apostle Catholic Church, Tsing Yi
Date: every first and third Tuesday of the month (except Feb 5 2019)
1/1, 1/15, 1/29, 2/19, 3/5, 3/19; 4/2, 4/16; 5/7, 5/21; 6/4, 6/18; 7/2, 7/16; 8/6, 8/20; 9/3, 9/17; 10/1, 10/15; 11/5, 11/19; 12/3, 12/17
Address: 5 Tsing Luk Street, Tsing Yi, New Territories, Hong Kong. (next to Tsing Yi Estate Bus Terminus)
Time: 8:30pm to 9:30pm (song practice at 8:15pm)
Venue: Blessed Sacrament Chapel (Ground Floor, entrance via the main church and main altar at First Floor)
Transport:
MTR (Metro) Tsing Yi Station, 10 minutes walk from Exit C (via Tsing Yi Park).
Bus routes 41, 41A, 41P, 41M, 42C, 43B, 44, 44M, 49P, 49X, 243M, 948 (alighting bus-stop: Tsing Yi Estate).
Enquiry: Rev. Issac Noh (+852)91276464, James Kwok (+852)98022460,
email: jamespkatso yahoo.com.hk
Facebook page: https://www.facebook.com/taizehk/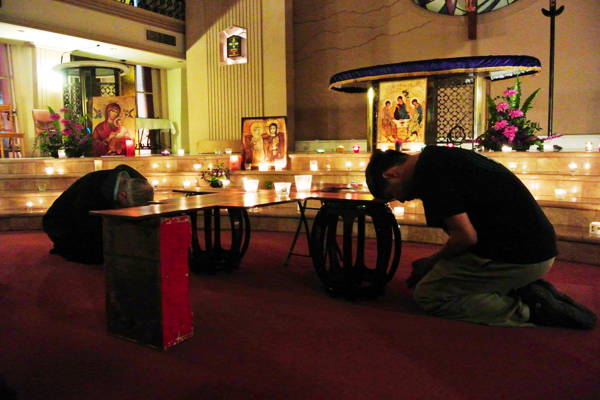 2. Kowloon Union Church
Date: Jan-Nov 2019 (the 4th Monday of each month: 28/1, 25/2, 25/3, 27/5, 24/6, 22/7, 26/8, 23/9, 28/10, 25/11; except 22/4 Easter Monday)
Time: 8:00-9:00pm (song practice 7:45pm)
Address: 4 Jordan Road, Kowloon
Transport: MTR Jordan Station (Tsuen Wan Line); 2 mins walk from Exit B1/B2
Enquiry: Graduates Christian Fellowship of Hong Kong (+852)23698511
Facebook page: http://www.facebook.com/gcftaize
3. Catholic Cathedral of the Immaculate Conception (Mid-Levels)
Date: 3/3、4/7(first Saturday of March and April);5/12、5/26、6/9、6/23、7/14, 7/28(second and fourth Saturday of May, June, July)
Address: 16 Caine Road, Mid-Levels, Hong Kong Island.
Time: 19:30 – 21:00
Website: http://cathedral.catholic.org.hk
7. Tao Fong Shan Christian Centre: English Service
Date: Every 2nd Sunday of the month
Address: 33 Tao Fong Shan Road, Shatin
Time: 5:30pm-6:45pm
Venue: Tao Fong Shan Christian Centre Christ Temple
Enquiry: contact tfscc.org / (+852)26944038
Facebook page: http://www.facebook.com/taofongshan
5. St John's Anglican Cathedral (Central)
Date: Evensong on fourth Sunday of the month with Songs from Taizé
Address: 4-8 Garden Road, Central, Hong Kong Island.
Time: 18:00-19:00
Telephone:(+852) 25234157
6. St Paul's Anglican Church (Central)
Theme: Christe lux mundi
Date:Foruth Friday of the month 2/23, 3/23, 4/27, 5/25, 6/22, 7/27, 8/24, 9/28, 10/26, 11/30, 12/21)
Time:20:00
Address: 1 Glenealy, Central, Hong Kong Island
Enquiry: (+852)25265366
Website:http://dhk.hkskh.org/
7. All Saints' Anglican Cathedral (West Kowloon)
Date:every fourth Sunday of the month
Address:11 Pak Po Street, Mong Kok, Kowloon.
Time: 17:00
Transport: MTR Mong Kong Station (Tsuen Wan Line or Kwun Tong Line), 5 minutes walk from Exit E
Contact:Rev. Samson Fan (+852)61231935; (+852)23854111
Email:deansamsonfan gmail.com
Website:http://dwk.hkskh.org/allsaints/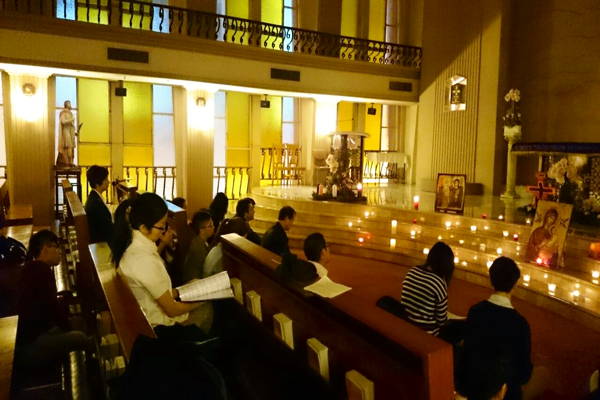 8. Airport Common Prayer with Taizé songs
A time of contemplative prayer with hymns, icons and meditation for Christian witness to reconciliation and solidarity
Venue: Meet in front of Godiva Shop at 12:40 in Arrivals Hall A (non-restricted area) Passenger Terminal 1
Date: 2018: 12/12 (Wednesday)
Time: 12:45-13:30
For further information or inquiry, please contact: jevoisplus gmail.com or whatsapp: (852)92185633.
9. LIVO Centre
LIVO – 22/F Weswick Commercial Building, 147 Queen's Road, Wanchai (MTR exit D)
Dates: 28/1, 25/2, 25/3, 29/4, 27/5, 24/6, 29/7, 26/8, 30/9, 28/10, 25/11. (Every last Monday of the month)
Time: 19.30 – 21.00
Enquiry: +852 94363665