Christians make up only about 0.5% of the total population of Bangladesh. The vast majority of Bangladeshis are Muslim, while around 10% are Hindu. One of the brothers who lives in Mymensingh speaks about a meeting of young Christians which took place in June 2012:
Last Friday we had one of the best meetings in recent years with young Christians in our town of Mymensingh. It took place near the cathedral, right next to the bishop's house. Approximately one hundred young people from different Christian communities were present, Catholics, Baptists and Anglicans. The atmosphere was very warm and joyful!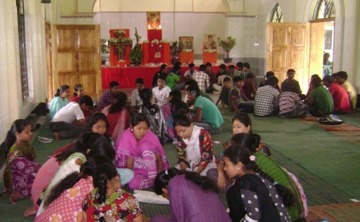 It was an important event, because up to now we had often led youth meetings and prayers in the neighbouring dioceses in the north, but here in Mymensingh it is much rarer. In the city and in nearby villages, the various groups of young Christians know each other very little and have almost never had the opportunity to meet to discuss and pray together.
One of the brothers gave a bible introduction on the Holy Spirit and, with a young adult that we know very well, led the small discussion groups that were formed after the introduction. Another organised all the logistics for the meeting and the meal, helped by young people living with us in the fraternity; at the end of the morning he gave a great talk about what he had discovered and understood of the lives of young people here in Bangladesh after all these years in this country: their problems, their aspirations, their expectations, as he understands them today through hearing many young people who speak with him. As for me, with a small team of young people, we prepared the two moments of common prayer during the day.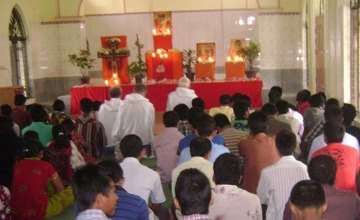 The same day another brother attended the great celebration of the installation of the new bishop of the Catholic Diocese of Kulna in the south-west. He was there representing all of us and had the opportunity to meet many people who knew us, especially among the priests present and representatives of various religious communities from across the country.