The project of small provisional communities continues in 2017. Here is an account by Nawojka (Poland), who lived for a month in a provisional community in Marrakech, Morocco.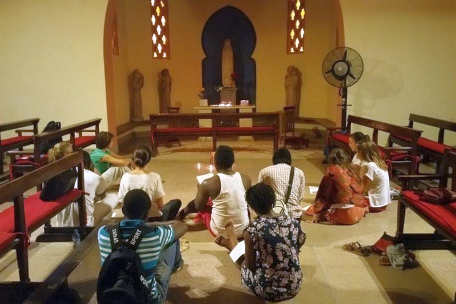 Living as part of a small provisional community in Marrakesh, I shared a flat and daily life with Maria from Spain and Caren from Germany. Every morning we visited the association helping children in difficult life-situations. And we were organising activities for them. Our neighbours were a group of migrants, so naturally we spent a lot of time with them. In addition, we often met with local students for supper, prayer or both.
The main difficulty during this experience is adjusting to the people, environment, culture, and the people living with you. At the same time, it's a wonderful lesson of how to share and to solve problems without escaping them, how to truly enjoy being together and how powerful common prayer is. It's an experience that opens your eyes for diversity, how to accept and appreciate it, how to understand, and simply to be instead of judging. It changes your outlook, makes you more open and ready for what is unexpected.
---
To read more about their experience:
http://taizemorocco.tumblr.com/