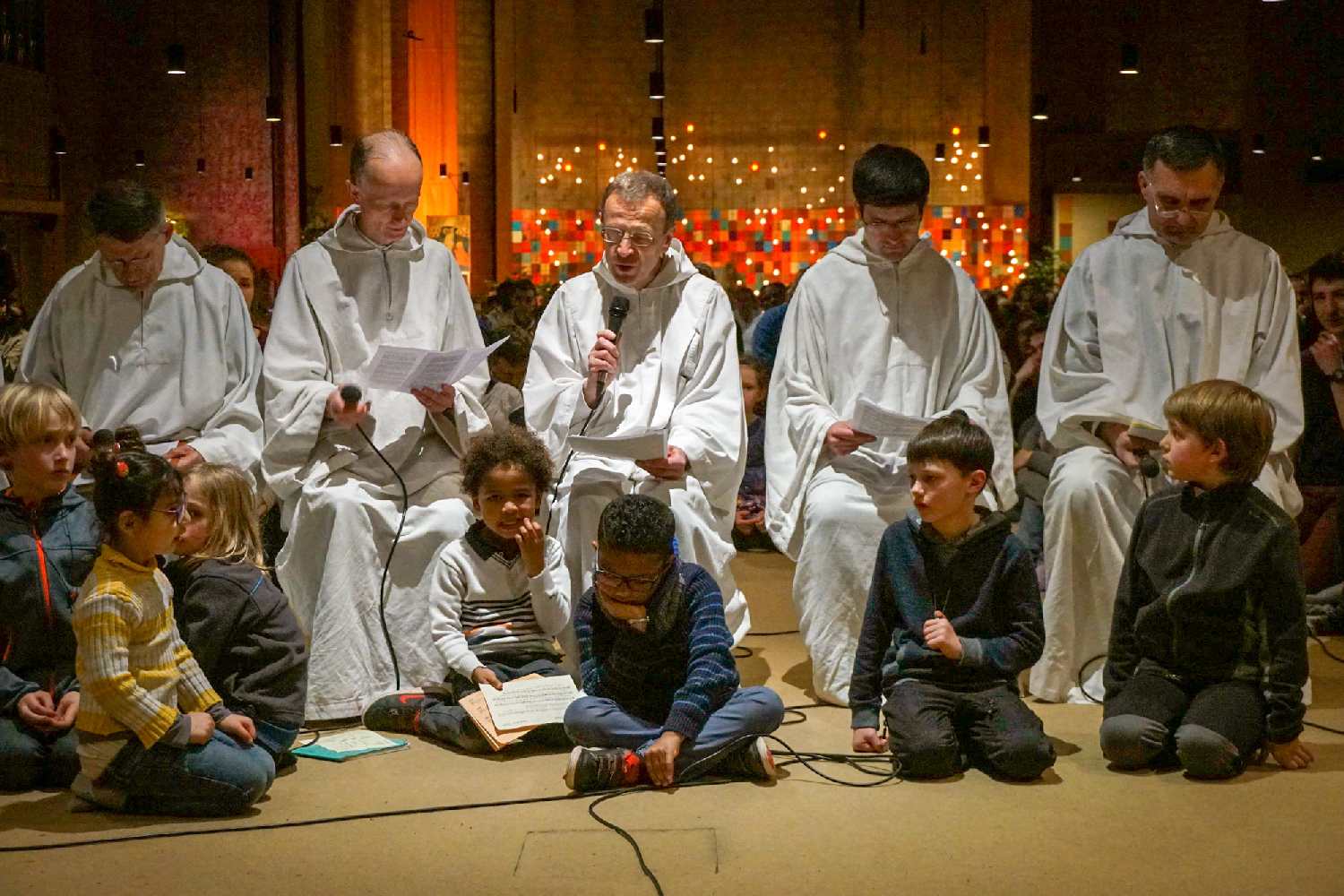 [1]
What brings us together these days? Is it an idea, a doctrine, a system of thought? No, it's a person, Jesus. And, throughout this week, we have accompanied him during the last moments of his life, until the end.
At the end of this week, we remain with a question: this man, who did no harm to anyone, who on the contrary had done good to so many poor people, why did the men of his time see him as dangerous, to the point of excluding, humiliating, torturing and killing him?
Why did they do this to him? And even his closest friends abandoned him, Judas of course, but Peter too. They all ran away. And us?
There remains a mystery that, at the end of this week, remains partly incomprehensible. It is because Jesus entered fully into what is meaningless in humankind, and he did it without defenses.
He knew he had to bring the love of God into the deepest darkness of humanity. What is difficult for us to understand is that, in order to do that, he did not fight against people. Nor did he simply want to improve people by moral appeals or by his example. He did much more: he fought against hate itself, against death and evil.
These days we have been in Gethsemane like the disciples. He asked us to watch and pray with him. He needs to feel our closeness. And at the same time he "went a little further," as the Gospel says, to pray alone. He is the only one to face hatred, death and evil.
Today, Holy Saturday, is not just a day that comes once a year. It is a day that expresses a reality of our life, a facet of our faith. Like the disciples, we do not know where Jesus went; we are not aware of the depth of the drama he experienced. Even more: faced with the suffering of so many innocent people, we may even wonder whether Christ has truly been victorious over evil.
---
Tomorrow, Easter Sunday, we will sing his resurrection. We will remember, and even more we will live that incredible moment when the women came back from Jesus's tomb, found it empty and shared with the apostles this message: "Christ is risen!"
Yes, we believe that he is alive. Not that he has returned to our life still marked by hatred, evil and death. But we believe that invisibly he is close to each and every one of us, and fills us with his love.
Our human language fails to express the mystery of this presence. Yet we find in the Gospels very simple words that make us feel the reality of his closeness, like these words in the Gospel of John: "Have confidence, I will come back to you so that you may be with me where I am."
It is by celebrating it together, as we will do tomorrow, that we enter into the mystery of the continual presence of Christ. It is by celebrating it that his resurrection marks our life.
And then our eyes open. We see reality in a new light, in the light of hope and no longer in that of despair. Far from being a naive utopia, this new view of reality works on us and transforms us.
From now on, Christ calls us to be, together, a sign of his peace among humans. This is the meaning and the calling of the Church. Christ brings us together from all peoples, even from opposing peoples, from all languages, from all human conditions, to be bearers of his peace.
---
If our small community is continuing to undertake with all of you a "pilgrimage of trust" on all continents, it is because of our passion for unity, not only the unity of Christians but the peace of the whole human family, and this passion comes to us from Christ.
You are already aware of some of the next steps of this pilgrimage.
The weekend of May 1st, there will be a meeting in Ukraine, in Lviv. In that country which is undergoing trials and with which the other European countries are so unfamiliar, we want to show our closeness and our solidarity. Come to Lviv, many of you. At such a meeting, our horizon opens and widens.
Right after that, I will go to some brothers and with just a small group of young people to Siberia, to the city of Kemerovo. That city is in mourning after the terrible fire in a supermarket last week. The Orthodox Church will welcome us there.
Then in August, the meeting in Hong Kong will take place. We love that great country, China, and it is important to us. This meeting will allow us to meet with young people from many Asian countries and also from elsewhere, even from Europe.
And in October there will be the gathering at Graz in Austria.
---
I would now like to say something that will make young Africans happy. I would like to announce our next meeting in Africa, the fifth African meeting of our pilgrimage. It will take place a year and a half from now, from September 25-29, 2019, at the southern tip of the continent, in South Africa, in the city of Cape Town.
The different churches of Cape Town have invited us. From that country, Sharon, Zanele, Jaco, Wynand, and Louis are with us; they belong to various churches there. Sharon will say something to us.
Sharon: Hello everyone, I am Sharon from South Africa, specifically Cape Town. As one of the young people from South Africa, reconciliation has always been present to me, living in a rainbow nation, living diversity. We have, for example, twelve different official languages in our country.

We are longing for next year's meeting with young people coming from different African countries and also from other continents to listen to each other and to celebrate together. The preparations have already started and we are hoping to welcome all of you next year in South Africa. See you in the Mother City, see you in Cape Town!
---
And now one last piece of news. Tomorrow morning, the celebration of the Resurrection will be accompanied by an event that we will live in community but that we want to share with you all.
Tomorrow morning our brother Jean will commit himself in our community for his whole life. After several years of preparation, he will take a step of trust; he will say a yes for his entire life to Christ and to us his brothers.
There are many different ways to follow Christ. But to all of us, wherever we are, Christ asks, as he asked our brother Jean, to give him our trust and to walk with him until the end of our lives, without looking back.
May the joy of the resurrection touch our hearts; may it be with us all in our daily lives!