Pronađite traženi smjer pomoću Google mapa
[http://maps.google.com/maps?f=d&source=s_d&saddr=A6&daddr=46.733272,4.712448+to:Taiz%C3%A9&geocode=Fey1yQIdtIlJAA%3B%3BFbPAxQIdz11HAA&mra=dpe&mrcr=0&mrsp=1&sz=11&via=1&rtol=0,2&sll=46.649436,4.76326&sspn=0.411491,0.591202&ie=UTF8&z=11&hl=hr]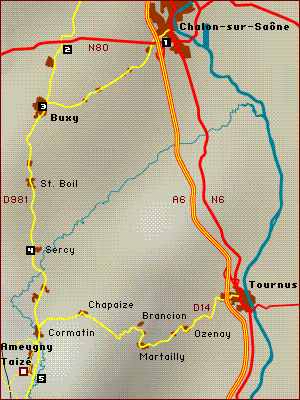 Leave the motorway A6 at exit 26 - CHALON SUD [1 on map]
with signs to LE CREUSOT / MONTCEAU-LES-MINES / LONS-LE-SAUNIER / CHALON-SUR-SAÔNE
After the toll barrier turn left onto the N80 / E607 signposted MONTCEAU-LES-MINES / LE CREUSOT / CLUNY.
Follow the N80 / E607 for 8.5 km (5 miles) then take exit 3 marked GIVRY / BUXY / TAIZÉ / CLUNY. [2]
Follow the D981 signposted ST DÉSERT / BUXY / CLUNY, passing through BUXY, [3] SERCY [4] and CORMATIN (26.5 km / 16.5 miles to Cormatin).
4 km (2.5 miles) after Cormatin, turn right to TAIZÉ. [5] Follow the signs "COMMUNAUTÉ". At the top of the hill you can park your car in the car park on the left.