Now, squares of natural pigments (20cm x 20cm) have been painted on canvas, using more than thirty colours; they show the diversity of those who come to pray three times a day. They represent us and all of creation. The colours used are the same colours as those present in the icons: in an icon pigments are often used pure (not mixed); they are usually of mineral origin—ground rocks from the earth, bright red cinnabar, lapis lazuli, ochre and also earth greens, malachite and black charcoal. We raised the candles so they can be more visible in the extensions of the church.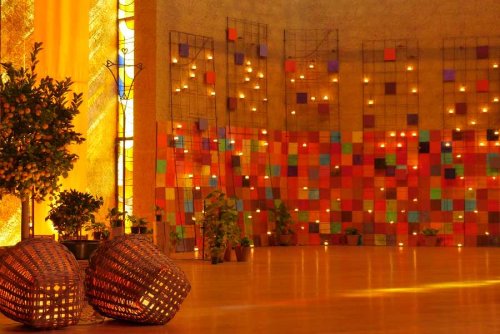 In terms of greenery, for the moment we have orange trees which can survive in a low-light environment. We have also put in epipremnum aureum, a houseplant native to the Solomon Islands. With its evergreen vines it is an extremely easy plant to care for and is quite efficient at cleansing the air of pollutants.
If the decoration seems a bit unfinished, that is because it is a work in progress! The internal thermal insulation work should be done between Easter and Pentecost, after which we will repaint the whole choir with lime-wash. Hopefully, by the summer things will look a bit more in order.
---
"O you, beyond all things... All beings celebrate you, those who speak and those who are silent. All beings honor you, those who think as those who do not think. The universal desire, the groan of all aspires towards you. All that exists begs you, and to you, every person who knows how to read your world is raising a hymn of silence." (Gregory of Nyssa, 329-390)