News by email
Enter your email and press "Go" to receive occasional news from Taizé in English. For details and for other languages click here.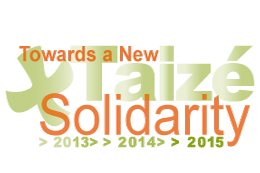 For the Diary
---
Regional news
Latest podcast
2015-02-09 : Alleluia 18 + Psalm 145 / Col 3:8-11 / Notre âme attend le Seigneur / Prayer by Brother Alois / Staňte ze solí země
Daily Bible Reading
Thu, 7 May
Paul explained his ministry, saying: We do not want to be masters of your faith, but fellow workers with you for your joy.
2 Corinthians 1:18-24
more...