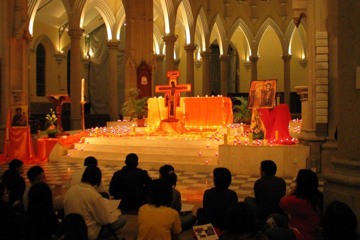 1. St. Thomas the Apostle Catholic Church, Tsing Yi (formerly at Ss Cosmas and Damian Catholic Church, Tsuen Wan)
Effective from November 2017, the regular common prayer at Ss. Cosmas and Damian Catholic Church, Tsuen Wan will be relocated to St. Thomas the Apostle Catholic Church (Date and time unchanged).
Date: November 2017 to June 2018,every first and third Tuesday of the month
11/7,11/21; 12/5,12/19; 1/2, 1/16; 2/6, 2/20; 3/6, 3/20; 4/3, 4/17; 5/1, 5/15; 6/5, 6/19
Address: 5 Tsing Luk Street, Tsing Yi, New Territories, Hong Kong. (next to Tsing Yi Estate Bus Terminus)
Time: 8:30pm to 9:30pm (song practice at 8:15pm)
Venue: Blessed Sacrament Chapel (Ground Floor, entrance via the main church and main altar at First Floor)
Transport:
MTR (Metro) Tsing Yi Station, 10 minutes walk from Exit C (via Tsing Yi Park).
Bus routes 41, 41A, 41P, 41M, 42C, 43B, 44, 44M, 49P, 49X, 243M, 948 (alighting bus-stop: Tsing Yi Estate).
Enquiry: Rev. Issac Noh (+852)91276464, James Kwok (+852)98022460,
email: jamespkatso yahoo.com.hk
Facebook page: https://www.facebook.com/taizehk/
2. Airport Common Prayer with Taizé songs
A time of contemplative prayer with hymns, icons and meditation for Christian witness to reconciliation and solidarity
Venue: Meet in front of Godiva Shop at 12:40 in Arrivals Hall A (non-restricted area) Passenger Terminal 1
Date: 1/10, 3/14, 4/18, 5/9, 6/13, 7/11, 8/15, 9/12, 10/10, 11/14, 12/12 (Wednesday)
Time: 12:45-13:30
For further information or inquiry, please contact:
jevoisplus gmail.com or
whatsapp: (852)92185633.
3. Anglican St. John Baptist Church (聖公會施洗聖約翰堂)
Address : Tseun Kun O, 103, Bo Lam Road North, Kowloon.
Time : 5 :30 p.m. to 6 :30 p.m.
Inquiry : (852) 2274-4883
Email: stjnb netvigator.com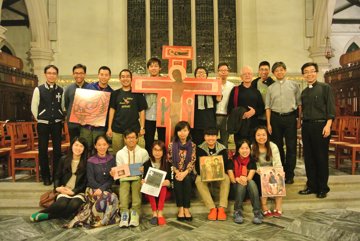 4. Attende Domine - Graduates Christian Fellowship of Hong Kong (GCF)
Date: 2016 the 4th Monday of each month (please double check GCF's facebook / website)
Time: song practice - 7:45pm; prayer - 8:00pm
Address: Kowloon Union Church, 4 Jordan Road, Kowloon (Exit B2, Jordan MTR)
Info / inquiry: GCFHK (tel: 2369 8512 | website www.gcf.org.hk | facebook: http://www.facebook.com/gcftaize