Young adult groups coming to Taizé in July 2013
Two groups are preparing to come with young adults to Taizé during the European summer. If you are aged between 18 and 35 and would be interested in joining them, or if you're an Aussie in Europe and would like to be in Taizé when some of your compatriots are around, here are the details:
July 7 - July 14
Group coming from Victoria with Elizabeth Fensham. Contact Elizabeth at libbyfensham hotmail.com
July 14 - July 21
Group coming from South Australia with Rev. John Hughes. Contact John at johnh bpuc.org, or visit the website http://cmla.org.au/taize.
Taizé Brother's visit in October 2013
A brother of the community will be visiting Tasmania between September 30 and October 3. For details of meetings and prayers, please contact Bob Faser tcctas bigpond.net.au at the Tasmanian Council of Churches.
On October 4, there will be a prayer in Canberra. For further information, contact Catrin Taylor sunnycattaylor gmail.com.
From October 5 to 7, there will be meetings and prayers in and around Melbourne. For all information, please get in touch with Heidi Bryce heidi.bryce gmail.com or visit the Facebook page at https://www.facebook.com/groups/tai...
All these events are aimed at the 15-35 year olds. If you are older and would like to take part, please bring some younger people with you!
Visits in 2012
During his stay in Australia in autumn 2012, a brother visited New South Wales, the most populous state in the country, invited by the Council of Churches. Here are some of his reflections after the visit.

The invitation came at a moment when the idea of a three year project on the theme of new solidarity was launched in Taizé. So it became clear that the visit should follow that direction. In the concept of new solidarity, there is a desire to meet each person and to forget no-one. In Newcastle, around midday, there was a very fraternel meeting with University chaplains - Christians of different traditions and also non-Christians. In the evening there was a meeting in the Uniting Church, close to the University.
The next day, I visited a farm where the Cana Community, which works with homeless in the city, can offer hospitality out in the fresh country air, but also offer courses on cookery, serving at table, etc. After a shared meal, we prayed with those who wished to. Then in the evening at Redfern there was a prayer. We were welcomed by Pearl, an Aboriginal woman, a way of recognising that we were praying on the land of her ethnic group. It sounds trite to write it like that, but it was essential to acknowledge that the ground on which we were going to pray belonged to the first inhabitants of Australia. .
Another day, Jenny, who worked for many years on refugee projects, organised a visit to the Jesuit Refugee Service. This helped us understand better the problems often with no solution faced by asylum seekers and refugees. St Canice parish, where we held midday prayer is also committed to work with the homeless.
Every Tuesday evening, on the initiative of the Coptic Orthodox Church, meals are given out at Woolloomoo for the homeless, for immigrants and for the young poor. Father Shenouda, also President of the New South Wales Council of Churches, is so radiant that he imparts trust both towards the volunteers and to those who come to eat. One very moving moment came when I heard the person in front of me get out a little plastic box saying "Please give for my son and me." The poor widow of Sarepta was there before me.

Brother Roger often said, "I will go to the ends of the earth to express my trust in the young generations." During my last visit to Australia, I remembered this everywhere, whether it was in Darwin meeting students from Kormilda College, or seeing the large group that came to the evening prayer in the Anglican cathedral. And yet their chaplains said that many of them came from difficult family backgrounds. At Brougham Place Uniting Church, the young minister insisted that the choir be made up only of young people. Some of them had exams the next day.... It was the first time that they had played and sung for this sort of meditative prayer.
In Wollongong, the pupils of seven schools of different traditions spent more than five hours reflecting first of all alone and then in small groups on this year's theme of "Opening ways of trust among humans." During the prayer, each pupil came and placed near the altar a piece of coloured cloth on which they had written a word or phrase which had struck them in the "Letter 2012". This simple gesture was like a commitment to put into practise that word.

Prayers in Melbourne
Quarterly prayers are held in Melbourne gathering together young people from all over the Metropolitan district. Visit the Facebook event at https://www.facebook.com/groups/tai....
If you would like be involved with music or help set-up on the night,
please email: taize.melbourne gmail.com.
These gatherings are especially for 18-35s, if you are outside this age group, please come along and bring some young people along with you!
An Advent prayer in Melbourne
Heidi writes: "After the Taizé Brothers' visit in September 2011, a group of young people were inspired to keep praying together and decided to organise a series of four Melbourne CBD prayer services over the next year to complement the other Taize prayer services already happening around Melbourne.
We decided to kick things off with an Advent Prayer Service with songs from Taizé, which was held on the 9th December at St Francis Catholic Church on Lonsdale Street. Around 85 people attended, which was fantastic! Although we only printed 50 service sheets which was not so good …
The night was not without its dramas, the Icon of the Cross wouldn't fit in Fr John's car and someone parked him in so he completely missed the singing practice … many nearly didn't make it due to getting stuck at work and of course we completely ran out of service sheets!!
The Bible reading was read in five different languages, which was just a small portion of the different nationalities present. The singing was beautiful with a range of parts and amazing cantoring!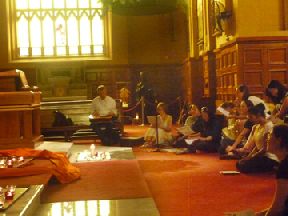 We had some great feedback from those who attended: For some it was an inspiration and they want to introduce Taize singing into their own prayer groups, others were happy to meet like-minded people of their age and others simply said that they enjoyed the experience.
Our Facebook Group: Taize in Melbourne, Australia has now grown to 97 people! We're thinking of offering a prize to the 100th person to join …"
Visits in September 2011
In September 2011, two brothers visited several states in Australia. Initially invited by Queensland Churches Together as part of the celebration for the 20th anniversary of their foundation, the trip became an expression of the Pilgrimage of Trust in its most diverse forms.

Melbourne: small group sharing
Thursday September 8
Arriving in Melbourne directly from the summer meetings in Taizé was quite a challenge! Jet lag is never easy to overcome and the warmth of Burgundy was swapped for the end of the Victorian winter, spring not quite showing its face yet. But at midday, we walked down to Melbourne University, not far from where we were staying. A time of prayer and sharing brought together students from a vast array of nationalities; Chinese, Tamil, Malaysian, Singaporean, Indonesian, Timorese, German, Filipino, Thai. Immediately, you were plunged into the multicultural reality of Australia today.
Each day, we decided to take a theme from the Letter from Chile. Today's theme was joy; joy which can be "awakened by an unexpected meeting, by a lasting friendship, by artistic creation or again by the beauty of nature...." It was the unexpected meeting with young people of so many different backgrounds which brought that joy today!

Melbourne: small group
Evening; prayer at St Stephen's Anglican parish church, Richmond. Again, many young people from many different churches. Worship can be so beautiful in a church arranged simply for prayer together.
Friday September 9
Off to the mountains! Morning Prayer at the tiny Mount Macedon Uniting Church, to the north of Melbourne. The church burnt down during the Ash Wednesday bush fires in 1983, but was rebuilt by the community. Warm welcome on a very cold day. A small, but caring community. "Opting for joy is inseparable from a concern for other human beings. It fills us with unlimited compassion." Those words from the Letter from Chile stayed with us as we reflected on the theme of compassion.
Back to Melbourne for midday prayer. Chaplaincy meeting in Monash University. We're in a huge glass windowed room. Not ideal! But with an icon of the cross, some candles and some coloured material, prayer becomes possible. People walking by on the street outside see us.
Off to Geelong in the evening. The Geelong Cats are playing the same evening in Australian Football Finals – will anyone want to pray? Wesley Uniting Church welcomes us. All the benches in the church are pushed back creating a wonderful prayer space. Reflection on Matthew 26 and the story of the woman who anointed Jesus before his death helps us think about what it means for us to serve the poor.
Saturday September 10

Melbourne: prayer at RMIT
Full day programme at RMIT University. The chaplaincy building is in the old Melbourne Gaol. What stories its walls must tell! The chaplaincy is multi-faith. A huge tapestry of the tree of life adorns its far wall. Ablution rooms are available for people of faiths who need them before prayer.
70 young people gather. Once again, the number of nationalities present is incredible. Some Chinese Catholics who had been in Taizé on their way to World Youth Day in Madrid join us joyfully. Morning Prayer, Bible study, small sharing groups, midday prayer and then different workshops rhythm the day. One workshop is led by a Christian group called Urban Seed which ministers to the homeless in the city. Participants walked through the streets to the various points where the homeless meet. Another is on story telling. The parable of the Good Samaritan is retold in today's language.
Evening prayer at St Francis' Catholic Church concludes the day. A real sense of togetherness in this building, an oasis of prayer in the city centre. Nothing more to add. Savour the beauty.
Looking back on these days in Victoria, there's only gratitude. Everything was organised by two young women, one of whom was a volunteer in Taizé for some months, the other had never been to Taizé. They didn't know each other before. Yet they worked together contacting different churches and inviting young people to come and take part. It was a real pilgrimage of trust, the joy received throughout was a real gift.

Melbourne: prayer at St Francis
Sunday September 11
Canberra: the Federal Capital. Over 60% of the population of the city work in government ministries. The tenth anniversary of the 9/11 attacks. Prayer for peace, remembering Jesus who, risen from the dead, breathed "shalom" upon his disciples and sent them out, as the Father sent him, to announce forgiveness.
Monday September 12
Visit to a Catholic school in Bowral, New South Wales. The teacher has been to Taizé many times in the past. An opportunity to meet with the older pupils. For many, school is their only contact with church.
Tuesday September 13

Sydney
Sydney; visits to more schools, a Uniting Church girls school and a Catholic boys school. Time to show the film about the life of the community, answer questions and then prepare a time of worship. It's important to go out and meet young people where they're at. In the parish celebrations, they are not so many.
In the evening; prayer at St James' Anglican Church on King Street in the city centre. In 2008, during World Youth Day, Taizé led prayers in this church. It was good to be back! The rector gave us such a warm welcome. Beautiful music and a long prayer around the cross, before everyone lit their taper candles in celebration of the Resurrection of Jesus.
Thursday September 15
We arrived in Brisbane last night with the icon of the cross from Sydney. Today, visits to an Anglican school in the southern suburbs. Assembly with the whole school – rather daunting! But when we ask "what is prayer?", the youngest children answer spontaneously "Talking with God",
"Meeting with Jesus". How is it that children can understand so easily the essentials of faith?

Brisbane: Music practise
The school principal and chaplain would like the pupils to discover that prayer can be contemplative, that it doesn't always have to be a performance or concert. With the older pupils, we spend the second lesson learning the music for some Taizé songs. In the third period, we meet with different year groups. With the help of the older pupils, we explain about prayer in Taizé and teach some of the songs. After lunch, the day finishes with a time of worship for the three year groups. Impeccably kept silence, beautiful singing, in front of an altar space created by the pupils; many icons, lots of candles.
Evening; meeting in an inner city Uniting Church. The people of God in all its diversity.
Friday September 16
Drive to Toowoomba, west of Brisbane. Barbecue outside the church in good Australian fashion. Meeting with young people from different churches of the town, followed by prayer in the Anglican parish of St Luke. It's the flower festival, so the church is bedecked with beautiful floral arrangements. One of these commemorates the victims of the floods which ravaged the town and area around in January. A journalist comes to speak of the book she is preparing. She has interviewed over 100 people who had been in treacherous situations during those dramatic days. The book will help ensure that those who were lost will not be forgotten.
Saturday September 17
Our last day of meetings. Gathering at the Catholic Cathedral in Brisbane for a prayer and music workshop. People came from all over the city and throughout South East Queensland. Afterwards, one lady said; "We've understood now that the music of Taizé is for praying, not for performing, and that we have to invite young people to take part. They need welcoming."
Conclusion of the day; evening prayer in the Anglican Cathedral. Musicians and soloists prepared during the afternoon. Most of them didn't know the music before. But many wanted to continue afterwards.
Sunday September 18
A final step in the pilgrimage; morning service in an Aboriginal church in Logan, south of Brisbane. The pastor comes from Tonga, but the congregation is made up of indigenous Australians. Joyful songs, preaching about the love of Christ and afterwards impossible to leave without sharing in the Sunday lunch. Hospitality is part of the Gospel. This indigenous congregation cannot live otherwise.
---
Sydney: prayers at Saint James': 2008
At the invitation of Pope Benedict XVI, the World Youth Days took place in Sydney from 15 to 20 July 2008. From Monday 14 July, brothers of the community led prayers with songs from Taizé, in a city centre parish.

For a whole week Sydney's streets and railway stations echoed to the sounds of animated young people from all the continents of the world. The World Youth Day had attracted a quarter of a million pilgrims who came together to celebrate their faith and their hopes.

Where the massive buildings of the commercial district meet the large park opposite St Mary's Cathedral is the lovely, warm sand stone church building of the Anglican Church of St James. And it was in this church that people came to join some of the brothers of Taizé in prayer each day. As the week progressed, more and more young people began crowding into the church until by the end of the week not everyone who wanted to get in were able to – even with up to four prayers in an afternoon and evening. A choir and instrumentalists were there throughout the week to help with the singing.

There were always people of different denominations present. Young people read the Scriptures in up to six different languages. They also helped lead the intercessions. On three of the evenings, Brother Alois spoke to the young pilgrims.
At the close of the final evening prayer each day the cross was laid on the floor and people waited patiently in a long line for an opportunity to entrust to Christ some of their anxieties and fears and hopes. At the final prayer, the Prime Minister of Australia who had earlier in the week spoken to the young pilgrims at the opening event, attended with his family, staying for two hours to pray with the young people.

Roads in the central city were blocked off; even the famous Sydney Harbour Bridge was closed for a whole day, causing inconvenience to so many motorists. But the people of Sydney responded generously, going out of their way to offer hospitality to so many visitors. The city was transformed as singing groups, sometimes identified by their national flag, walked from one event to another along the city's streets.
How much can change, even for a city of over 4 million, when people for a few days are united in communion with each other and the whole church.
On his return from Sydney, Brother Alois spoke to the young adults gathered in Taizé:
With three of our brothers, I was in Australia for the World Youth Days, to which Pope Benedict XVI had invited young people from every continent. At the beginning of last week when we set off to join those gathered in Sydney, we left behind us many young people here on the hill.
As was the case during each of the previous World Youth Days, we were invited to lead prayers each day of the week. In Sydney, it was in the beautiful St James' Church, at the heart of the city.
At Saint James', which is Anglican, we discovered a fraternal collaboration with the young adults of the parish. In this way, young people of another denomination were involved in welcoming the young Catholics. For years now, one of our brothers has been going from time to time to this same church to lend support to a prayer with Christians of Sydney. We were happy to find this continuity.
In the evenings, we ended with the prayer around the Cross, and the young people stayed on and on, to sing and to pray. Others were waiting outside, for their turn of praying around the Cross, placed on the ground.
While we were in Sydney, we remembered that Brother Roger died exactly three years ago, during the World Youth Days held in Cologne.
During these days in Australia, Pope Benedict XVI called on the young people to become witnesses to Christ. And here in Taizé, week after week, we also wish to do everything we can, so that those who gather here on our hill find in trusting in Christ a meaning to their life.