Sucht und ihr werdet leben
Questions about the Christian faith in German
Herder Verlag GmbH, 2023, 176 S, ISBN: 9783451394966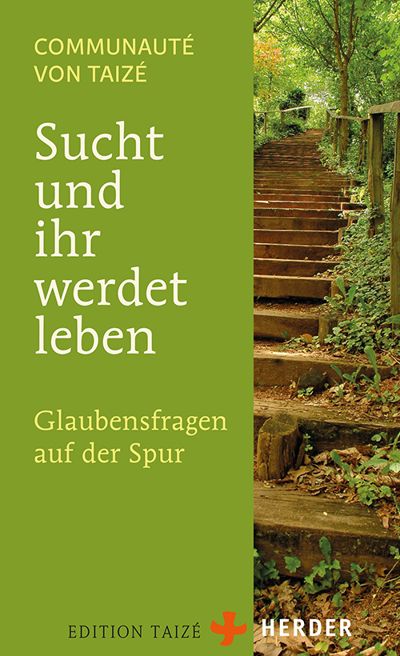 Die jungen Menschen, die nach Taizé kommen oder an den internationalen Jugendtreffen teilnehmen, stellen täglich Fragen zum Glauben. Die Brüder der Communauté möchten sie auf ihrer Suche begleiten und ausgehend von ihrer eigenen Beschäftigung mit der Heiligen Schrift Anregungen zum Nachdenken geben, die in die Weite und in die Tiefe führen. Aus diesem Anliegen heraus ist dieses Buch entstanden.
---
fr. Alois
Насмілитися вірити
Dare to Believe in Ukrainian
Дух і літера, 2023, ISBN: 9786178262082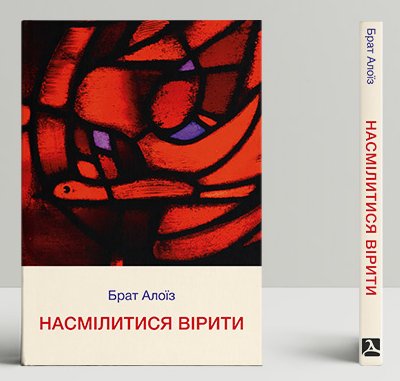 Чи можливо вірити в Бога в сучасному світі? Настоятель Тезе показує, що віра сьогодні — це ризик, ризик довіри. І оскільки саме через святкування таїнств віри ми досягаємо Бога, він ділиться духом, у якому Тезе святкує християнські свята. Кожне свято ілюструє вітраж або зображення.
---
Спільнота Тезе – Притча про єдність
The Taizé Community – A Parable of Communion in Ukrainian
Дух і літера, 2023, ISBN: 9786178262075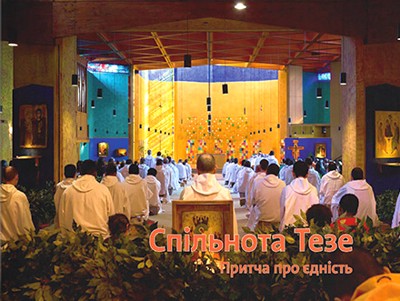 Кольоровий буклет, що розповідає про спільноту Тезе та зустрічі молодих людей.
---
Orsi Hardi
Тезе
Taizé – A Sea of Stories (book for children) in Ukrainian
Дух і літера, 2023, ISBN: 9789663789989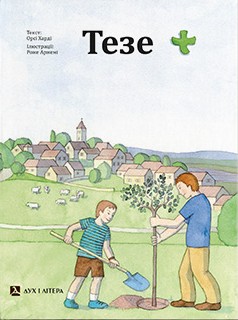 Подивитися на життя спільноти Тезе очима сучасної дитини допоможе нова книжка. Які дива чекають на маленького хлопчика Тео у спільноті Тезе? Що може зацікавити сучасну дитину, яка звикла до гаджетів, комп'ютерних ігор? Як змінюються почуття, як відкривається серце на зустріч Любові, на зустріч з Христом? – про все це можна дізнатися з нової дитячої книги «Тезе» видавництва «Дух і Літера».
---
fr. Alois
Dare to Believe
Oser croire in English
Les Presses de Taizé, 2023, 120 p, ISBN: 9782850404627
Faith in God is more and more frequently called into question. If God exists, why is evil so powerful? How can we imagine a God who is everywhere, who takes care both of the whole universe and of every human being in particular?
In this book, Brother Alois deals with such questions as these. And since they are best approached by celebrating the mysteries of the faith, he shares the spirit in which the Taizé Community celebrates the great Christian feasts. A stained-glass window or an image illustrates each one of these feasts.
Here and there, Brother Alois throws some extra light on these topics drawn from visits to brothers who live on different continents, or from meetings with young people throughout the world.
---
fr. Roger
La Règle de Taizé
The Rule of Taizé in French
Les Presses de Taizé, 2023, 88 pages, ISBN: 9782850404610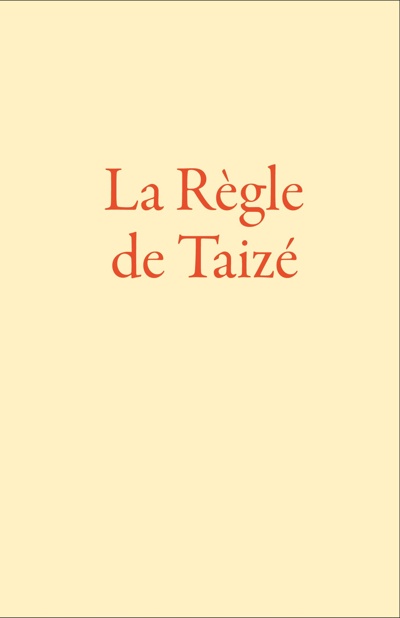 Réédition du texte de base de la Communauté de Taizé dans sa forme originelle, qui permet de saisir dans la fraîcheur de son premier jaillissement l'élan qui continue à animer la vie des frères.
---
fr. Roger
Journals of Brother Roger of Taizé – Volume II: 1969–1972
In English
Cascade/Wipf & Stock available in the UK from Church House Bookshop, 2023, 142 p, ISBN: 9781666761214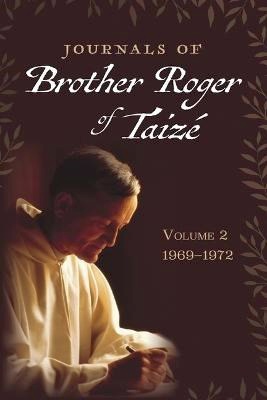 This is the second volume of the personal journals of Brother Roger, the founder and first prior of the Taize Community. This volume covers the years from 1969 to 1972 and is centered on the genesis and first preparations of a "Council of Youth." The project was inspired by the crisis in the Catholic Church in the wake of the Second Vatican Council, and the slowdown of ecumenism after the glowing hopes kindled in the wake of the Council. It was an attempt to take seriously the aspirations of the younger generation and orient them in a positive direction. Brother Roger also talks in these pages about the ongoing life of the community, his personal spiritual journey, and many important encounters that took place in those eventful years.
---
Rezar juntos – Cânticos de Taizé
Newly updated songbook in Portuguese
Edições Salesianas, 2023, 128 págs, ISBN: 9789726903840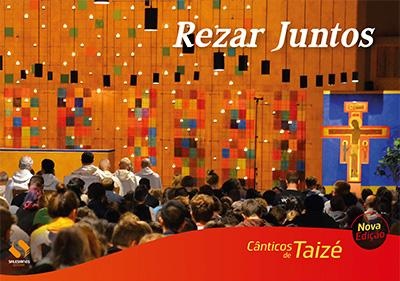 A nova edição do livro com cânticos de Taizé. Inclui novas composições, e o tema inédito português "Para mim, ser feliz".
---
fr. Richard
Opening the Treasure of the Scriptures – Some Biblical Crumbs
Ouvrir le trésor des Écritures in English
Cascade/Wipf & Stock, 2023, 134 p, ISBN: 9781666754964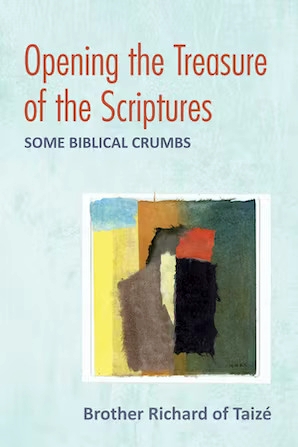 From the inexhaustible treasure which is the Bible, here are a few crumbs. They represent an attempt at serious exegesis and theological reflection as well as a desire to understand not only the Bible, but also our own time and our world. It was the Risen Christ, on the road to Emmaus, who first "opened the Scriptures" to his fellow travelers (Luke 24:32). It is as his disciples and in his steps that we can draw from that treasure "things both new and old" (see Matt 13:52).
---
fr. Roger
La Regla de Taizé
The Rule of Taizé in Catalan
Publicacions de l'Abadia de Montserrat, 2023, 84 p, ISBN: 9788491912620
"El germà Roger va comprendre profundament el cor humà, perquè va confiar-hi i va procurar no jutjar mai, fins i tot en contexts de dificultat i violència extremes. Aquesta comprensió es reflecteix en la Regla, deixant clar que no es tracta d'una proposta per a herois, sinó per a homes que necessitaran un entorn que cal cuidar, que estaran temptats per moltes i variades circumstàncies, que la pregària, els compromisos, la vida de comunitat no són quelcom que s'esdevingui en línia recta, en progressió perfecta, sinó que tot està solcat de llum, però també d'ombres. Tot i aquesta ambigüitat, la pro-posta que fa és profundament optimista, recolzada en la fe que Jesucrist ressuscitat pot transfigurar-nos i posar-nos en el camí clar de l'amor a Déu i al proïsme."
(Del pròleg de Manel Gasch i Hurios, abat de Montserrat.)
---
Taizé Vinyl
Songs from Taizé in vinyl format
Les Presses de Taizé, 2023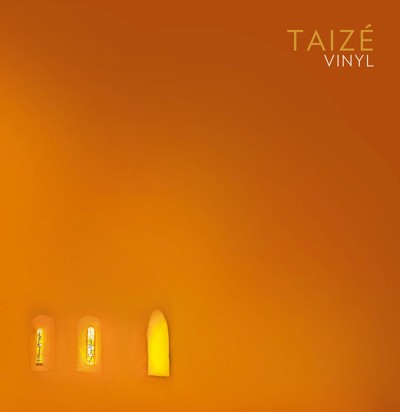 Some of the best-known songs of Taizé newly released as a vinyl recording. / Einige der bekanntesten Gesänge aus Taizé, auf Vinyl neu veröffentlicht. / Quelques-uns des chants de Taizé les plus connus, nouvellement publiés sous forme de vinyle.
1. Bless the Lord, my soul, 2. Behüte mich, Gott, 3. Il Signore ti ristora, 4. Jésus le Christ, 5. Magnificat (canon), 6. Iedere nacht, 7. De noche iremos, 8. In resurrectione tua, 9. Sit nomen Domini, sit benedictum, 10. The kingdom of God, 11. Bleibet hier, 12. Laudate omnes gentes.
---
Náš Boh je láska
New Slovak recording of songs from Taizé
LUX Communication CD, USB, 2023
Piesne z Taizé v slovenčine.
1. Ó ty, čo si nad všetkým / Ô toi, l'au-delà de tout ; 2. Moja múdrosť / El Senyor ; 3. Raduj sa nebo / Laetentur caeli ; 4. Blízko je Pán / Wait for the Lord ; 5. Benedictus Dominus Deus ; 6. Dôverujte mu / Fiez-vous en Lui ; 7. Len Boh je moja spása / Mon âme se repose ; 8. Chváliť Pána chcem / Bless the Lord ; 9. Môj Pane, prosím / Aber du weißt ; 10. Dona nobis pacem cordium ; 11. Ochráň ma, Bože / Behüte mich Gott ; 12. Pane, chválime ťa / Bénissez le Seigneur ; 13. Náš Boh je láska / Bóg jest miłością ; 14. Magnificat (choral) ; 15. O Christe Domine Jesu ; 16. Staňte sa soľou zeme / Staňte se solí země ; 17. Sú šťastní tí, čo sa ti oddajú / Heureux qui s'abandonne à toi.
---
fr. Roger
J'irais jusqu'au bout du monde… – 1991-2005
Collected writings of Brother Roger in French, tenth and final volume
Les Presses de Taizé, 2023, 304 p, ISBN: 9782850404467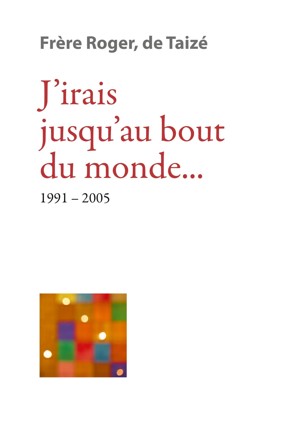 Ce dixième et dernier volume des Écrits de frère Roger présente les textes du fondateur de la communauté de Taizé rédigés entre 1991 et 2005, année de sa mort brutale. On y trouve notamment ses lettres annuelles aux jeunes, de beaux témoignages sur mère Teresa ou sur le pape Jean-Paul II, l'expression de son espérance pour le futur de l'Europe et pour la paix mondiale. Il y formule sa vision originale de la réconciliation des chrétiens. Le livre contient aussi un certain nombre de documents inédits : pages de journal personnel, messages à la communauté où frère Roger évoque la vie des frères, la solidarité avec les plus pauvres, la recherche de Dieu, sa propre succession comme prieur.
Dans cette période, il déclare volontiers : « J'irais jusqu'au bout du monde pour dire et redire ma confiance dans les jeunes générations. » Et les lecteurs sont invités à l'accompagner à des rencontres de jeunes que, avec des frères, il anime aux Philippines aux États-Unis, en Afrique du Sud.
L'intégrale de la collection « Les écrits de frère Roger, fondateur de Taizé » est disponible en format numérique (epub et mobi) sur toutes les plateformes principales avec une remise de 50% sur le prix des dix volumes pris individuellement (ISBN 9782850404603) :
La Procure
Amazon
Fnac
Decitre
Kobo
---
Die Gesänge aus Taizé – Deutschsprachige Ausgabe
New songbook in German
Herder Verlag GmbH, 2023, 120 S, ISBN: 9783451391484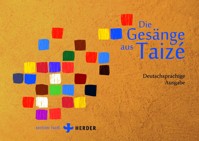 "In Taizé setzt sich der Gesang so lange fort wie man das möchte. Die Tatsache, dass man den Anfang und das Ende frei bestimmen kann, hat einen Vorteil: Sie schafft, genauso wie die Stille, einen Raum der Freiheit und gibt dem Heiligen Geist die Möglichkeit zu handeln; besonders, wenn dieselben Worte wiederholt werden. Der Gesang belastet den Kopf dann nicht mit bestimmten Vorstellungen, sondern er befreit den Geist. Und man vergisst die Zeit. Man ist einfach da." (Joseph Gelineau SJ)
Die Gesänge aus Taizé wurden zunächst für die Treffen geschrieben, zu denen Jugendliche aus aller Welt bei der Gemeinschaft der Brüder im Burgund zusammenkommen. Sie eignen sich aber ebenso für Gebete im kleineren Kreis und für Gottesdienste in der Gemeinde.
---
Marcello Fidanzio (ed.)
泰澤羅哲弟兄文選 – (Brother Roger of Taizé: Essential Writings)
Anthology of Brother Roger's writings in Chinese
CCLC (基督教文藝出版社), 2022, , ISBN: 9789622942400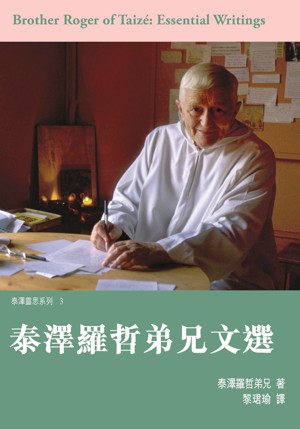 泰澤團體創辦人羅哲弟兄一生致力締造和平、對話與修和,為此,他除了創辦修道團體、創作詩歌短頌,也寫下不少觸動人心的著作。他的作品用字簡單精煉,滿載豐富的信仰意義,能深入人的內心。本書的編者精心輯錄了《上主唯獨是愛》、《泰澤之源》、《心靈平安之源》、《難以形容的喜樂》等著作的重要段落和精句,加上多篇書信及禱文,展現出羅哲弟兄的靈思精髓,有助讀者了解他一生的異象,並進入喜樂、純樸、慈悲的靈性氛圍。
本選集原書的編製,正是處於羅哲弟兄殞落之際,因此可說是羅哲弟兄的遺言,盼望本書能啟發讀者建立謙卑內省的靈性生命,繼而走上他那朝向和平之路的旅程。
---
Sabine Laplane
Брат Роже из Тэзе – «Не имея почти ничего…»
Sabine Laplane's biography of Brother Roger in Russian
Библейско-богословский Институт им. св. ап. Андрея, 2022, xxii + 491 с., ил., ISBN: 9785896474036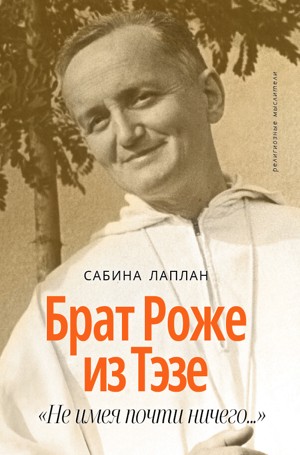 Перед нами духовная биография поистине уникального человека, основателя одной из самых известных современных монашеских общин, вдохновившего десятки тысяч людей во всем мире, – брата Роже из Тэзе. Его необычная жизнь и трагическая гибель, упорная целеустремленность и неисчерпаемая любовь к людям оставляют неизгладимый отпечаток на всех, кто о нем знает.
Эта книга родилась в результате многолетнего общения автора с братом Роже. Основываясь на личных беседах с ним самим, его родственниками, братьями Тэзе, а также на письмах, книгах и редких фотографиях, Сабина Лаплан восстанавливает перед нашими глазами живой образ брата Роже, показывает его трудный духовный поиск, устремления, ценности и убеждения.
---
Die Gesänge aus Taizé – Solo-Singstimmen
Songbook (solo voices) in German
Herder Verlag GmbH, 2022, 112 S, ISBN: 9783451394027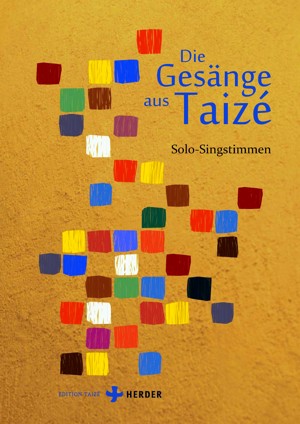 Einige Gesänge aus Taizé können durch Solo-Singstimmen inhaltlich wie musikalisch bereichert werden, andere erfordern deren Einsatz sogar. Der vorliegende Band enthält alle Gesänge, für die es deutsche Solo-Singstimmen gibt. Zusätzlich sind zum Teil auch Solo-Singstimmen in anderen Sprachen wiedergegeben.
---
Leporello – Der barmherzige Samariter
Concertina leaflet in German
Präsenz Medien & Verlag, erhältlich im Taizé-Webshop, 2022
... Der Mann fragte weiter: »Wer gehört denn eigentlich zu meinen Mitmenschen?« Jesus antwortete ihm mit einer Geschichte...
Dieses Leporello lädt dazu ein, die Geschichte von einem Menschen, der unversehens Mitmensch wurde, neu zu lesen: mit dem Bibeltext aus dem Lukasevangelium, Illustrationen von frère Éric und zwei Gesängen aus Taizé.
---
frère Richard
Den Schatz der Schrift aufschließen – Biblische Anregungen aus Taizé
Ouvrir le trésor des Écritures in German
Herder Verlag GmbH, 2022, 176 S, ISBN: 9783451392344
In seinen Bibelauslegungen verbindet Frère Richard, Bruder der Communauté von Taizé, Exegese, theologische Reflexion und das Bestreben, zusammen mit der Bibel auch unsere Zeit und Welt zu lesen. Der auferstandene Christus »schloss die Schriften auf« (Lk 24,32), als er mit seinen Gefährten nach Emmaus unterwegs war. Nach seinem Vorbild »holen wir aus ihrem Schatz Neues und Altes hervor« (Mt 13,52).
Unter die biblischen Anregungen mischt sich immer wieder ein wenig Taizéluft, bald unmerklich und bald mit ausdrücklichen Bezügen auf das Leben der Brüder und die Jugendtreffen.
---
fr. Roger
Gott kann nur lieben – Erfahrungen und Begegnungen
Dieu ne peut qu'aimer in German. New Edition.
Herder Verlag GmbH, 2022, 96 S, ISBN: 9783451032394
In diesem Buch faßt Frere Roger seine Glaubenswelt zusammen – die Leitthemen seines Lebens – und spricht von Begegnungen, die ihn tief bewegt haben. Seine Gedanken lassen die Nähe zu den Menschen spüren, die Woche für Woche mit einer entscheidenden Frage nach Taize kommen: Wie finde ich einen Sinn für mein Leben?
Für Frere Roger haben inneres Leben und mitmenschliche Solidarität ein und dieselbe Quelle: Gott, der jedem seine Liebe schenken will.
Neuasgabe 2022.
---
Taizé – instrumental 4
New recording
Les Presses de Taizé, 2022, 65'05, ref.: T 705
Available in the USA from GIA Publications
and in the UK from Presto Music
Accompaniments for 18 songs of Taizé to support the singing during prayers, played on the clarinet, viola, oboe, and guitar. Recorded in the English Reformed Church, Begijnhof, Amsterdam. / Des accompagnements pour 18 chants de Taizé pour soutenir une prière chantée, joués sur la clarinette, alto, hautbois et guitare. Enregistrés dans l'English Reformed Church, Begijnhof, Amsterdam. / Instrumentalbegleitung für 18 Gesänge aus Taizé zur Unterstützung gemeinsamer Gebete. Mit Klarinette, Bratsche, Oboe und Gitarre. Aufgenommen in der englisch-reformierten Kirche, Begijnhof, Amsterdam.
1. Sit nomen Domini, 2. Voici Dieu qui vient à mon secours, 3. Retourne, mon âme, à ton repos, 4. Oculi nostri, 5. Despierta, 6. Iedere nacht, 7. Sanasi on lamppu, 8. Jubelt und freut euch, 9. Veni Creator (canon), 10. Ô toi l'au-delà de tout, 11. Señor que florezca tu justicia, 12. Gib mich ganz zu eigen dir, 13. Laudemus Deum, 14. Let all who are thirsty come, 15. Deus Deus meus, 16. Eat this bread / Jesus Christ bread of life, 17. Przybądź Duchu Boży, 18. Herre visa mig vägen.
---
Songs from Taizé: Piano Accompaniments
Chants de Taizé : accompagnements pour piano
2021, 240 pages, spiral bound / reliure spirale
In the USA: GIA Publications, 2021, 240 p, ref.: G-10276
In Europe: Les Presses de Taizé, 2021, 240 p, ISBN: 9782850404429
In the UK: Available from Church House Bookshop.
These newly composed accompaniments for over 100 songs of Taizé are for churches or prayer groups where the singing is normally accompanied by the piano.
This book contains the voices for assembly for each song, followed by a simple accompaniment, and then one or several slightly more demanding variations.
An audio recording of the contents is available free of charge at the webpage indicated inside.
Ces accompagnements nouvellement composés pour plus de 100 chants de Taizé sont destinés aux paroisses ou aux groupes de prière où le chant est normalement accompagné par le piano. Pour chaque chant, ce livre contient les voix pour l'assemblée, suivies d'un accompagnement simple, puis d'une ou plusieurs variations légèrement plus exigeantes.
Un enregistrement audio de l'ensemble du contenu est disponible gratuitement en ligne au site indiqué dans le livre.
---
Omkouthou ma'y (Remain with Me)
CD with songs from Taizé in Arabic
Les Presses de Taizé, 2021, 64 minutes, ref.: T 401
Recorded for the international Taizé meeting in Beirut (March 2019) and produced by Youth of hope, this CD includes songs in Arabic and other languages.
Enregistré pour la rencontre internationale de Taizé à Beyrouth (mars 2019) et produit par Youth of hope, ce CD comprend des chants en arabe et en d'autres langues.
Aufgenommen für das internationale Treffen von Taizé in Beirut (März 2019) und von Youth of hope produziert, diese CD enthält Lieder auf Arabisch und anderen Sprachen.
1. Nasjoudou laka ya rabb (Adoramus te Christe), 2. Mon âme se repose, 3. Haloumma ya rouha'llah (Tui amoris ignem), 4. The kingdom of God, 5. Omkouthou wa'sharou ma'y (Bleibet hier), 6. Abana fy yadayka (In manus tuas, Pater), 7. Ô toi, l'au-delà de tout, 8. Nada te turbe, 9. Ehfazny rabby (Behüte mich, Gott), 10. Bless the Lord, 11. Sayyidy anta liya'lqouwwa (El Senyor), 12. Haloummou ya shou'oubou (Laudate omnes gentes), 13. Jésus le Christ, 14. A'ti rabby salaman (Dona la pace), 15. Magnificat (canon), 16. Alzalamou laysa zalaman (La ténèbre n'est point ténèbre).