Regular prayers
There are many regular prayers in the UK which started by contact with Taizé. The ones on this list are only a selection: those prayers with which the community remains more closely in touch through personal contact.
Aberdeen

Every Wednesday, 7:30 pm; St John's Church, St John's Place (off Crown Street); Tony Broderick, 07828821869, tonybroderick gmail.com
Birmingham

3rd Sunday of month 6:00 pm, prayer in a church (moving around the city). Helen and Peter Woodall, phpaw2 btinternet.com.
Brighton

Every Monday (except in August, and Bank Holiday Mondays), 6:30 pm, 119d Hollingdean Terrace, BN1 7HB. Hannah Bywaters hbywaters yahoo.com
Prayer in the Bridge Chapel, Derby
Cambridge

Thursdays, 6.15pm, in university term time; Fisher House (Catholic Chaplaincy), Songyuan Zhao sz311 cam.ac.uk
Chagford (Devon)

3rd Sunday of every month at 6 pm by candlelight, St Michael the Archangel, Chagford, Devon.TQ13 8BN. Clare Pargeter via email at clarepargeter yahoo.co.uk, 01647 279288
Exeter

Bi-monthly, 7:00 pm, St Pancras Church, Guildhall Shopping Centre, EX4 3AT. Nigel Walsh nigel ncw.eclipse.co.uk
Prayer in Edinburgh
Glasgow

once a month during term-time, Memorial Chapel, Glasgow University, with the Chapel choir. For details see www.chapelchoir.org/services-and-ev..., or contact chaplaincy glasgow.ac.uk.
Leicester

Monthly prayers on Sunday evenings in Markfield. Karen Silverwood karensilverwood googlemail.com. Prayers in 2023 at Markfield Methodist Church, LE67 9UU at 6pm, on 17 September, 29 October, 19 November, 24 December (at 4.30pm).
London

1st Sunday of the month, 7:00 pm; Wesley's Chapel & Leysian Mission, 49 City Road, EC1Y 1AU; Steven Cooper, minister wesleyschapel.org.uk, www.wesleyschapel.org.uk

Every Wednesday, 6:00 pm; All Hallows by the Tower, Byward Street, London EC3R 5BJ; tube: Tower Hill; parish ahbtt.org.uk

Every Wednesday and Friday, 8:00-8:30 am:
St Mary Aldermary Watling Street EC4M 9BW (tube: Bank/Mansion House/St Paul's); Paul Kennedy, priest moot.uk.net
Morning prayer, St. Mary Aldermary

Last Wednesday of month (usually: check dates on web page below), 7:30 pm; Sisters of St Andrew, 99 Belmont Hill, Lewisham, SE13 5DY; nearest station: Blackheath; 0208 852 1662; https://sisters-of-st-andrew.com/me...

3rd Sunday of month, 5:00 pm; St James's Piccadilly, 197 Piccadilly, W1J 9LL; Graham Sharpe, grahamtsharpe hotmail.co.uk

Last Saturday of the month, 7:15 pm; Notre Dame de France Church, 5 Leicester Place, WC2H 7BX; see church website Anne-Marie Salgo, info ndfchurch.org
Oxford

2nd Sunday of the month, 6.30 pm; St Clement's Church, Marston Rd, Oxford OX4 1FN. parish.office stclements.org.uk, https://www.stclements.org.uk/
Prayer in Broomhill Methodist Church, Sheffield
Sheffield

3rd Sunday of month, 7:00 pm; St Mark's Church, Broomfield Road, S10 2SE; On Facebook, Mark Ansell markansell85 hotmail.com
Tetbury (Glos.)

2nd Thursday of month, 8:00 pm (7:40 pm song practice) in one of the 3 churches; Robin and Sue Ingall: 01666 503180, cringall btinternet.com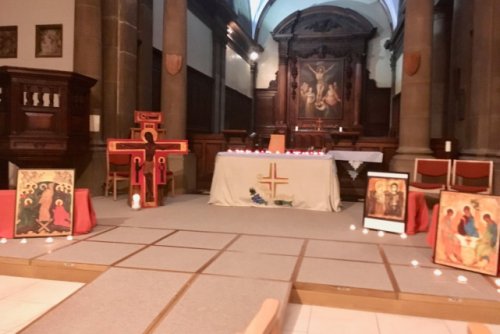 Winchester

Last Sunday of month (usually) 6 pm (Check service listings on the Cathedral website.); Sue Foster suemfoster01 gmail.com