There are many regular prayers in the UK which started by contact with Taizé. The ones on this list are only a selection: those prayers with which the community remains more closely in touch through personal contact.
Upcoming
A brother of the Community will participate in a Lenten Prayer around the Cross in London. This year it will be held on
Saturday 7 March, Church of Notre Dame de France, 5 Leicester Place, WC2H 7BX at 7:45pm
(song practice from 7:15pm)

Poster for London prayer
Regular prayers
Aberdeen

Every Wednesday, 7:30 pm; St John's Church, St John's Place (off Crown Street); Tony Broderick, 07828821869, tonybroderick gmail.com
Bath

Monthly in term time, 6.15 pm; The Chaplaincy, Bath University; catholicchaplain bath.ac.uk.
Prayer at the University of Bath
Birmingham

Every Tuesday, 7:00 pm, Carrs Lane Church Centre, Carrs Lane, B4 7SX. Matthew and Steph Neville, info carrslanelivedcommunity.org.uk Website
On the first Tuesday of each month, the prayer is followed by a bring and share meal, and a discussion around a bible text.


3rd Sunday of month 6:00 pm, prayer in a church (moving around the city). Helen and Peter Woodall, phpaw2 btinternet.com.
Brighton

Every Monday (except Bank Holidays), 6:30 pm, 119d Hollingdean Terrace, BN1 7HB. Hannah Bywaters hbywaters yahoo.com
Bristol

1st Friday of month (except August), 8 pm, Elsie Briggs House, 38 Church Road, Westbury-on-Trym, BS9 3EQ; Uschi and Richard Rigby ur.rigby blueyonder.co.uk


Last Friday of month, 7:30 pm, St Nicholas of Tolentino Church, Lawford's Gate, BS5 0RE; parish: 0117 983 3920


3rd Thursday of month (except August), 7:30 pm, St James' Priory, Whitson Street, BS1 3NZ (next to Bristol Bus Station); Caroline Price carolineshalom.price gmail.com
Cambridge

Every Monday in Full Term, 8:00 pm, Fisher House Chaplaincy, Guildhall Street, CB2 3NH; Hania Adamczyk haniaadamczyk3 gmail.com
Prayer in the Bridge Chapel, Derby
Exeter

Monthly, usually 2nd or 3rd Friday of month, 7:00 pm, St Pancras Church, Guildhall Shopping Centre, EX4 3AT. Nigel Walsh nigel ncw.eclipse.co.uk
Glasgow

2nd Monday of month, 7:00 pm, St Margaret's RC Church, Sinclair Street, Clydebank G81 1AE; Tamara Sanchez-Kapostasy tsanchezkapostasy gmail.com
Gloucester

1st Sunday of month, 6:00 pm, Chapel of Gloucester Royal Hospital, Gt Western Road, GL1 3NN; Diane Carter carterdiane121 gmail.com
Great Missenden (Bucks.)

3rd Sunday of the month at 6pm at St Peter & St Paul, Great Missenden
Revd Dr Elizabeth Lowson curate.elizabeth gmail.com
please check our website to confirm before travelling to our church – changes are especially likely in Advent and Lent.
Hull

1st Sunday of month, 4:00 pm, Hull Minster, Trinity Square, HU1 2JJ; Charlotte Peckett, charlotte hullminster.org, 01482 224460.
Prayer in Edinburgh
Leicester
Monthly prayers on Sunday evenings in Markfield. Karen Silverwood karensilverwood googlemail.com
Leeds

Some Mondays in university termtime; 5:30 pm; Emmanuel Centre, University of Leeds, LS2 9JT. Sarah Derbyshire sarah81196 live.co.uk
London

2nd Sunday of the month, 7:00 pm; Wesley's Chapel & Leysian Mission, 49 City Road, EC1Y 1AU; Steven Cooper, minister wesleyschapel.org.uk, www.wesleyschapel.org.uk

Every Wednesday, 6:00 pm; All Hallows by the Tower, Byward Street, London EC3R 5BJ; tube: Tower Hill; parish ahbtt.org.uk

4th Sunday of the month, 6:00 pm, and


Every Wednesday and Friday, 8:00 am:
St Mary Aldermary Watling Street EC4M 9BW (tube: Bank/Mansion House/St Paul's); Robyn Vesey robyn_vesey yahoo.co.uk www.moot.uk.net

Last Wednesday of month (except July and August), 7:30 pm; Sisters of St Andrew, 99 Belmont Hill, Lewisham, SE13 5DY; nearest station: Blackheath; 0208 852 1662; www.sisters-of-st-andrew.com

Every 2nd Sunday of month; 5:15 pm song practice, 6:00 pm refreshments, 6:30 pm prayer; St Leonard's Church, Streatham High Road, SW16 1RB Julie McCann, jpmccann106 gmail.com

3rd Sunday of month, 6:00 pm; St James's Piccadilly, 197 Piccadilly, W1J 9LL; Graham Sharpe, grahamtsharpe hotmail.co.uk

Saturdays, 7:15 pm; Notre Dame de France Church, 5 Leicester Place, WC2H 7BX; see church website
Manchester

4th Tuesday of month, 7:30 pm; St Elisabeth's Church, Bedford Street, Reddish. SK5 6DJ; Rev. Angie Stanton, 0161 432 3033, angiestanton27 yahoo.co.uk
Peterborough

3rd Saturday of most months, 5:30 pm; Peterborough Cathedral; http://www.peterborough-cathedral.o...
Prayer in Broomhill Methodist Church, Sheffield
Reepham (Norfolk)

A few times a year (In 2019: 24 February, 28 April28 and 22 September). 6:30 pm, St. Michael's Church, NR10 4JW. Song practice 5:45 pm, Silence from 6:15 pm. Sue Page sue.gislingham gmail.com, 01603 870886
All Hallows by the Tower
Sheffield

3rd Sunday of month, 7:00 pm; St Mark's Church, Broomfield Road, S10 2SE; On Facebook, Mark Ansell markansell85 hotmail.com
Tetbury (Glos.)

2nd Thursday of month, 8:00 pm (7:40 pm song practice) in one of the 3 churches; Robin and Sue Ingall: 01666 503180, cringall btinternet.com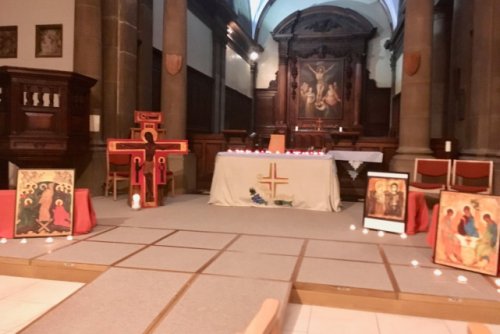 Winchester

Last Sunday of month (usually) 6 pm; Sue Foster suemfoster talktalk.net