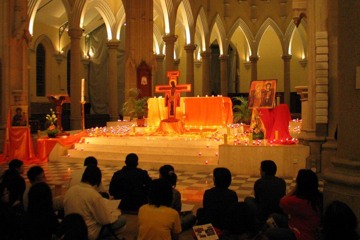 1. St. Thomas the Apostle Catholic Church, Tsing Yi
Date: every first and third Tuesday of the month
2020: 6/16; 7/7, 7/21; 8/4, 8/18; 9/2, 9/16; 10/7, 10/21; 11/4, 11/18; 12/2, 12/16
Address: 5 Tsing Luk Street, Tsing Yi, New Territories, Hong Kong. (next to Tsing Yi Estate Bus Terminus)
Time: 8:30pm to 9:30pm (song practice at 8:15pm)
Venue: Blessed Sacrament Chapel (Ground Floor, entrance via the main church and main altar at First Floor)
Transport:
MTR (Metro) Tsing Yi Station, 10 minutes walk from Exit C (via Tsing Yi Park).
Bus routes 41, 41A, 41P, 41M, 42C, 43B, 44, 44M, 49P, 49X, 243M, 948 (alighting bus-stop: Tsing Yi Estate).
Enquiry: James Kwok (+852)98022460,
email: jamespkatso yahoo.com.hk
Facebook page: https://www.facebook.com/taizehk/
2. Kowloon Union Church
Date: February to November, 2020 (The 4th Monday of the month): 6/22, 7/27, 8/24, 9/28, 11/23.
Time: 8:00-9:00pm (song practice 7:45pm)
Address: 4 Jordan Road, Kowloon
Transport: MTR Jordan Station (Tsuen Wan Line); 2 mins walk from Exit B1/B2
Enquiry: Graduates Christian Fellowship of Hong Kong (+852)23698511
Facebook page: http://www.facebook.com/gcftaize
3. Tao Fong Shan Christian Centre: English Service
Date: Every 2nd Sunday of the month
Address: 33 Tao Fong Shan Road, Shatin
Time: 5:30pm-6:45pm
Venue: Tao Fong Shan Christian Centre Christ Temple
Enquiry: contact tfscc.org / (+852)26944038
Facebook page: http://www.facebook.com/taofongshan
4. St John's Anglican Cathedral (Central)
Date: Evensong on fourth Sunday of the month with Songs from Taizé
Address: 4-8 Garden Road, Central, Hong Kong Island.
Time: 17:00
Telephone:(+852) 25234157
5. St Paul's Anglican Church (Central)
Theme: Grant Us Peace
Date:Fourth Friday of the month 6/26, 7/24, 8/28, 9/25, 10/23, 11/27, 12/18
Time:20:00
Address: 1 Glenealy, Central, Hong Kong Island - January to July 2020 | St John's Anglican Cathedral, 4-8 Garden Road, Central, H.K. – July to Dec. 2020
Enquiry: (+852)25265366
Website:http://dhk.hkskh.org/
6. All Saints' Anglican Cathedral (West Kowloon)
Date:every fourth Sunday of the month
Address:11 Pak Po Street, Mong Kok, Kowloon.
Time: 17:00
Transport: MTR Mong Kong Station (Tsuen Wan Line or Kwun Tong Line), 5 minutes walk from Exit E
Contact:Rev. Samson Fan (+852)61231935; (+852)23854111
Email:deansamsonfan gmail.com
Website:http://dwk.hkskh.org/allsaints/
7. LIVO Centre
LIVO – 22/F Weswick Commercial Building, 147 Queen's Road, Wanchai (MTR exit D)
Dates: 24/6, 29/7, 26/8, 30/9, 28/10, 25/11. (Every last Monday of the month)
Time: 19.30 – 21.00
Enquiry: +852 94363665
8. St. Anne's Catholic Parish
Date: Last Friday of the Month
First Prayer Meeting: 31st January, 2020.
Address: 1, Tung Tau Wan Road, Stanley, H.K.
Time: 8.00 p.m. to 9:00 p.m.
Tel: +852 2813-0206