Dietrich Sagert
Taizé und die DDR
New book in German on the relationship between Taizé and East Germany before the fall of the Iron Curtain
Les Presses de Taizé, 2022, ISBN: 9782850404597
Seit den 1950er-Jahren reisten Brüder der Communauté von Taizé in die Länder hinter dem Eisernen Vorhang, so auch in die damalige DDR. Sie waren diskret als Touristen unterwegs und trafen sich mit Pfarrern und zunehmend auch mit jungen Menschen. Bald wurde die Form des Gebets dieser ökumenischen Gemeinschaft in der DDR zu einem Teil des kirchlichen Lebens. Über die Jahre entstand ein Netzwerk des Vertrauens. Neben Brüdern der Communauté kamen immer öfter Jugendliche aus westlichen Ländern zu Besuch, die in Taizé mitlebten. Vielleicht hatten auch sie alle Anteil an der Dynamik, die zur friedlichen Wende von 1989 führte.
Das vorliegende Buch lässt vor allem Zeitzeugen und Beteiligte zu Wort kommen.
---
Marcello Fidanzio (ed.)
泰澤羅哲弟兄文選 – (Brother Roger of Taizé: Essential Writings)
Anthology of Brother Roger's writings in Chinese
CCLC (基督教文藝出版社), 2022, , ISBN: 9789622942400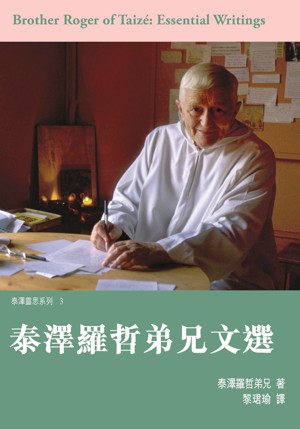 泰澤團體創辦人羅哲弟兄一生致力締造和平、對話與修和,為此,他除了創辦修道團體、創作詩歌短頌,也寫下不少觸動人心的著作。他的作品用字簡單精煉,滿載豐富的信仰意義,能深入人的內心。本書的編者精心輯錄了《上主唯獨是愛》、《泰澤之源》、《心靈平安之源》、《難以形容的喜樂》等著作的重要段落和精句,加上多篇書信及禱文,展現出羅哲弟兄的靈思精髓,有助讀者了解他一生的異象,並進入喜樂、純樸、慈悲的靈性氛圍。
本選集原書的編製,正是處於羅哲弟兄殞落之際,因此可說是羅哲弟兄的遺言,盼望本書能啟發讀者建立謙卑內省的靈性生命,繼而走上他那朝向和平之路的旅程。
---
Sabine Laplane
Брат Роже из Тэзе – «Не имея почти ничего…»
Sabine Laplane's biography of Brother Roger in Russian
Библейско-богословский Институт им. св. ап. Андрея, 2022, xxii + 491 с., ил., ISBN: 9785896474036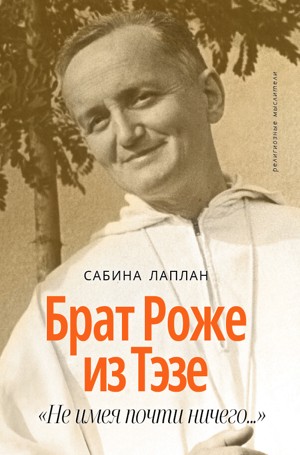 Перед нами духовная биография поистине уникального человека, основателя одной из самых известных современных монашеских общин, вдохновившего десятки тысяч людей во всем мире, – брата Роже из Тэзе. Его необычная жизнь и трагическая гибель, упорная целеустремленность и неисчерпаемая любовь к людям оставляют неизгладимый отпечаток на всех, кто о нем знает.
Эта книга родилась в результате многолетнего общения автора с братом Роже. Основываясь на личных беседах с ним самим, его родственниками, братьями Тэзе, а также на письмах, книгах и редких фотографиях, Сабина Лаплан восстанавливает перед нашими глазами живой образ брата Роже, показывает его трудный духовный поиск, устремления, ценности и убеждения.
---
Die Gesänge aus Taizé – Solo-Singstimmen
Songbook (solo voices) in German
Herder Verlag GmbH, 2022, 112 S, ISBN: 9783451394027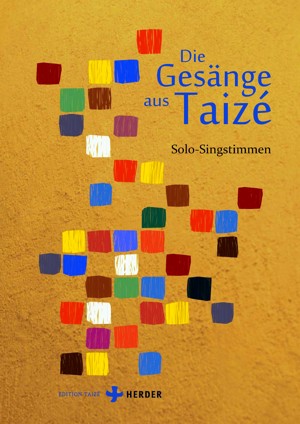 Einige Gesänge aus Taizé können durch Solo-Singstimmen inhaltlich wie musikalisch bereichert werden, andere erfordern deren Einsatz sogar. Der vorliegende Band enthält alle Gesänge, für die es deutsche Solo-Singstimmen gibt. Zusätzlich sind zum Teil auch Solo-Singstimmen in anderen Sprachen wiedergegeben.
---
Leporello – Der barmherzige Samariter
Concertina leaflet in German
Präsenz Medien & Verlag, erhältlich im Taizé-Webshop, 2022
... Der Mann fragte weiter: »Wer gehört denn eigentlich zu meinen Mitmenschen?« Jesus antwortete ihm mit einer Geschichte...
Dieses Leporello lädt dazu ein, die Geschichte von einem Menschen, der unversehens Mitmensch wurde, neu zu lesen: mit dem Bibeltext aus dem Lukasevangelium, Illustrationen von frère Éric und zwei Gesängen aus Taizé.
---
frère Richard
Den Schatz der Schrift aufschließen – Biblische Anregungen aus Taizé
Ouvrir le trésor des Écritures in German
Herder Verlag GmbH, 2022, 176 S, ISBN: 9783451392344
In seinen Bibelauslegungen verbindet Frère Richard, Bruder der Communauté von Taizé, Exegese, theologische Reflexion und das Bestreben, zusammen mit der Bibel auch unsere Zeit und Welt zu lesen. Der auferstandene Christus »schloss die Schriften auf« (Lk 24,32), als er mit seinen Gefährten nach Emmaus unterwegs war. Nach seinem Vorbild »holen wir aus ihrem Schatz Neues und Altes hervor« (Mt 13,52).
Unter die biblischen Anregungen mischt sich immer wieder ein wenig Taizéluft, bald unmerklich und bald mit ausdrücklichen Bezügen auf das Leben der Brüder und die Jugendtreffen.
---
fr. Roger
Gott kann nur lieben – Erfahrungen und Begegnungen
Dieu ne peut qu'aimer in German. New Edition.
Herder Verlag GmbH, 2022, 96 S, ISBN: 9783451032394
In diesem Buch faßt Frere Roger seine Glaubenswelt zusammen – die Leitthemen seines Lebens – und spricht von Begegnungen, die ihn tief bewegt haben. Seine Gedanken lassen die Nähe zu den Menschen spüren, die Woche für Woche mit einer entscheidenden Frage nach Taize kommen: Wie finde ich einen Sinn für mein Leben?
Für Frere Roger haben inneres Leben und mitmenschliche Solidarität ein und dieselbe Quelle: Gott, der jedem seine Liebe schenken will.
Neuasgabe 2022.
---
Taizé – instrumental 4
New recording
Les Presses de Taizé, 2022, 65'05, ref.: T 705
Available in the USA from GIA Publications
and in the UK from Presto Music
Accompaniments for 18 songs of Taizé to support the singing during prayers, played on the clarinet, viola, oboe, and guitar. Recorded in the English Reformed Church, Begijnhof, Amsterdam. / Des accompagnements pour 18 chants de Taizé pour soutenir une prière chantée, joués sur la clarinette, alto, hautbois et guitare. Enregistrés dans l'English Reformed Church, Begijnhof, Amsterdam. / Instrumentalbegleitung für 18 Gesänge aus Taizé zur Unterstützung gemeinsamer Gebete. Mit Klarinette, Bratsche, Oboe und Gitarre. Aufgenommen in der englisch-reformierten Kirche, Begijnhof, Amsterdam.
1. Sit nomen Domini, 2. Voici Dieu qui vient à mon secours, 3. Retourne, mon âme, à ton repos, 4. Oculi nostri, 5. Despierta, 6. Iedere nacht, 7. Sanasi on lamppu, 8. Jubelt und freut euch, 9. Veni Creator (canon), 10. Ô toi l'au-delà de tout, 11. Señor que florezca tu justicia, 12. Gib mich ganz zu eigen dir, 13. Laudemus Deum, 14. Let all who are thirsty come, 15. Deus Deus meus, 16. Eat this bread / Jesus Christ bread of life, 17. Przybądź Duchu Boży, 18. Herre visa mig vägen.
Available for download from 13th May
---
fr. John
Metanoia – La grammatica della vita cristiana
Metanoia in Italian
Queriniana Editrice, 2021, 176 p, ISBN: 9788839932716
Come vivere una vita autenticamente cristiana? Esistono innumerevoli libri e articoli che approfondiscono il contenuto del messaggio evangelico, ma la forma di un'esistenza ispirata dalla fede non è esaminata con altrettanta cura. Per parlare correttamente una lingua non basta imparare il vocabolario, bisogna conoscere (e praticare) la grammatica. Questo libro vuole aprirsi alla comprensione della grammatica della vita cristiana, a partire dal suo nucleo: la nozione di metànoia. Tradotto generalmente con "conversione" o "pentimento", questo termine ha in realtà un signif cato molto più ricco: descrive una trasformazione totale dell'essere, mai compiuta una volta per tutte, perseguita sotto l'azione dello Spirito di Cristo risorto. La metànoia ci fa uscire da una visione autoreferenziale e dalle nostre azioni limitate e interessate, per portarci nell'oggi di Dio, dove diventare testimoni di una Presenza reale: quella del Corpo universale di Cristo.
---
fr. Roger
Journals of Brother Roger of Taizé – Volume I: 1941–1968
in English
Cascade/Wipf & Stock available in the UK from Church House Bookshop, 2021, 132 Pages, ISBN: 9781725297920
This first volume of Brother Roger's journals covers the years from his arrival in Taize during World War II to the turbulent 1960s, when young adults began making their way to the hill of Taize in their searching. These collected insights, reflections, and accounts of personal encounters and current events offer what is perhaps the best portrait of the founder of Taize. They bring to light key aspects of the community which continues to attempt to put into practice the vision that inspired him.
---
fr. Roger
Wybierzmy radość – Nieznane notatki z lat 1940-1963
Writings of Brother Roger 2: A la joie je t'invite in Polish
Wydawnictwo Jedność, 2021, 256 stron, ISBN: 9788381445627
Książka rzuca nowe światło na początki wspólnoty z Taizé, dając nam dostęp do niepublikowanych nigdy stronic spisanych przez jej założyciela – brata Rogera.
Pierwsza część obejmuje lata 1940–1955: ukazuje ona dzieło, którego brat Roger nigdy nie dokończył i które zostawił na etapie projektu.
Druga część zawiera pisma, które powstawały w latach 1956–1963: zapowiedź zwołania Soboru Watykańskiego II przez papieża Jana XXIII i jego rozpoczęcie miały znaczący wpływ na refleksję brata Rogera na temat jedności Kościoła. Na tych stronach autor wyraża swoją poetycką wizję życia, radość obcowania z naturą, czasami zaś pozwala dostrzec głębię cierpienia, jakie było jego udziałem.
W trzeciej części znajdziemy stronice, na których autor z perspektywy czterdziestu lat przywoła jeszcze raz osobę Jana XXIII i podkreśli rolę, jaką ten papież odegrał w życiu wspólnoty.
---
fr. John
Úton a szabadság földjére – A Tízparancsolat új olvasata
Towards a Land of Freedom in Hungarian
Vigília kiadó, 2022, 140, ISBN: 9789639920781
A Tízparancsolat legtöbbünket visszarepít gyermekkorunk hittan­ óráihoz. Könnyen felidézik a vak engedelmességet, a bűnt és a bűn­ tudatot, a moralista vagy legalista gondolkodásmódot. Negatív megközelítésük ellentétes végletnek tűnik a szeretet és felelősség pozitív vallásával szemben, amelyet Jézus Krisztus hirdetett. Vajon mit jelenthet a Tízparancsolat kortársaink számára, akik minden akadálytól mentes életre vágynak? Csupán antik akadályo­ kat a személyes szabadságukhoz vezető úton?
Vagy ellenkezőleg, éppen a tíz kijelentés az, amely a szabad­ ság és a kreativitás terét körvonalazva aktualizálja az Istennel kö­ tött szövetség örök érvényét? E kijelentések távolról sem akarják lelassítani a személy dinamizmusát, hanem útjelző táblákként, mér földkövekként tekintve rájuk az igazi Élethez vezető utat jelzik. John testvér könyve e jól ismert bibliai szöveg új olvasatát java­ solja, hogy megmutassa, a Tízparancsolat milyen egyszerű határo­ kat jelent, amelyek megvédik személyes szabadságunkat, és segíte­ nek, hogy a minket szerető Isten gyermekeiként cselekedhessünk és növekedhessünk.
A Taizében, nemzetközi ifjúsági találkozókon elhangzott bibli­ ai bevezetőket tartalmazó könyv segítséget kíván nyújtani ahhoz, hogy felfedezzük az ősiség pecsétjével ellátott szöveg meghökkentő aktualitását.
---
fr. Roger
Si tout commençait dans la confiance – 1984-1990
Collected writings of Brother Roger in French, ninth volume
Les Presses de Taizé, 2021, 288 pages, ISBN: 9782850404375
Les années 1980 sont pour le fondateur de la communauté de Taizé une période extraordinairement dense. Avec ses frères, il accompagne les nouvelles générations dans leur recherche de Dieu et il leur lance un appel à placer la confiance au commencement de tout. Il met en route un pèlerinage de confiance sur la terre. Il accueille le pape à Taizé. Il franchit plusieurs fois le « rideau de fer » pour rejoindre des jeunes en Europe de l'Est, jusqu'à ce que tombe le Mur de Berlin. Il va partager la vie des plus pauvres. Il collabore avec mère Teresa. En un temps où de fortes tensions menacent l'équilibre mondial, il rend visite avec des enfants à des responsables politiques pour demander désarmement et engagement en faveur de la paix. Ses efforts sont reconnus par des Prix internationaux.
---
fr. John
Metanoia – The Shape of the Christian Life
Cascade/Wipf & Stock, 2021, , ISBN: 9781725297951
How can one live an authentically Christian life? Although many books and articles delineate the content of the Gospel message, the form or shape of an existence based on faith has not been studied as thoroughly. To use a language correctly, it is not enough to know the vocabulary; one must have a good grasp of its grammar. This book attempts to deepen our knowledge of the grammar of the Christian life starting from the notion of metanoia. Generally translated as "repentance" or "conversion," the word has in fact a much richer significance: it describes a total transformation of our being, never accomplished once and for all, through the action of the Spirit of the risen Christ. Metanoia takes us out of our self-centered outlook and our limited and self-interested actions and brings us into God's today, where we become witnesses to a real Presence, that of the universal Body of Christ.
---
Songs from Taizé: Piano Accompaniments
Chants de Taizé : accompagnements pour piano
2021, 240 pages, spiral bound / reliure spirale
In the USA: GIA Publications, 2021, 240 p, ref.: G-10276
In Europe: Les Presses de Taizé, 2021, 240 p, ISBN: 9782850404429
In the UK: Available from Church House Bookshop.
These newly composed accompaniments for over 100 songs of Taizé are for churches or prayer groups where the singing is normally accompanied by the piano.
This book contains the voices for assembly for each song, followed by a simple accompaniment, and then one or several slightly more demanding variations.
An audio recording of the contents is available free of charge at the webpage indicated inside.
Ces accompagnements nouvellement composés pour plus de 100 chants de Taizé sont destinés aux paroisses ou aux groupes de prière où le chant est normalement accompagné par le piano. Pour chaque chant, ce livre contient les voix pour l'assemblée, suivies d'un accompagnement simple, puis d'une ou plusieurs variations légèrement plus exigeantes.
Un enregistrement audio de l'ensemble du contenu est disponible gratuitement en ligne au site indiqué dans le livre.
---
Gemeinsame Gebete für das ganze Jahr
Prayers for Each Day in German
Herder Verlag GmbH, 2021, 224 S, ISBN: 9783451032295
Das Buch enthält 44 Vorschläge für ein gemeinsames Gebet, passend zu den verschiedenen Zeiten und Festen im Jahr. Sie können – neben dem Gebet mit anderen – auch eine Hilfe für das persönliche Gebet sein. Durch die Gebete entsteht eine Verbindung zwischen vielen Menschen, die in der ganzen Welt auf dem »Pilgerweg des Vertrauens« unterwegs sind. Mit einem Vorwort von Frère Aloïs.
---
Kathryn Spink
『心の垣根を越えて』
The Life of Brother Roger in Japanese
Ichibaku 一麦出版社, 2021, ISBN: 9784863251304
 二十世紀後半以降キリスト教諸教派の和解に大きな影響を与え、それまで考えられなかったような交わりを具体的なものとしてきた、この「テゼ」という類まれな現象は、一人の人物の内面的な模索から始まりました。本書は、イギリスの伝記作家キャスリン・スピンクによって書かれたこの「人物」、テゼ共同体の創始者ブラザー・ロジェの伝記を翻訳したものです。ブラザー・ロジェの生涯、そしてロジェによるテゼ共同体の創立と二〇〇五年に彼が急逝するまでのその歴史が、ブラザー・ロジェと他のブラザーたちへの何度にも及ぶインタビューに基づいて綴られています。
---
Sanger fra Taizé
Newly revised songbook in Norwegian
Verbum Forlag, Oslo, 2021, , ISBN: 9788254314500
I denne nyutgaven av "Sanger fra Taizé" er de fleste av sangene fra tidligere norske utgaver beholdt. I tillegg er flere nyoversatte sanger og nyere solopartier tatt med, i alt 128 numre.
---
Cầu nguyện mỗi ngày – các mẫu cầu nguyện theo mùa phụng vụ
Prayers for Each Day in Vietnamese
Dòng Thánh Phaolô Thiện Bản (Œuvres de Saint Paul), 2021, , ISBN: 9786043138078
Những mẫu cầu nguyện cho từng thời điểm khác nhau trong năm được các thầy của Cộng đoàn Taizé biên soạn. Phần giới thiệu chung đưa ra những hướng dẫn cụ thể và trình bày một số yếu tố cần thiết, như cầu nguyện xung quanh Thánh giá, ảnh tượng thánh, bài ca suy niệm, và lời nguyện cá nhân. Cầu nguyện hằng ngày bao gồm thánh vịnh, các bài đọc Kinh Thánh, những lời cầu nguyện, và lời nguyện kết thúc của Thầy Roger.
---
Silvia Scatena
Taizé, une parabole d'unité – Histoire de la communauté des origines au concile des jeunes
A history of the Taizé Community in French
Brepols, 2021, 652 pages, ISBN: 9782503585369
Ce travail est le fruit d'une recherche de nombreuses années, consacrée aux premières décennies de l'histoire de la communauté fondée par Roger Schutz : depuis les premiers projets communautaires partagés avec quelques amis au lendemain du déclenchement de la guerre, jusqu'à l'annonce, au printemps de 1970, d'un « état conciliaire » tout à fait inédit pour sortir de l'impasse où se trouvait l'œcuménisme après les promesses du début des années 60. Les origines, l'évolution, l'accueil et les résistances rencontrées par cette création communautaire originale constituent donc l'objet de ce volume. Cette ouvrage entend donc suivre, reconstruire et documenter l'« itinérance » de Taizé entre les différentes réalités ecclésiales ainsi que le dynamisme déployé par cette communauté au long des différentes lignes de fracture de l'histoire du XXe siècle.
Olivier Clément
Taizé – Chercher un sens à la vie
Réédition du livre du théologien éminent sur Taizé.
Les Presses de Taizé, 2021, 128 p, ISBN: 9782850404399
Le théologien orthodoxe Olivier Clément jette un regard personnel et particulièrement pénétrant sur la Communauté de Taizé et les jeunes qui y viennent pour chercher ensemble un sens à leur vie, trouvant « une expérience spirituelle profonde et une ouverture créatrice sur le monde ».
Ce livre offre aussi une introduction dense et limpide à plusieurs thèmes importants dans la pensée de l'auteur : le mystère de Dieu, l'Église, la prière, la question du mal, la relation de la foi chrétienne avec les autres religions…
---
fr. Roger
En tout la paix du cœur
De nouveau disponible avec une nouvelle couverture.
Les Presses de Taizé, 2021, 208 pages, ISBN: 9782850404436
Ces méditations et prières pour chaque jour de l'année s'adressent à « qui aspire à vivre en tout la paix du cœur, la joie, la simplicité, la miséricorde ».
---
Omkouthou ma'y (Remain with Me)
CD with songs from Taizé in Arabic
Les Presses de Taizé, 2021, 64 minutes, ref.: T 401
Recorded for the international Taizé meeting in Beirut (March 2019) and produced by Youth of hope, this CD includes songs in Arabic and other languages.
Enregistré pour la rencontre internationale de Taizé à Beyrouth (mars 2019) et produit par Youth of hope, ce CD comprend des chants en arabe et en d'autres langues.

='manualbr' />
Aufgenommen für das internationale Treffen von Taizé in Beirut
(März 2019) und von Youth of hope produziert, diese CD enthält Lieder auf Arabisch und anderen Sprachen.
1. Nasjoudou laka ya rabb (Adoramus te Christe), 2. Mon âme se repose, 3. Haloumma ya rouha'llah (Tui amoris ignem), 4. The kingdom of God, 5. Omkouthou wa'sharou ma'y (Bleibet hier), 6. Abana fy yadayka (In manus tuas, Pater), 7. Ô toi, l'au-delà de tout, 8. Nada te turbe, 9. Ehfazny rabby (Behüte mich, Gott), 10. Bless the Lord, 11. Sayyidy anta liya'lqouwwa (El Senyor), 12. Haloummou ya shou'oubou (Laudate omnes gentes), 13. Jésus le Christ, 14. A'ti rabby salaman (Dona la pace), 15. Magnificat (canon), 16. Alzalamou laysa zalaman (La ténèbre n'est point ténèbre).