Preparing
Catholic, Pentecostal and Covenant church members also took an active part in the weekend, which was prepared by students together with the University Church of Sweden chaplaincy and the Cathedral parish. A lot of work and thought went into the planning beforehand.
All the chairs from the cathedral were removed so that everyone could sit on the floor and the nave was decorated with candles and large icons, one of which was a copy of the Virgin and Child, commissioned for the cathedral some years ago. It's not the first time this has happened, but when it does, it reveals something of the original setting and beauty of the 12th century cathedral.
Theme
The theme of the weekend was "Trust" and at the Saturday midday prayer, the Bishop of Lund spoke on the text from Luke's Gospel where the angel Gabriel brings to Mary the news of Jesus' birth. On Saturday afternoon, a brother of Taizé used the text of the Rich Young Man from Mark's Gospel to illustrate the theme. Small group sharing followed on.
Workshops
During late afternoon, workshops enabled participants to listen to testimonies from people seeking to build trust in the local environment.
Maria wrote about one workshop; "Max is a young Christian man who lives in Malmö where he is working with homeless people. In the workshop, he talked about the vocation we all have which means first of all to live with God. But how is this possible? Very often today, in the parishes and universities, we are very good at talking about God, forgetting to put in practise what we know and what we have learned about faith.
The question Max was asking himself and us was; what does it actually mean to be a follower of Jesus?
The sharing in the workshop was centred around the importance of turning to the people around us who are suffering. A smile, or even just eye-contact, can be enough. Such a meeting can be life-changing. In these simple acts, and true meetings of giving and receiving, God is present."
Anne from Germany wrote about another workshop; "Stina helped create an "open church" in Malmö where they welcome poor and lonely people. She was a piano player but always felt a lack in her life. She wanted to life her faith a little more concretely, to be closer to others, especially to those who need someone to meet, to talk to.
So, after a long while of prayer and silent waiting, Stina and some others started to invite people that were passing by the church to have coffee and a sandwich in the church, or in a room next door. People come there to talk, to be listened to and there is always someone to welcome them, to listen, to talk to, someone they can ask to pray. Stina and the others who give their time to the "open church" also go into the city centre where people - often homeless - gather and the open church workers join them with hot coffee or tea.
Probably there is nothing extra-ordinary about what Stina and the others do; they welcome others...and at the same time what they are creating seems to be a unique space of warmth and welcome in a city where people often forget about the poor, whatever "poor" might be.
I was touched by the testimony and humility of Stina's work. What she gives is a little bit of her time and energy just to be with those who - in that very moment - need someone for whatever reason. It seems to me as if Stina and the open church team open a way toward a deeper trust in one another, in Christians, in the communion which is called the church by a very simple but courageous work: being present where poverty in all kinds is most present. Hard to say more...I have just been very touched and while listening to her my eyes were full of tears. .."
A group of teenagers preparing to be confirmed took part in the weekend and met together to speak about the theme. In a society which is often said to be characterised by strong secularisation, the thirst of these young people was a sign that sweeping generalisations cannot be made. Faith is still an important question for so many and occasions like this to support each other affirm them in their seeking to believe.
Evening prayer
Saturday evening prayer closed with a long prayer around the cross. The peoples of Japan and of Libya where especially remembered at this time. It was all the more touching to see so many people coming to the cross. In Sweden, it's not so usual to manifest one's faith in such a visible manner. The sense of solidarity can however override habitual restrictions.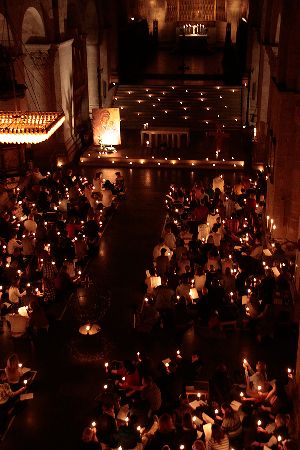 And then candlelight flooded the ancient building as the prayer around the cross drew to an end and tapers were kindled in celebration of the Resurrection.
Conclusion
Sunday High Mass concluded the weekend the following morning. As often in Sweden, a fine ensemble of instrumentalists and a small choir – all young adults who had given their time freely – accompanied the songs from Taizé sung during the times of worship.