In several places in Japan, people gather regularly to pray with the songs of Taizé. These prayers are also the places where the young people who have visited Taizé and the ones planning to visit Taizé could meet. The following is the list of some of these prayers. There are other meetings which are not in the list.
Further information could be obtained from Taizé.
community taize.fr
You could find the dates and places of all the meetings in Japan at the following site as well. However, many gatherings are currently suspended due to the Covid 19. Please contact the following sites or their respective contacts to find out if a gathering will be held.
http://mokusoutoinori.cocolog-nifty.com/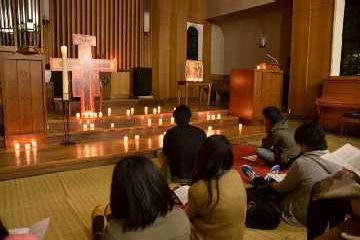 Sapporo
Monthly prayer meeting is held at Hakkakudo, an Anglican chapel of the diocesan office.
The first Saturday of the month at 6pm
At Hakkakudo: 5-1-12, Kita 15 Jo, Kitaku-Ku, SAPPORO
Contact: The Diocesan Office of Hokkaido Diocese
Tel: 011-7178181
Yonekawa (Caritas Minamisanriku)
Morning prayer with the songs of Taizé during spring, summer, and winter holidays.
Place: Yonekawa aza machiura 84,
Towa-cho, Tome-shi Miyagi-ken
Contact: Michio Chiba
sdscyonekawa gmai.com
TEL: 0220-23-9231
Sendai
Every two to three month, a prayer meeting takes place at one of Catholic, Protestant and Anglican churches in Sendai.
Contact: Preparation team for Meditation and Prayer in Sendai
TEL022-222-0990(Emmaus: Tohoku Diocese Center of United Church of Christ in Japan)
Tokyo area
Nearly twenty parishes and religious communities hold the regular prayers.
The followings are the prayers at Yotsuya.
St Ignatius (Yotsuya)
7pm: The first Friday of every odd month
The Sisters of Infant Jesus (Yotsuya)
7pm: The second Friday of every even month
(The dates may change. Please inquire for the latest information.)
The details of all other prayers at various parishes and religious communities in Tokyo area could be found at the following website.
http://mokusoutoinori.cocolog-nifty.com/
Contact: Isao Uematsu: ui2001 nifty.com
Tel/Fax: 03-3997-7178
Kyoto
The regular prayers take place at one of Catholic, Anglican and Lutheran churches.
Contact: Preparation team for the meditation and prayer in Kyoto.
TEL075-723-5066
Kansai area
The regular prayers take place at one of Catholic and the United Chruch of Christ in Japan.
Contact: Keiji Utebi:
utebi kwansei.ac.jp
TEL/FAX:0798-54-6306
Contact: Toshimichi Kimura
tosh.kimura nifty.com
TEL/FAX:06-6868-1269
MOBILE:090-2194-5277
Fukuoka
The regular prayers take place at one of Catholic, Lutheran and Anglican churches.
Contact:
Brother Abe: TEL090-2305-5191
Ms Soma: TEL080-3227-8295
The Lutheran Church (Rev Wada): TEL092-641-5440
St Paul Anglican Church; TEL092-751-0097
Last updated: 27 September 2019