In Chile, the brothers took part in prayers in Santiago and Vallenar. In Santiago, they also visited people and teams working with young people or in ecumenical dialogue for the archdiocese and the Bishops' Conference of the Catholic Church, as well as leaders of the Lutheran Church. In Vallenar, a prayer meeting brought together participants from the Atacama region.
In Bolivia, a brother visited El Alto, La Paz and Cochabamba. Many members of the Catholic Church's youth ministry in these cities took part in prayers with Taizé songs and in meetings during which the history and activities of the Taizé Community were presented, as well as providing an opportunity to share reflections on Brother Alois' message for 2023, "Inner life and solidarity". In La Paz, a brother also visited the ecumenical theological institute ISEAT.
In Peru, there was an invitation from the Catholic Church's Commission for Youth and Laity to reflect on possibilities for collaboration. Several prayers with songs from Taizé took place in Lima and in the north of the country, in Chulucanas and Jaen. Shortly after the political and social unrest that shook Peru, the situation calmed down to a great extent. However, it seems that many young people are struggling to find new hope in a better future or to find ways of contributing to it. In this context, the participation of young Peruvians in Taizé meetings, or the participation of Taizé brothers or young people sent by the community to meetings in Peru, could be a way of helping people to reflect and of opening up paths for the future.
Brothers have been living in Brazil for over fifty years now, and for over forty-five years in the outskirts of Alagoinhas in the state of Bahía. Brothers from the community regularly take part in prayers held in Salvador, but for several years they had not visited the south-eastern and southern regions of the country. During their trip in April and May, two brothers visited the regions of São Paulo, Curitiba and Porto Alegre, and one brother continued the journey, passing through Chapecó, São José do Rio Preto, Cuiabá and Rondonópolis. They took part in prayers with Taizé songs and met people committed to building peace and justice in society.
In this way, they had the opportunity to get to know different places where Christians are involved because of their faith to help all those living on the margins of society: the "Fazenda da Esperança," founded forty years ago in Guaratinguetá by Frei Hans and Nelson Giovanelli, which accompanies drug addicts on their way out of addiction; the "Arsenal da Esperança" in São Paulo, run by the Sermig group, which offers housing to over a thousand homeless people every day, Father Júlio Lanzellotti's "São Miguel Arcanjo" parish in São Paulo, which works with the pastoral ministry to vulnerable street people, houses for refugees run by the Jesuits or the Scalabrinian sisters, and the "Bom Pastor" community in the suburbs of Curitiba.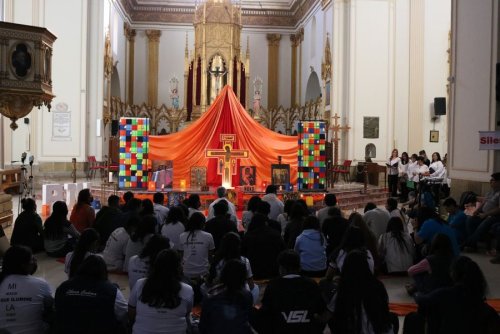 During the evening, the brothers regularly took part in prayers that brought together men and women from different church backgrounds. Several members of evangelical or Pentecostal churches have said how important it was for them to take part in contemplative prayers. Prayers and meetings were held in Catholic, Anglican and Lutheran churches. At the House of Reconciliation in São Paulo, the brothers also took part in an interfaith meeting.
In this way, the visits helped to create or renew friendships, and brought together God-seekers from different backgrounds. At the same time, they paved the way for future prayers and youth meetings. This reinforces the conviction that, in a world beset by serious problems, trust in the Gospel can give rise to initiatives that are signs of hope for all the inhabitants of the world.