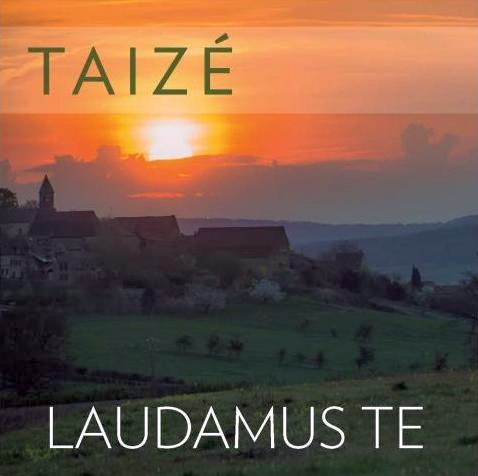 This CD shows how the prayer at Taizé is renewed while yet remaining constant throughout the years. Many of the songs presented here are new: written by brothers of Taizé between 2012 and 2017 they are recorded here for the first time. Others have been part of the community's prayer for a many years. A few come from a much older tradition: for example, a hymn from the German evangelical churches of the 17th century and a litany based on antiphons of the age-old tradition of the Church.
Songs:
1. Laudemus Deum ↓
Laudemus Deum qui nos creavit, redemit, et sua sola misericordia salvabit.
Louons Dieu qui nous a créés, rachetés et qui nous sauvera par sa seule miséricorde. / Let us praise God who created and redeemed us, and will save us by his mercy alone. / Loben wir Gott, der uns erschaffen hat, erlöst hat und uns einzig durch sein Erbarmen retten wird. / Alabemos a Dios que nos ha creado, nos ha redimido y que por su sola misericordia nos salvará. / Lodiamo Dio che ci ha creato e redento, e con la sua sola misericordia ci salverà. (saint François d'Assise)
2. Jésus, ma joie ↓
Jésus, ma joie, mon espérance et ma vie.
Jesus, my joy, my hope and my life. / Jesus, meine Freude, meine Hoffnung und mein Leben. / Jesús, mi alegría, mi esperanza y mi vida. / Gesù, gioia mia, speranza mia e vita mia. / Jezu, moja radości, moja nadziejo i moje życie.
Versets (du Ps 34, 1-7.9) :
1. Ich will den Herrn allezeit preisen; immer sei sein Lob in meinem Mund.
Je bénirai le Seigneur en tout temps, sa louange sans cesse en ma bouche. / I will bless the Lord at all times. God's praise always on my lips. / Bendeciré al Señor en todo tiempo; continuamente estará su alabanza en mi boca. / Voglio benedire il Signore in ogni tempo, la sua lode sia sempre sulla mia bocca.
2. I will praise the Lord from my heart, the humble shall hear and be glad.
C'est en Dieu que mon âme se loue, qu'ils écoutent les humbles, qu'ils jubilent. / Meine Seele rühme sich des Herrn; die Armen sollen es hören und sich freuen. / En el Señor se gloriará mi alma; lo oirán los humildes y se regocijarán. / Nel Signore si gloria l' anima mia, odano i poveri e si rallegrino.
3. Magnifiez avec moi le Seigneur, exaltons tous ensemble son nom.
Glorify the Lord with me, together let us praise God's name. / Verherrlicht mit mir den Herrn, lasst uns gemeinsam seinen Namen rühmen. / Engrandeced al Señor conmigo, y exaltemos a una su nombre. / Magnificate con me il Signore ed esaltiamo il suo nome tutti insieme.
4. I sought the Lord and was heard, and from all my terrors set free.
Je cherche le Seigneur, il me répond, et de toutes mes frayeurs me délivre. / Ich suchte den Herrn, er hat mich erhört, all meinen Ängsten hat er mich entrissen. / Busqué al Señor, y Él me respondió, y me libró de todos mis temores. / Mi sono rivolto al Signore e mi ha risposto, da ogni mia apprensione mi ha liberato.
5. Qui regarde vers Dieu resplendira, sur son visage plus d'amertume.
Look towards God and be radiant, let your faces not be abashed. / Wer Gottes Angesicht erblickt, strahlt vor Freude. Niemand wird vor Scham erröten. / Los que a Él miraron, fueron iluminados; sus rostros jamás serán avergonzados. / Guardate a lui e sarete raggianti, i vostri volti non dovranno arrossire.
6. Un pauvre a crié, Dieu écoute, et de toutes ses angoisses il le sauve.
When the poor cry out the Lord hears them and rescues them from all their distress. / Hier steht ein armer Mensch, der um Hilfe rief. Der Herr hörte es und rettete ihn aus aller Not. / Este pobre clamó, y el Señor le oyó, y lo salvó de todas sus angustias. / Questo misero ha gridato e il Signore l' ha udito, e da tutte le sue angustie lo ha liberato.
7. Kostet und seht, gütig ist Gott. Glücklich, wer sich zu ihm flüchtet.
Goutez et voyez comme est bon le Seigneur, heureux qui s'abrite en lui. / Taste and see that the Lord is good, they are happy who take refuge in God. / Probad y ved que el Señor es bueno. ¡Cuán bienaventurado es el hombre que en Él se refugia! / Gustate e vedete che buono è il Signore: beato l' uomo che in lui si rifugia.
3. Jubelt und freut euch ↓
Jubelt und freut euch über den Herrn, er hat Großes an uns getan. Jubelt und freut euch, fürchtet euch nicht. Alleluja!
Exultez et réjouissez-vous dans le Seigneur, car il a fait de grandes oeuvres. Exultez et réjouissez-vous, ne craignez pas. Alléluia ! / Be glad and rejoice in the Lord; he has done great things! Be glad and rejoice, do not be afraid. Alleluia! / ¡Alégrate y goza en el Señor, porque ha hecho grandes cosas! Alégrate y goza, no tengas miedo. ¡Alleluia! / Rallégrati e gioisci nel Signore, poiché lui ha fatto cose grandi. Rallégrati e gioisci, non temere. Alleluia! / Radujcie się i weselcie w Panu, bo uczynił wielkie rzeczy. Radujcie się i weselcie, nie lękajcie się. Alleluja! / ¡Alégrate y goza en el Señor, porque ha hecho grandes cosas! Alégrate y goza, no tengas miedo. ¡Alleluia! (cf Joël 2, 21.23)
4. Sanasi on lamppu ↓
Sanasi on lamppu, valo askeleillani.
Ta parole est une lampe, une lumière sur mes pas. / Your word is a lamp, a light on my path. / Dein Wort ist eine Leuchte, ein Licht für meine Pfade. / Tu palabra es una lámpara para mis pasos, y una luz en mi camino. / La tua parola è una lampada, una luce sul mio cammino. / Twoje słowo jest pochodnią dla stóp moich i światłem na mojej ścieżce. (en finnois. Psaume 119, 105)
5. Jesu Christe, Fili Dei ↓
Jesu Christe, Fili Dei, in adiutorium meum intende. Jesu Christe, Fili Dei, ad adiuvandum me festina.
Jésus Christ, Fils de Dieu, viens à mon secours. Viens vite à mon aide. / Jesus Christ, Son of God, come to my aid. Come quickly to help me. / Jesus Christus, Sohn Gottes, komm herbei und rette mich. Eile mir zu Hilfe! / Jesucristo, hijo de Dios, ven en mi auxilio. Date prisa en socorrerme. / Gesù Cristo, Figlio di Dio, vieni a salvarmi, vieni presto in mio aiuto. / Jezu Chryste, Synu Boży, chciej mnie uratować, pośpiesz mi z pomocą. (cf Psaume 70, 2)
6. Benedictus Dominus Deus ↓
Benedictus Dominus Deus, quia visitavit et redemit populum suum.
Béni soit le Seigneur qui a visité et délivré son peuple. / Blessed be the Lord who visits and redeems his people. / Gepriesen sei der Herr, er hat sein Volk besucht und erlöst. / Bendito sea el Señor, porque ha visitado y redimido a su pueblo. / Niech będzie uwielbiony Pan, Bóg, że lud swój nawiedził i wyzwolił. (Luc 1, 68)
Versets (de Luc 1, 68-79) :
1. Béni soit le Seigneur, le Dieu d'Israël, qui visite et rachète son peuple ; il a fait surgir la force qui nous sauve dans la maison de David, son serviteur.
Blessed be the Lord God of Israel ; he visits his people and redeems them ; he has raised up for us a mighty savior in the house of David his servant. / Gelobt sei der Herr, der Gott Israels! Denn er ist seinem Volk zu Hilfe gekommen und hat es befreit. Er hat uns einen starken Retter gesandt, einen Nachkommen seines Dieners David. / Bendito sea el Señor, Dios de Israel, porque ha visitado y redimido a su pueblo, suscitándonos una fuerza de salvación en la casa de David, su siervo. / Benedetto il Signore, Dio di Israele, perché ha visitato e redento il suo popolo, per noi ha suscitato una potente salvezza nella casa di Davide, suo servo.
2. Comme il l'avait dit par la bouche des saints, par ses prophètes, depuis les temps anciens, salut qui nous arrache à l'ennemi, à la main de tous nos oppresseurs.
As he spoke through the mouth of his holy ones, his prophets from of old, that we would be saved from our enemies, from the hand of all who oppress us. / So hat Gott es von jeher angekündigt durch den Mund seiner heiligen Propheten – einen Retter, der uns befreit von unseren Feinden und aus der Gewalt aller, die uns hassen. / Según lo había predicho desde antiguo por boca de sus santos pro fetas. Es la salvación que nos libra de nuestros enemigos y de la mano de todos nuestros opresores. / Come aveva promesso per bocca dei suoi santi profeti d' un tempo: salvezza dai nostri nemici e dalle mani di tutti quelli che ci odiano.
3. Ha realizado así la misericordia que tuvo con nuestros padres, recordando su santa alianza y el juramento que juró a nuestro padre Abraham.
Amour qu'il montre envers nos pères, en mémoire de son alliance sainte, serment juré à notre père Abraham, de nous rendre sans crainte. / He has shown the mercy promised to our ancestors, and remembered his holy covenant, the oath he swore to our ancestor Abraham, that we might live without fear. / Damit hat Gott auch unseren Vätern seine Barmherzigkeit erwiesen. Er hat an den heiligen Bund gedacht, den er mit ihnen geschlossen hat. Ja, er hat an den Eid gedacht, den er unserem Vater Abraham geschworen hat: uns aus der Hand von Feinden zu retten. / Così egli ha concesso misericordia ai nostri padri e s' è ricordato della sua santa alleanza, del giuramento fatto ad Abramo, nostro padre.
4. Para concedernos que libres de temor, arrancados de la mano de nuestros ene migos, le sirvamos con santidad y justicia, en su presencia, todos nuestros días.
Afin que délivrés de la main des ennemis, nous le servions dans la justice et la sainteté, en sa présence, pour toute notre vie. / So that we be rescued from the hands of our enemies, and that we might serve him in holiness and righteousness, in his presence all our days. / Dann können wir ohne Angst Gottesdienst feiern – heilig und nach seinem Willen, in seiner Gegenwart, solange wir leben. / Di concedere a noi, liberati dalle mani dei nemici, di servirlo senza timore, in santità e giustizia dinanzi a lui per tutti i nostri giorni.
5. And you, child, will be called the prophet of the Most High; for you will go before the Lord to prepare his ways, to give knowledge of salvation to his people by the forgiveness of their sins.
Et toi, petit enfant, tu seras appelé prophète du Très-Haut; tu marcheras devant, précédant le Seigneur, et tu prépareras ses chemins. Tu feras connaître le salut à son peuple, par l'effacement de ses fautes. / Aber auch du, Kind, wirst ein Prophet des Höchsten genannt werden. Du wirst dem Herrn vorangehen und die Wege für ihn bereit machen. Du schenkst seinem Volk die Erkenntnis, dass der Herr es retten will und ihm die Schuld vergibt. / Y a ti, niño, te llamaran Profeta del Altísimo, porque irás delante del Señor a preparar sus ca minos, anunciando a su pueblo la salvación, el perdón de sus pecados. / E tu, bambino, sarai chiamato profeta dell' Altissimo perché andrai innanzi al Signore a preparargli la via, per dare al suo popolo la conoscenza della salvezza per la remissione dei loro peccati.
6. By the tender mercy of our God, the dawn from on high will break upon us, to give light to those who sit in darkness and in the shadow of death, to guide our feet into the way of peace.
Grâce à la tendresse, à l'amour de notre Dieu, quand nous visite l'astre d'en haut, Pour illuminer ceux qui habitent l'obscurité, et l'ombre de la mort, pour remettre nos pas dans le chemin de la paix. / Unser Gott hat ein Herz voll Erbarmen. Darum kommt uns das Licht aus der Höhe zur Hilfe. Es leuchtet denen, die im Dunkel und im Schatten des Todes leben. Es lenkt unsere Füße auf den Weg des Friedens. / Por la entrañable misericordia de nuestro Dios, nos visitará el sol que nace de lo alto, para iluminar a los que viven en tinieblas y en sombra de muerte, y guiar nuestros pasos por el camino de la paz. / Grazie alla bontà misericordiosa del nostro Dio per cui verrà a visitarci un sole dall' alto, per illuminare quelli che stanno nelle tenebre e nell' ombra di morte, per guidare i nostri passi sulla via della pace.
7. Señor, que florezca tu justicia ↓
Señor, que florezca tu justicia, y tu paz empape la tierra. O Dios, que florezca tu justicia, y se llene nuestra vida de ti.
Seigneur, que fleurisse ta justice et que ta paix inonde la terre. Ô Dieu, que fleurisse ta justice, que notre vie soit remplie de toi. / Lord, may your justice flourish and your peace inundate the earth. O God, may your justice flourish and may our lives be filled by you. / Deine Gerechtigkeit gedeihe, o Herr, und dein Frieden tränke die Erde. Deine Gerechtigkeit gedeihe, o Gott, und unser Leben sei erfüllt von dir. / Signore, che fiorisca la tua giustizia, e la tua pace irrori la terra. O Dio, che fiorisca la tua giustizia, e la nostra vita sia piena di te. / Panie, niech rozkwitnie Twa sprawiedliwość, a pokój zrosi ziemię. O Boże, niech rozkwitnie Twa sprawiedliwość a nasze życie napełni się Tobą. (cf Psaume 72, 6-7.19)
8. litanie : Ô Sagesse ↓
Ô Sagesse
Ciel, répands ta rosée ; Nuée, fais pleuvoir le Juste ;
– Terre, enfante un Sauveur.
Heavens, pour down your dew; clouds, rain down Righteousness.
– Earth, give birth to a Saviour.
Seigneur, viens bientôt !
Lord, come soon! / Herr, komme bald!
1. Ô sagesse, toi qui sortis de la bouche du TrèsHaut, toi qui règnes sur toutes choses d'une extrémité du monde à l'autre et les disposes avec force et douceur, viens pour nous enseigner le chemin de la sagesse.
O Wisdom, coming from the mouth of the Most High! You reign over all things from one end of the earth to the other; with power and gentleness you order all things: come and teach us the way of wisdom. / O Weisheit, hervorgegangen aus dem Mund des Höchsten, du lenkst alle Dinge von einem Ende der Erde zum andern, du ordnest sie in Kraft und Sanftmut; Komm und lehre uns den Weg der Weisheit!
2. O Herr und Haupt des Hauses Israel, du erschienst Mose im brennenden Dornbusch und gabst ihm das Gesetz am Sinai. Komm und erlöse uns mit starkem Arm!
Ô Seigneur et chef de la maison d'Israël, toi qui apparus à Moïse dans le feu du buisson ardent et lui donna la loi sur le Sinaï, viens pour nous racheter à bras étendu. / O Lord and Head of the house of Israel, you appeared to Moses in the fire of the burning bush and gave him the Law on Mount Sinai: come, stretch out your arm and set us free.
3. O Root of Jesse, you stand as a sign for the peoples; before you kings shall keep silent, to you all nations shall have recourse: come, save us, and do not delay.
Ô Rameau de Jessé, toi qui te dresses comme un signe parmi les peuples, toi devant qui les rois fermeront la bouche, toi que les peuples appelleront au secours, viens pour nous libérer, et ne tarde plus. / O Spross aus Jesse, als Zeichen gesezt den Völkern, vor dir verstummen Könige, zu dir rufen die Völker um Hilfe; komm, uns zu befreien, und warte nicht.
4. Ô Clef de David, et Sceptre de la maison d'Israël, toi qui ouvres et nul ne peut fermer, toi qui fermes et nul ne peut ouvrir, viens et fais sortir de prison le captif, gisant dans les ténèbres et l'ombre de la mort.
O Key of David and Sceptre of the House of Israel; you open and no one may close; you close and no one may open: come, and deliver from the chains of prison those who sit in darkness and in the shadow of death. / O Schlüsssel Davids, und Szepter des Hauses Israel, was du öffnest kann niemand schließen, was du schließt kann niemand öffnen; komm und befreie den Gefangenen, der in der Finsternis sitzt und im Schatten des Todes.
5. Oh Estrella de la mañana, Esplendor de la luz eterna y Sol de justicia, ven e ilumina a quienes viven en las tinieblas y en las sombras de la muerte.
Ô Etoile du matin, Splendeur de la lumière éternelle et Soleil de Justice, viens et illumine ceux qui gisent dans les ténèbres et l'ombre de la mort. / O Morning Star, Splendour of Light eternal and bright Sun of justice: come and shine on all who live in darkness and in the shadow of death. / O Morgenstern, Abglanz des ewigen Lichts und Sonne der Gerechtigkeit, komm und erleuchte alle, die in Finsternis sitzen und im Schatten des Todes!
6. O King of the nations, you alone can fulfil their desires; Cornerstone, you make opposing nations one; come and save us all who you formed from clay.
Ô Roi des nations, toi qui peux combler leur désir, Pierre d'angle, toi qui fait l'unité des peuples opposés, viens et sauve l'homme que tu as formé de la terre. / O König der Nationen, du Erfüllung ihrer Sehnsucht, Du der Eckstein, der verfeindete Völker eint, komm, den Menschen zu retten, den du aus Erde geschaffen!
7. Oh Emanuel, esperança de les nacions i salvador del món vine i sálvan's Senyor, Déu nostre.
Ô Emmanuel, Espérance des nations et leur Sauveur, viens pour nous sauver, Seigneur notre Dieu. / O Emmanuel, Hope of the nations and their Saviour: come and save us, Lord our God. / O Immanuel, du Sehnsucht der Völker und ihr Heiland, komm und rette uns, Herr, unser Gott!
L'Esprit et l'Épouse disent: Viens !
The Spirit and the Bride say, Come! / Der Geist und die Braut sagen : Komm!
– Amen Seigneur Jésus, viens bientôt !
Amen, Lord Jesus: come soon!
(antiennes « Ô » de l'Avent, de la tradition de l'Église)
9. Wait for the Lord ↓
Wait for the Lord, whose day is near. Wait for the Lord: keep watch, take heart!
Attends le Seigneur, son jour est proche. Sois fort et prends courage. / Hoffe auf den Herrn, sein Tag ist nah. Hab festen Mut und hoffe auf den Herrn. / Espera al Señor, su esfuérzate y aliéntese tu corazón / Spera nel Signore! Sii forte, si rinfranchi il tuo cuore (cf Psaume 27, 14)
Versets :
1. Prepare the way for the Lord. Make a straight path for God. Prepare the way for the Lord.
Préparez la voie pour notre Dieu. Tracez droit un chemin pour le Seigneur. / Bahnt dem Herrn einen Weg, baut eine Strasse für unseren Gott. / Preparadle el camino al Señor, allanad sus senderos. / Preparate le vie al Signore. Appianate la strada per il nostro Dio. (Is 40, 3)
2. Rallegratevi, rallegratevi nel Signore sempre. Rallegratevi, poiché il Signore è vicino.
Réjouissez-vous sans cesse dans le Seigneur. Réjouissez-vous, le Seigneur est proche. / Rejoice in the Lord always: God is at hand. Joy and gladness for all who seek the Lord. / Freut euch im Herrn zu jeder Zeit. Der Herr ist nahe! / Regocijaos en el Señor siempre. El Señor está cerca. (Phil 4, 4-5)
3. Buscad al Señor, buscad al Señor, y vivirá vuestro corazón.
À vous qui cherchez Dieu, à vous, longue vie ! / You who seek God, let your hearts revive. / Ihr, die ihr Gott sucht, fasst neuen Mut! / Cercate il Signore, si ravvivi il vostro cuore. (Ps 69, 32)
4. Hoffe auf den Herrn und sei stark. Hab festen Mut und hoffe auf den Herrn.
Attends le Seigneur ; sois fort et prends courage ; attends le Seigneur. / Wait for the Lord; be strong, and let your heart take courage; wait for the Lord! / Espera al Señor; esfuérzate y aliéntese tu corazón. Sí, espera al Señor. / Spera nel Signore! Sii forte, si rinfranchi il tuo cuore, e spera nel Signore! (Ps 27, 14)
10. cantique : Ô vous qui dans l'obscurité ↓
Ô vous qui dans l'obscurité
1. Ô vous qui, dans l'obscurité, cherchez le Dieu de vérité, levez les yeux vers le ciel noir! Il est pour vous un saint espoir, le grand miracle s'accomplit : Dieu s'est penché sur notre nuit. Voici, divin bonheur, Jésus le rédempteur.
You who in the darkness seek the God of Truth, lift up your eyes to the dark sky: for you there is a divine hope. The great miracle is being accomplished: God looks down on our night. Behold the divine joy: Jesus, the redeemer. / Macht hoch die Tür', die Tor' macht weit, es kommt der Herr der Herrlichkeit, ein König aller Königreich, ein Heiland aller Welt zugleich, der Heil und Leben mit sich bringt; derhalben jauchzt, mit Freuden singt: gelobet sei mein Gott, mein Schöpfer reich an Rat!
2. Il vient porter de la douleur le poids qui brise notre cœur ; il vient livrer nos durs combats et diriger nos faibles pas. Il est la vie et le pardon ; l'amour rayonne sur son front. Voici, divin bonheur, Jésus le rédempteur.
He comes to bear away the weight of the suffering that breaks our heart; he comes to struggle at our side and to lead our hesitant steps. He is life and forgiveness; love shines out in his face. Behold the divine joy: Jesus, the redeemer. / Macht hoch die Tür', die Tor' macht weit, Gott kommt, voll von Barmherzigkeit, Sanftmut und Liebe sein Geleit; sein Königsschmuck ist Heiligkeit. All unsre Not zu End' er bringt, derhalben jauchzt, mit Freuden singt: gelobet sei mein Gott, mein Heiland groß an Tat.
3. Chantons celui qui vient à nous, adorons-le à deux genoux ! Offrons à ce céleste roi et notre cœur et notre foi ! Partout son nom sera béni et tous regarderont à lui. Voici, divin bonheur, Jésus le rédempteur.
Let us sing to the one who comes to us; let us bow down and worship him. Let us offer to this heavenly king our hearts and our loyalty. His name shall be blessed in all places, and all people shall look to him. Behold the divine joy: Jesus, the redeemer. / O komm', mein Heiland Jesu Christ, meins Herzens Tür' dir offen ist. Ach zieh' mit deiner Gnade ein! Dein Freundlichkeit auch uns erschein. Dein Heilger Geist uns führ' und leit den Weg zur ew'gen Seligkeit, dem Namen dein, o Herr, sei ewig Preis und Ehr'!
(Texte : Taizé, d'après Georg Weissel 1590-1635 et Psaume 24, 7-10)
11. Heureux qui s'abandonne à toi ↓
Heureux qui s'abandonne à toi, ô Dieu, dans la confiance du cœur. Tu nous gardes dans la joie, la simplicité, la miséricorde.
Happy are those who abandon themselves to you with a trusting heart. You keep us in joy, simplicity and mercy. / Glücklich, wer sich dir, o Gott, mit Vertrauen im Herzen überlässt. Du bewahrst uns in Freude, Einfachheit, Barmherzigkeit. / Felices los que se abandonan en tí, oh Dios, en la confianza de corazón. Tú nos guardas en la alegría, la simplicidad, la misericordia. (frère Roger, de Taizé)
12. Laudamus te ↓
Laudamus te, benedicimus te.
Nous te louons, nous te bénissons. / We praise you, we bless you. / Wir loben dich, wir preisen dich. / Te alabamos, te bendecimos. / Ti lodiamo, ti benediciamo. / Chwalimy Cię, błogosławimy Cię. (du Gloria in excelsis Deo)
Versets (d'après la lettre encyclique du pape Francois Laudato si) :
1. O God and Father, all creatures are the work of your hands ; they are filled with your presence and with your tender love.
Ô Dieu, Père, toutes tes créatures sont sorties de ta main, elles sont remplies de ta présence comme de ta tendresse. / Gott, unser Vater, du bist der Schöpfer allen Lebens, du erfüllst die Welt mit deiner Gegenwart und Liebe. / O Dio, Padre, tutte le creature sono opera delle tue mani, sono riempite della tua presenza come anche della tua tenerezza.
2. Jesus, Filho de Deus, tu viste este mundo com os nossos olhos humanos e vives hoje em cada criatura.
Jésus, Fils de Dieu, toi qui as regardé ce monde avec nos yeux humains, tu vis aujourd'hui en chaque créature. / Jesus, Son of God, you saw this world with eyes like ours, and today you are present in all living things. / Jesus, Gottes Sohn, du hast diese Welt mit Menschenaugen geschaut, auch heute bist du gegenwärtig in allem, was lebt. / Gesù, Figlio di Dio, tu hai guardato questo mondo con occhi umani come i nostri, e tu vivi oggi in ogni creatura.
3. Duchu Święty, Twoje światło kieruje ten świat w stronę miłości Ojca, Ty żyjesz w naszych sercach żeby pobudzać nas do czynienia dobra.
Esprit Saint, toi qui par ta lumière orientes ce monde vers l'amour du Père, tu vis aussi dans nos cœurs pour nous inciter au bien. / Holy Spirit, by your light you guide this world toward the Father's love, you live in our hearts and draw us toward all that is good. / Heiliger Geist, dein Licht richtet die Welt auf die Liebe des Vaters aus, du lebst in unseren Herzen, um uns zum Guten zu bewegen. / Spirito Santo, con la tua luce orienti questo mondo verso l'amore del Padre, tu vivi anche nei nostri cuori per invogliarci al bene.
4. Dieu d'amour, apprends-nous à te contempler dans la beauté de l'univers, où tout nous parle de toi.
God of love, teach us to contemplate you in the beauty of the cosmos, where everything speaks to us about you. / Gott voll Liebe, lehre uns, dich in der Schönheit des Universums zu betrachten, alles in ihm ist erfüllt von dir. / Dio d'amore, insegnaci a contemplarti nella bellezza dell'universo, dove tutto parla di te.
5. God van liefde, ontwaak ons loofprijzen en onze dankbaarheid, geef ons de genade ons verbonden te voelen met alles wat leeft.
Dieu d'amour, éveille notre louange et notre gratitude, donne-nous la grâce de nous sentir intimement unis à tout ce qui existe. / God of love, make praise and gratitude well up in our hearts, allow us to sense that we are closely united with all that exists. / Gott voll Liebe, wecke unser Lob und unseren Dank, mach uns bereit, uns verbunden zu fühlen mit allem, was lebt. / Dio d'amore, risveglia la nostra lode e la nostra gratitudine, donaci la grazia di sentirci intimamente uniti a tutto ciò che esiste.
6. Dio d'amore, mostraci il nostro posto in questo mondo come strumenti del tuo affetto per ogni essere della terra.
Dieu d'amour, montre-nous notre place dans ce monde comme instruments de ton affection pour tous les êtres de cette terre. / God of love, show us our place in this world as witnesses to your affection for every being on earth. / Gott voll Liebe, zeige uns unseren Platz in der Welt als Zeugen deiner Liebe für alles, was lebt.
13. Atme in uns ↓
Atme in uns, Heiliger Geist.
Souffle en nous, Saint Esprit. / Breathe in us, Holy Spirit. / Sopla en nosotros, Espíritu Santo. / Soffia in noi, Spirito Santo. / Ożyw nas swoim tchnieniem, Duchu Święty. (attr. saint Augustin)
Versets :
1. Komm herab, Heiliger Geist, der die finstre Nacht zerreißt. Strahle Licht in diese Welt. Komm, der alle Armen liebt, komm, der gute Gaben gibt, komm, der jedes Herz erhellt.
Viens, Saint-Esprit, du ciel fais jaillir l'éclat de ta splendeur. Viens, Père des pauvres; Viens, Esprit généreux; viens, lumière des cœurs. / Come, Holy Spirit, from heaven shine forth with your glorious light. Come, Father of the poor, come, generous Spirit, come, light of our hearts. / Ven Espíritu Santo y desde el cielo envía un rayo de tu luz. Ven padre de los pobres, ven dador de las gracias, ven luz de los corazones. / Vieni, Santo Spirito, mandaci dal cielo un raggio della tua luce. Vieni, padre dei poveri, vieni, datore dei doni, vieni, luce dei cuori. (Séquence de Pentecôte)
2. Santo Espíritu, Tú eres aliento, danos vida, Tú eres bálsamo, sana nuestras heridas, Tú eres fuego, calienta nuestros corazones, Tú eres luz, guía nuestros pasos.
Saint-Esprit, Tu es le souffle, donne-nous la vie, Tu es le baume, guéris nos blessures, Tu es la lumière, guide nos pas. / Holy Spirit, you are the breath, give us life, you are the balm, heal our wounds, you are the fire, warm our hearts, you are the light, guide our feet. / Heiliger Geist, unser Atem, schenke uns Leben, unser Balsam, heile die Wunden, unser Feuer, wärme die Herzen, unser Licht, erhelle unseren Pfad. / Spirito Santo, nostro respiro, donaci vita, nostro balsamo, guarisci le ferite, nostro fuoco, riscalda i cuori, nostra luce, rischiara il nostro cammino. (Hildegarde de Bingen)
3. Le fruit de l'Esprit est amour, joie, paix, patience, bienveillance, bonté, confiance dans les autres, douceur, maîtrise de soi.
The fruit of the Spirit is love, joy, peace, patience, kindness, generosity, faithfulness, gentleness, and self-control. / Der Geist bringt als Ertrag: Liebe, Freude und Frieden, Geduld, Güte und Großzügigkeit, Treue, Freundlichkeit und Selbstbeherrschung. / El fruto del Espíritu es amor, gozo, paz, paciencia, benignidad, bondad, fidelidad, mansedumbre, dominio propio. / Il frutto dello Spirito è amore, gioia, pace, longanimità, bontà, benevolenza, fiducia, mitezza, padronanza di sé. (Galates 5, 22-23)
14. Voici Dieu qui vient à mon secours ↓
Voici Dieu qui vient à mon secours, le Seigneur avec ceux qui me soutiennent. Je te chante, toi qui me relèves.
See, God comes to my aid, the Lord, together with those who support me. I sing to you, for you raise me up. / Gott ist mein Helfer, der Herr beschützt mich. Ich will dir singen, denn du hast mich wieder aufgerichtet. / He aquí Dios que viene en mi ayuda, el Señor con aquellos que me sostienen. A ti te canto, tu me liberas. / Ecco, Dio è il mio aiuto, il Signore con quelli che mi sostengono. Ti canto, perché mi risollevi. / Oto Bóg przychodzi mi z pomocą, Pan z tymi, którzy mnie wspierają. Śpiewam Tobie, Tobie, który mnie podnosisz. (Psaume 54, 6 et Psaume 30, 2)
15. Confitemini Domino ↓
Confitemini Domino, quoniam bonus. Confitemini Domino, alleluia.
Rendez grâce au Seigneur car il est bon. / Give thanks to the Lord for he is good. / Dankt dem Herrn, denn er ist gut. / Dad gracias al Señor porque es bueno. / Lodate il Signore perché è buono. / Dziękujcie Panu, bo jest dobry. (Psaume 136, 1)
16. Staňte se solí země ↓
Staňte se solí, solí země, a hledejte poklad víry. Buďte světlem, světlem světa, které do tmy svítí.
Soyez le sel, le sel de la terre, et cherchez le trésor de la foi. Soyez la lumière, lumière du monde qui brille dans les ténèbres. / Become the salt, the salt of the earth, and seek the treasure of faith. Be the light, the light of the world, shining out in the darkness. / Werdet Salz, Salz der Erde, und sucht nach dem Schatz des Glaubens, Werdet Licht, Licht der Welt, das in der Dunkelheit leuchtet. / Sé la sal, la sal de la tierra y busca el tesoro de la fe. Sé la luz, la luz del mundo que brilla en la oscuridad. / Diventate il sale, il sale della terra, e ricercate il tesoro della fede. Siate la luce, la luce del mondo, che brilla nell'oscurità. / Stańcie się solą, solą ziemi i szukajcie skarbu wiary. Bądźcie światłem, światłem świata, które w ciemności świeci. (en tchèque. cf Matthieu 5, 13-14 & 13, 44-46)
Total length: 56:00
Music:
Taizé – Jacques Berthier – Clytus Gottwald
Distribution :
Note 1 Music GmbH, Heidelberg ;
Proper Music Distribution Ltd
CD ref.: T 571
Online Ordering:
shop.taize.fr
See also:
Music of Unity and Peace