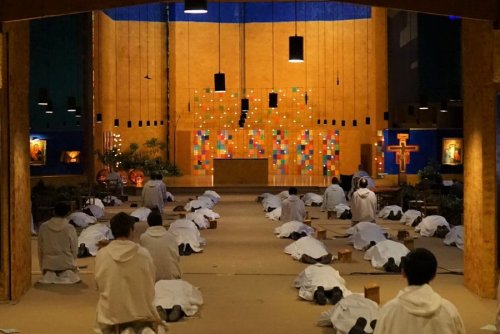 [1]
Praise be to you, God of life. We turn to you in the midst of great trials that humanity is going through. Enable us to assume our share of these trials in peace.

Our intercession becomes even more fervent: show your presence to those who are suffering from the coronavirus, from other forms of illness, from environmental calamities, and from injustice and violence, and to those who are forced to leave their countries. Be with those who cannot cope any more.

We also entrust to you, again and again, those who have been victims of the abuse of power or of trust, especially those who have been sexually abused in the past by one of us. Be with those who are recovering from such trials.

We praise you for all those who, in the midst of the world's suffering, are helping to heal wounds, who give themselves generously for others. They are signs of hope; they carry humanity forward.

In this time of great change, you call us to be converted. We would like to let ourselves be taken hold of again by your kindly presence, like Moses before the burning bush, like the disciples on the way to Emmaus and so many others. We would like to do everything possible to make our life a sign of your future and your faithfulness.

You enable us to renew our personal prayer and the community prayer. May the fire of Christ's love be at the centre of our lives, not our worries, however serious they may be.

Praise be to you for the many testimonies of support that we receive, which are a beautiful expression of the communion of the Church. Enable us to keep moving forward towards the visible unity of all those who love Christ.

We thank you, living God, for our life in community. It has become deeper and simpler over the course of the last year; and over the last few days you have opened our eyes again to the beauty of this great gift that you give to us. Christ calls us his brothers and he gives us to each other as brothers. Thanks be to the Holy Spirit for enabling us day after day to see the diversity among us as a source of riches, and to persevere in kindness and brotherhood. In this way we can to contribute to the growth of a brotherhood and sisterhood in the world.

Praise be to you for awakening in us a clearer awareness of our responsibility to take care of creation. Praise be to you for the young people who make us attentive to this, and for the scientists and policy makers who seek to make the necessary decisions.

God of peace, we do not yet see the new things that are coming through the pains of childbirth that humanity is going through at present. May your Holy Spirit change our way of looking in order to discern a new horizon, and to understand what you are asking of us at this time.

So, as humble pilgrims of trust, we set out again. Even with very limited means, may we be stimulated by a spirit of festival.

And already we praise and sing to you, eternal God. We express to you our gratitude for life; we believe that you are at work in each one of us, in our community and in the world today, through Christ who is with us and through your Holy Spirit who will inspire us.

And now, we will sing together a song to the Holy Spirit together, and then those of the brothers who have committed their whole lives will prostrated themselves on the ground as a reminder of their offering to God. .
---