Some Recent News
Form
Ukraine | Welcoming Refugees
Ukraine | Article by Brother Alois
At the request of the French weekly La Vie, Brother Alois wrote this article
on line in French
. Here is the English translation.
In Ukraine, Evil Will Not Have the Last Word
This year, the season of Lent begins at a moment when the continent of Europe has been struck by war. This tragic news plunges us into the mystery of evil. Jesus himself had the ultimate experience of this when he freely accepted to give up his life on the cross: he went right through to the end on the way of suffering. On our path towards Easter, we are sustained by this hope: beyond the cross, through the resurrection of Christ, God has opened up a way of life for all humanity.
How is it possible that the fire of weapons and bombs is tearing apart peoples who are so close to each other in so many ways? So many families have relatives on both sides of the border…. During a pilgrimage to Russia, Belarus and Ukraine in 2015, with a small group of young people from various countries, I witnessed this as I visited some Ukrainian soldiers wounded in battle in a hospital in Kyiv. With us was a young woman from Russia. A few days ago, at the outbreak of the war, this young Russian woman recalled this visit and shared the following story: "When I entered that hospital, I was paralysed with fear and shame. At first it was difficult for me to say anything. Then I started to tell that as a child I used to go to my grandfather's house in Ukraine every summer, that my cousin was born in Ukraine. Then the Ukrainian soldiers started to change: one of them suddenly said that his wife was Russian, then another that his parents lived in Russia…. And it became clear that in fact we were very close, that we were like brothers and sisters."
Let us pray that these seeds of sharing and communion will not be uprooted by the madness of war, but that in the long run they will prove stronger than senseless violence. It is almost too early to express this wish, when every day that passes sees more and more victims and wounded people. But let us keep, with its roots in the depths of our hearts, the sure hope that evil will not have the last word.
Pope Francis has called for a day of fasting and prayer on Ash Wednesday. In many places around the world, believers are gathering and praying for peace. A few days ago, we received a message from an Orthodox priest in Russia: they are praying for peace in his parish too.
Yes, in order to live this Lenten season in solidarity with those who are suffering from the war that is raging in Ukraine, let us pray for the victims and their families in mourning, for the wounded, for those who have had to flee, for those who would have liked to do so but could not, and also for all those who have chosen to stay where they live. Let us think of the most vulnerable people, who will be the first to suffer the consequences of the armed conflict, of the children who have suffered, of the young people who see no future.
In our prayer, let us not forget to ask the Holy Spirit to inspire the leaders of the peoples and all those who are in a position to influence the course of events, so that the fire of arms may cease as soon as possible. Let us pray that the war will not increase divisions within churches and families, and that church leaders will walk side by side with all those affected by this terrible trial. And since every human life counts in God's eyes, let us think of the combatants of all the countries involved, and also of their families, for example the grandmothers who see their grandsons going to the front, to a war they neither chose nor wanted. Perhaps, one day, they will take to the streets to protest….
As this Lenten season begins under dark auspices, we are called to live these forty days in communion with those who are affected by violence, not only in Europe but everywhere in the world. On the cross, Christ opened his arms to embrace all humanity. A humanity too often torn apart, yet forever united in God's heart.
Prayer for Peace in Ukraine
Wednesday 2 March
In communion with the initiative of fasting and prayer proposed by Pope Francis, the community will participate in the prayer for peace in Ukraine on Wednesday 2 March.
---
Saturday 26 February
Yesterday evening, the prayer vigil for peace in Ukraine was characterized by a long time of silence, introduced by the following prayer spoken by Brother Alois:
Risen Christ, as we remain in silence before you, we let this ardent prayer rise up: may the firing of weapons in the land of Ukraine cease! Welcome into your love those who are dying from violence and war, console the families in mourning, support those who have had to take the road of exodus. Faced with incomprehensible suffering, we still believe that your words of love and peace will never pass. You gave your life on the cross and you opened a future for us, even beyond death. So we implore you: give us your peace. You are our hope.
At the end of the time of silence, the song Laudate omnes gentes was sung by all in the Ukrainian language "Славіте всі народи / Slavite vsi narody".
---
Thursday 24 February
In view of the acts of war in Ukraine, Brother Alois said the following prayer during the midday prayer in Taizé on Thursday:
God of love, we are disconcerted by the violence in our world, and especially now by the acts of war in Ukraine. Enable us to stand in solidarity with those who suffer, and who live today in fear and anxiety. Sustain the hope of all those, in this beloved part of the world, who seek justice and peace. Send the Holy Spirit, the Spirit of peace, to inspire the leaders of nations and all human beings.
This Friday at 8pm (Paris time), the brothers and all the young people who are present in Taizé will pray in silence for peace. Those who wish to take part in this prayer will be able to join in thanks to the live broadcast.
---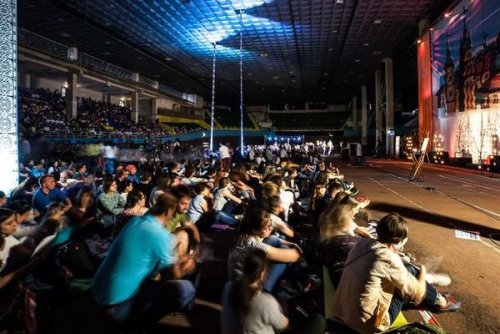 Common prayer at the Taizé meeting in Lviv, 30 April 2018
Community Council: Prayer by Brother Alois
Like every year, the brothers held their community council at the end of January. Here is the concluding prayer that Brother Alois shared on the evening of Sunday 30 January.
Christ Jesus, we praise you with all our heart. You want to make of us witnesses to God's love in the midst of the great changes that are going on in society and in the Church. And so we give you thanks for the gift of unity that you give to our little community: it is an invaluable treasure which we want to take care of.

This treasure is many-sided. We thank you for having led us, during our council these last few days, to bring our great diversity to light. You send us the Holy Spirit who gives life, and encourages creativity in each one of us, and who unites us in God's love. Enable us to believe in the Spirit's presence.

You, Christ, you breathe your Spirit upon us in prayer, and in our life as brothers, which is another place where we find a source of your presence. And so, in the heart of the effort to take care of our life as brothers, to keep going out of ourselves and welcoming others, you communicate your joy to us, the joy of the Risen one.

We place before you all that we have said to each other during the council. May our sharing bear fruit. Help us to continue to question ourselves about the multiculturalism amongst us, about personal spiritual accompaniment, about our responsibility together for the whole of our life through our multiple tasks and activities, and about our search for the unity of Christians. Fill us with flexibility and courage so as to listen to the Holy Spirit in order to move forward in these domains and in many others too.

Christ Jesus, you send us into the world. Praise be to you for our brothers living in fraternities in different countries. We give you thanks for the sisters who live close to us and with whom we move forward together. We give you thanks for our friendship with so many people of our region. We thank you for the migrants who have been welcomed here and who are settling in more and more into life in our country. Praise be to you for the young people who will be coming to Taizé during the coming year. Praise be to you for the pilgrimage of trust, which, like a stream, is forging a way through the world, with the upcoming stages in the Middle East and in the Holy Land.

But we also confess to you, Christ Jesus, that it has happened that we have failed to do the will of your love. We entrust to you in particular the people who have been the victims of sexual or psychological abuse or aggression at Taizé. Be with them in their solitude and heal their wounds. And give us the courage to listen to their sufferings, to listen too to what they ask and to their advice, and to do all we can to help them.

We turn towards you, Christ. To whom else should we go? You have the words of life. We ask you to accompany the whole Church and the whole of humanity which are going through a sort of exodus, a passage to something else, a crossing of the desert. Like so many people, we are experiencing a time when we do not see clearly what the future holds. But you allow us to find new resources in you, and to be creators of unity. With trust we say to you the prayer of a Psalm: "Do not forsake the work of your hands."

And now, after singing the Holy Spirit together, those of the brothers who have committed their lives forever will now lie stretched out on the ground to recall their offering to God.
---
Week of prayer for Christian unity
Every year, from 18 to 25 January, Christians around the world participate in the Week of Prayer for Unity. This year, the week of prayer has been prepared by the Middle East Council of Churches. Here are some suggestions to help you take part in this week in connection with Taizé.
Pray with the Middle East Council of Churches
The theme chosen by the Middle East Council of Churches this year is "We have seen his star in the East and we have come to worship him". The proposed programme, including the Bible readings and prayer intentions, is available online here for Churches in Britain and Ireland. Similar sites exist for other countries.
Read or re-read the "2022 Proposals"
The "2022 Proposals" from Taizé are entitled "Becoming Creators of Unity". The fifth proposal in particular concerns the unity of Christians. You can find the whole text here.
Follow the prayer for unity held in Taizé
On Tuesday 18 February at 6pm, a prayer for friends from the area around Taizé was held in the Church of Reconciliation. Representatives of different denominations took part. You can watch this prayer by clicking below.
Listen to a podcast from Taizé
This week's podcast is an interview (in French) with Pastor Anne-Laure Danet, responsible for relations between Christian churches for the French Protestant Federation. This interview can be listened to from the main podcast platforms
Read the messages received for the Turin meeting
As every year, Catholic, Orthodox and Protestant leaders sent messages of greeting to the participants of the European meeting.
Listen to a conference of Brother Alois about unity
Last year, Brother Alois was invited to give a long lecture on unity as part of a series of meetings organised by the Angelicum in Rome. This lecture can be found online here (in Italian, with French subtitles)
Message from Brother Alois
A tribute to Desmond Tutu
Dear family and friends,
On this day when Archbishop Desmond Tutu has entered into the life of eternity, I would like to express my affection, and that of all the Taizé Community, to you who have shared his life and his struggles for nearly sixty-five years.
The Spirit of the Risen Christ made him a source of wisdom and courage for South Africa and the rest of the world during the darkest hours of Apartheid and throughout the journey towards justice and reconciliation in your country.
We are grateful for the friendship that has linked the Archbishop and our community for more than forty years. Since Brother Roger's visit to Johannesburg in 1978 and his own visit to Taizé in 1979, we have remained in communion through prayer, sharing the same passion for awakening new generations of young people to faith in Christ. In 1980, when tensions were high in your country, he organized the journey of 144 young South Africans of all origins, denominations and social backgrounds on a pilgrimage of reconciliation to Taizé. Since then, he has faithfully supported hundreds of young South Africans sent by their churches to represent their country at the different stages of the Pilgrimage of Trust organized by Taizé. Two years ago he was keen to join the participants in the international meeting that we had prepared in Cape Town.
In his welcome message to the participants of the 1995 Taizé Pilgrimage to Johannesburg, he wrote: " Prayer creates the climate in which we can meet and grow to love one another."
Together with women and men of goodwill throughout the world, and especially with young people across the African continent, we give thanks for his life and ministry. He will continue to inspire seekers of justice and peace.
Brother Alois, prior of the Taizé Community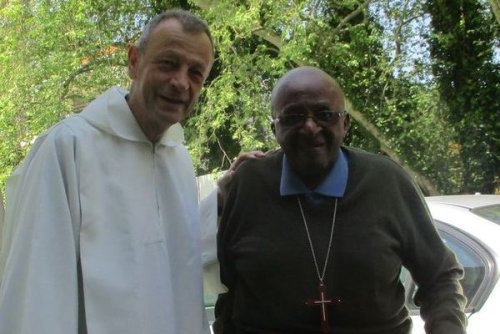 During the Taizé meeting in Cape Town, 2019
François Belloy, who took the name of frère Paul on entering Taizé Community in 1975, passed away in his sleep early in the morning of 16 December 2021 after a long and difficult illness. The memorial celebration will take place on Sunday 19 December in the Church of Reconciliation in Taizé, during the Sunday Eucharist which will start at 11.30 am.
He was born in Châteauroux on 10 July 1951, the second of a large family of six brothers and sisters. During his studies at the Breguet engineering school in Paris, he discovered the community, which at that time was preparing the Council of Youth, and he became acquainted with young people involved with this. In the summer of 1972, together with three other young people, he travelled through the communist USSR. In Moscow, they made the first very discrete contacts with young people from that country who had to hide their Christian faith or face persecution.
A year after finishing his studies in 1975, he decided to join the community where he made a lifelong commitment at Easter 1979. From the outset, he brought to the community all his technical and legal skills in various fields: fresh- and waste-water management, electricity, telecommunications, video systems, and little by little he introduced computers into the daily life of the brothers. Later he also prepared the community's access to the Internet. And he put these skills to use in the international meetings of young Europeans.
In 1983, he was elected to the Taize municipal council, where the community had long been represented by one and then several brothers. As a councillor, then as deputy mayor, he gave much of his energy to supporting the life of the municipality and the neighbouring region. He collaborated in particular with the water board, the electricity board, and then with the community of municipalities, until illness prevented him from standing again in the municipal elections of 2020.
He was already weakened by an auto-immune disease which gradually took away all his physical strength and often meant temporary hospitalisation in Paris, Mâcon and Cluny. But he always remained lucid, gifted with an intellectual curiosity that allowed him to follow closely the life of the community and that of his large family, as well as the events of the Church and the world, right up to his last day.
Message of Brother Alois for the Opening of the Synodal Journey in Rome
Brother Alois was invited to speak on Saturday 9 October 2021 in Rome at the opening of the Catholic Church's two-year synodal journey on the theme of synodality. Here is the text of the speech he gave on this occasion.
Thank you, most Holy Father, for convening this synod. In Taizé, we were moved to be invited to its opening. Thank you also for the tradition of inviting delegates from other Churches. It will be of great value to hear from them about their own practice of synodality, with its benefits and its limitations.

This synodal process comes at a crucial moment when we can see two contradictory developments. On the one hand, humanity is becoming more clearly aware that we are all linked to each other and to the whole of creation. On the other hand, polarisation is growing in the social, political and ethical domains, causing new divisions in societies, between countries, and even within families.

Unfortunately, between our churches and also within them, there is a trend for differences to become polarisations that separate people, at a time when our witness to peace is vital.

How can we move Christian unity forward? I recently asked Pastor Larry Miller, former General Secretary of the Global Christian Forum. He replied: "It is not good to start by saying, 'This is who we are and this is why we are right.' Rather, it means to recognise our weaknesses and ask other churches to help us receive what we lack – this is receptive ecumenism, which allows us to welcome what comes from others." Doesn't this pastor see things correctly? We all carry the treasure of Christ in clay vessels and it perhaps shines out more clearly when we humbly acknowledge what we lack.

At the very heart of the Catholic Church, the synod will bring to light great diversities. These will be all the more fruitful if the search for communion is deepened at the same time. Not in order to avoid or to hide conflicts, but to nourish a dialogue that reconciles.

To encourage this, it seems to me desirable that there should be, on the synodal journey, moments to catch our breath, like little breaks, to celebrate the unity which is already accomplished in Christ and to make it visible.

In this regard, Holy Father, since you have invited us to dream, I would like to share a dream with you. Would it be possible that at a certain point, in the course of the synodal process, not only delegates but the whole people of God, not only Catholics but believers from the various Churches, could be invited to a large ecumenical gathering? For in baptism and by the Holy Scriptures, we are sisters and brothers in Christ, united in a communion that is still imperfect but quite real, even when there are theological questions still to be resolved.

Such a gathering – here in Rome and at the same time elsewhere in the world – could have at its heart a solemn celebration listening to the word of God, with a long moment of silence and intercessions for peace. Could the leading of this be entrusted to young people? Could such a celebration be prolonged by a time of sharing between denominations? We would discover that by being united in Christ, we become peacemakers.

Our experience in Taizé encourages me to make this proposal. In our community, coming from different denominations, we live under the same roof. For more than sixty years, we have welcomed young people from different churches or who are simply in search of the meaning of their lives. Far from settling for a lowest common denominator, we are constantly driven to go to the source of the Gospel, to the risen Christ who, through the Holy Spirit, leads us together to the One who is Father of all people without exception.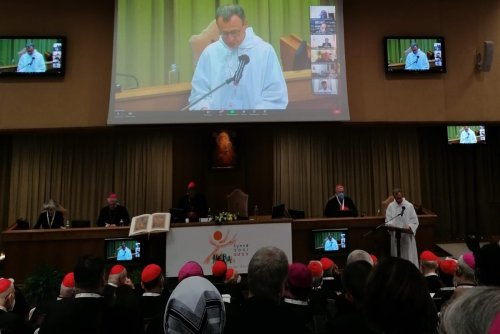 Photo: Tilen Čebulj
Press release | As summer ends, the pilgrimage of trust is continuing
Since June, a total of more than 7,000 visitors have come week after week to Taizé. Although, for the first time since the beginning of the pandemic, there were a few cases of Covid in the community during August, the protocol put in place with the health authorities meant that Taizé could stay open. The international meetings are continuing with the next high-point being the many French high school students expected for the autumn holidays at the end of October and beginning of November.
The next European Meeting of Young Adults will take place in Turin, Italy, from 28 December 2021 to 1 January 2022. Three brothers of the community have set off in the last few days to join young people of the city and leaders of different churches, who have already started to raise awareness in the parishes and local communities about welcoming the young adults who will take part in the meeting. A number of events will be broadcast on-line to allow youth from all over the world to participate.
Brother Alois adds: "In the difficult context created by the pandemic, many people are looking to the future with concern. Society is also becoming more and more polarised. It was therefore very important to be able to meet, pray and share together, and to listen to one other. So we are very grateful that everything went well this summer in Taizé."
News in brief
Taizé has been invited by the churches in Glasgow to prepare and lead a vigil for students and young people in the city during the COP26 gathering. Two Taizé brothers will be in the city from 7 to 12 November for this event.
Since several months, "Taizé Podcasts" have been available on-line. They include recordings of community prayer, Bible meditations and reflections, interviews with people from all walks of life in Taizé or linked with the community.
Subscription
If you are a journalist and wish to receive the press releases sent three times a year from Taizé, please write to us at this address.
The Taizé community receives a "fraternal visit"
At the end of August, something special and quite new is under way in the Community of brothers: a "fraternal visit". Brother Alois explains.
Recently, we have been trying to think about the question "What does God expect of our community in this time of great changes in the world and in the Church?" And an idea has been taking shape among us: it would be good to share more deeply about our life and our future with some people outside our community.

So we have invited two women and two men from different denominational backgrounds and with different ecclesial responsibilities to pay us a "fraternal visit" for six days. They are staying with us at the end of this month of August to understand the many aspects of our community more closely. All the brothers who wish can meet them personally and will have the opportunity to say what they want about community life and about any changes they think might be worth considering. Afterwards, there will also be online times of sharing with the brothers who live in small fraternities elsewhere in the world. Then the four people who have talked with us will share with us their impressions.

We are taking this initiative not to address any specific or urgent question, but because we feel that such an outside view of the life of the community will do us good.

As far as the welcome of young people is concerned, an outside view of this kind has been there for a long time, thanks to the Association of the Welcome, which is formed of friends of the community and which manages all the material questions linked to the meetings in Taizé. But this is the first time that such a visit has taken place within the community itself.
---
[1]